Development of Patient-Centered Care Model Puts DPT Program in National Spotlight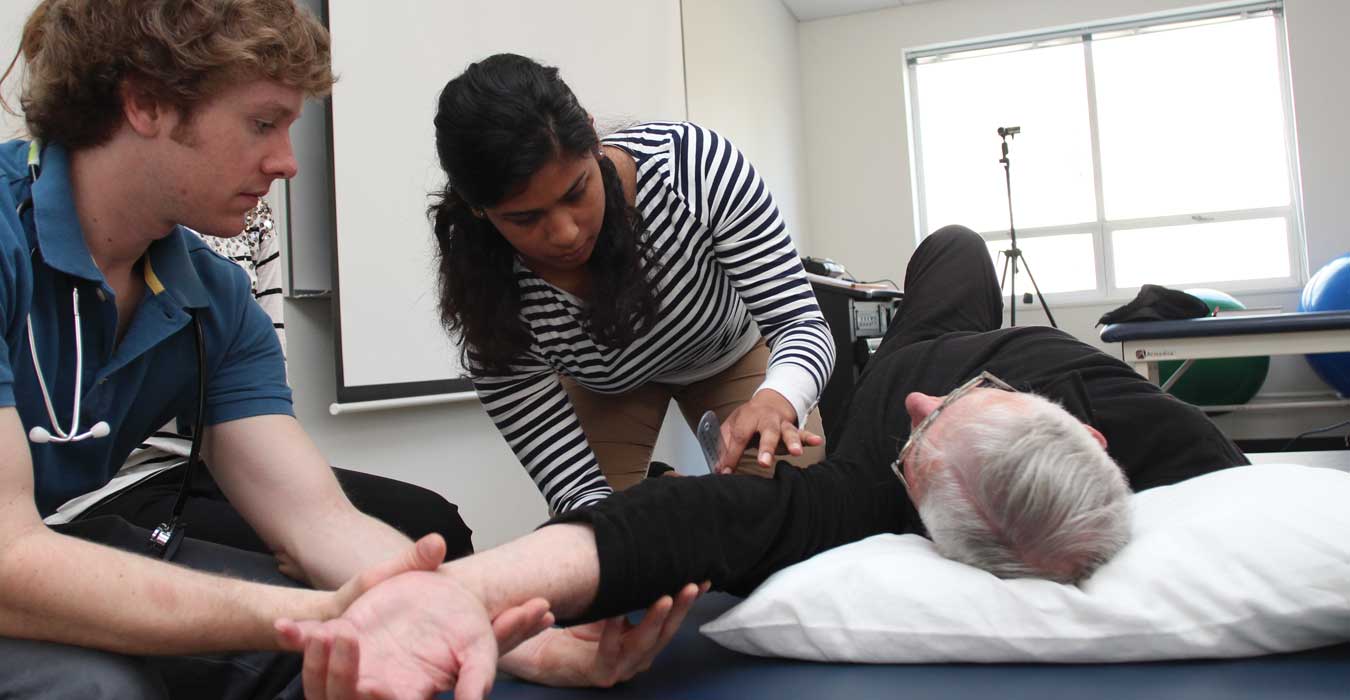 The adoption of a person-centered model for treatment has given the university's Doctor of Physical Therapy program national exposure and opened up opportunities for George Fox faculty members to train DPT educators nationwide.
George Fox was among the early adopters of the PROMIS (Patient Reported Outcome Measurement System) measure for clinical care, which takes into account a patient's biopsychosocial state – a consideration of the interconnection between biological, psychological and socio-environmental factors – in treatment planning. Traditionally, care typically focused only on a patient's biomedical, not biopsychosocial, condition.
Following national presentations focused on person-centered PROMIS measures, based on collaborations between George Fox and the University of Rochester – and research conducted by the University of Utah – George Fox faculty developed a series of online modules, as well as a one-day training seminar, for medical teams at the Cleveland Clinic, a nonprofit academic medical center regarded as a national leader in research, education and health information. The opportunity arose following George Fox professor Jeff Houck's presentation, with leaders from the University of Utah, to physical therapists at the profession's nationwide Combined Sections Meeting in the winter of 2019.
"George Fox faculty developed a series of online modules, as well as a one-day training seminar, for medical teams at the Cleveland Clinic"
"By using the PROMIS measures, we are placing the person first and holding ourselves accountable for improving physical, mental and social aspects of an individual's health needs," Houck says. "A key feature of these measures is that they provide the patient's perspective, giving patients a voice in their care."
George Fox presented its person-centered approach to care at the Oregon Chapter of the American Physical Therapy's annual meeting last year, and faculty members have collaborated with Providence Newberg Hospital and other physical therapy practices in the area to provide training to future doctors.
In the classroom, the shift to a more integrated biopsychosocial model has pushed faculty to develop training and competencies that include interviewing/communication skills, psychological models, and discussions of personal values. As a result, graduates will be better prepared to integrate psychological approaches when caring for patients who have experienced acute injury and those living with chronic pain or other chronic health conditions.
"Evidence suggests psychosocial factors are equally or more important than biomedical factors, yet providers typically don't measure psychosocial outcomes," Houck says. "PROMIS measures assist providers in recognizing when psychosocial factors are impeding a person's progress, and deter providers from seeing the patient as a 'disease' or 'a set of medical problems.'"
On a higher level, the emphasis on person-centered care reflects the university's Be Known promise.
"What's happening in the last few years is a paradigm shift from simply considering the biomedical and biomechanical to understanding the whole person, taking into consideration the fact their physical pain is often connected to things like fear, anxiety or depression," says Daniel Kang, an associate professor of physical therapy at George Fox. "PROMIS gives us a more complete picture of what the patient is going through in the disease process, and allows us to more holistically address their treatment plan."
The adoption of PROMIS measures also positions the physical therapy department to collaborate with faculty in the Doctor of Psychology program to offer state-of-the-art training and develop specialty certificates.