Essential Personnel
While the COVID-19 pandemic disrupted the flow of nursing education, it did little to diminish the resolve of students to finish strong and enter a field where they are desperately needed
by Sean Patterson
This wasn't the way it was supposed to end. With seven weeks left in the semester, there were critical exams to prepare for and clinical placements to complete. And, for those graduating, there was the highly anticipated pinning ceremony to look forward to – the culmination of four years of toil, when family and friends would gather round, cameras in hand, to celebrate this most impressive of accomplishments.
Then, almost without warning, plans changed. The threat of COVID-19 triggered an international call to stay home. Businesses closed. Sporting events and social gatherings were canceled. And students across the nation – including those in George Fox's highly hands-on nursing major – were asked to give up in-person instruction and master remote learning. For senior nursing students, the urgency to graduate and enter the field was greater than ever.
"Student nurses are considered essential personnel during the COVID-19 pandemic," says Pam Fifer, director of the university's School of Nursing. "Our goal all along was to continue providing a high-quality nursing education in a remote format for the majority of the semester. It was vital that nursing students continue to progress so we could supply new nurses for the workforce."
It wasn't easy. "Alternative instruction plans were made, then more restrictions came, so plans had to be altered again," Fifer says.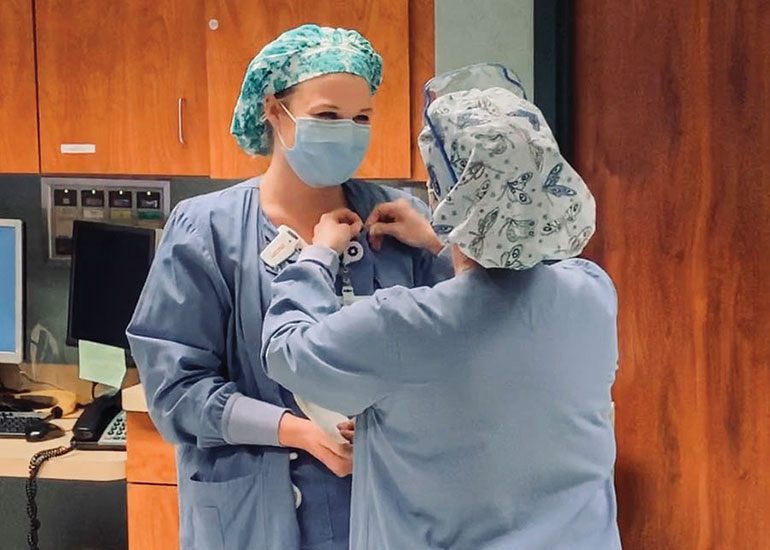 Senior Hannah Avila is surprised with an impromptu pinning ceremony at the Willamette Valley Medical Center Birthing Center, where she completed her clinical placement.
The first priority was to ensure senior nursing students could complete their final capstone clinical practicum. Those students worked one-on-one with a nurse in a precepted environment, practicing the full scope of the RN role in that setting. And, as part of a contingency plan, virtual simulations, including multiple patient scenarios, were offered.
All the while, strict safety measures were followed. Students in clinical rotations were permitted to complete their required assignments, but in a restricted capacity. The School of Nursing did not allow them to directly care for COVID-19 patients or those suspected of having the virus, nor were they permitted to care for patients requiring personal protective equipment (PPE).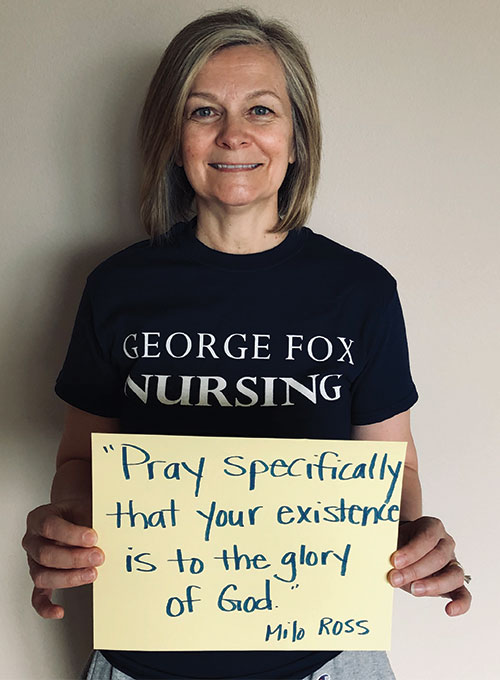 Professor Lorretta Krautscheid was among faculty, staff and alumni who sent messages of encouragement to George Fox nursing students.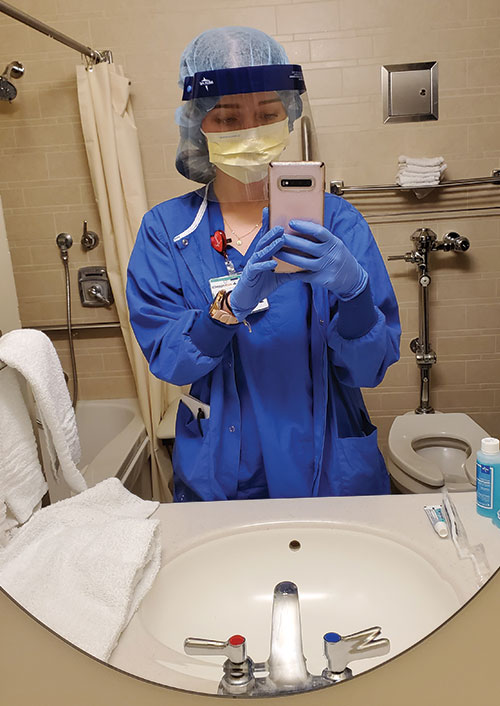 A new reality: Senior Taylor Oswald gears up for her clinical rotation at the Providence Newberg Birth Center.
In order to ensure enough senior capstone placements, the decision was made to move all remaining sophomore and junior clinical rotations to a virtual format. Students had virtual access to their instructors via phone, email and Zoom, and if a student wished to meet with an instructor on campus, extensive safety measures were taken. Beyond that, faculty arranged to provide alternate clinical experiences for these students by incorporating virtual simulations, case studies, and instructor-led clinical judgment seminars.
A Heart for Service
Beyond changing the dynamic of nursing education, the pandemic resulted in opportunities for student nurses to serve the community. Nursing staff and students went through their labs to collect PPE and donate it to the Friendsview Retirement Community, the Willamette Valley Medical Center and the Yamhill County Public Health Department. In all, more than 80 gowns, 1,000 gloves and 1,000 surgical masks were donated. Additionally, the nursing program donated more than 100 homemade masks to Friendsview and the Chehalem Health and Rehab Center.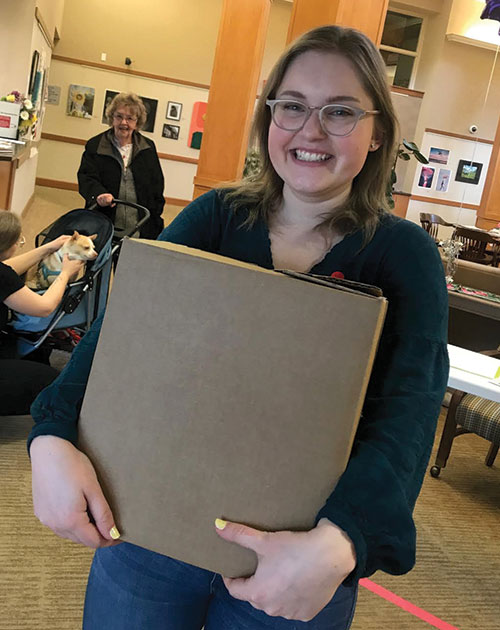 Sophomore Emily Roos helps deliver personal protective equipment from the nursing department to Friendsview Retirement Community.
Two senior students in particular, Dawn Miller and Annalise Carrillo, went above and beyond for the cause. "When everything was in transition and being moved to remote and virtual education, they were willing to do whatever was needed, from photocopying, to cleaning labs, to moving equipment," Fifer says. "They kept coming back to the office and asking, 'What next?' They could have been anxious about the changes that were coming, but instead they demonstrated flexibility, calm, resiliency, initiative and a willingness to serve."
Through it all, George Fox found a way to make it work. This spring, 43 nursing students graduated. Upon passing the NCLEX-RN licensing exam, they will embark on their nursing careers at a time when their services are in demand more than ever.
"Because we are one of the first nursing programs to graduate each spring in Oregon, our students are the first to join the ranks of RNs and begin caring for any and all patients, including patients with COVID-19," Fifer says. "Our graduates enter the RN workforce at a critical time. They will work in all areas of nursing, whether directly caring for patients with COVID-19, caring for other patients, screening patients and visitors, preparing additional beds to handle the pandemic, or educating the community about proper hygiene and physical distancing. If you are a nurse, you are involved in some way."
A Time to Celebrate
And while the pandemic did prevent George Fox from hosting a live pinning ceremony – the capstone event for nursing students – the nursing department teamed with the university's media services division to create a virtual pinning ceremony. All portions of the event were prerecorded and then streamed on the pinning date, complete with awards, recognition, speakers and the acknowledgement of each student. A loved one could then pin each person as he or she was announced during the ceremony.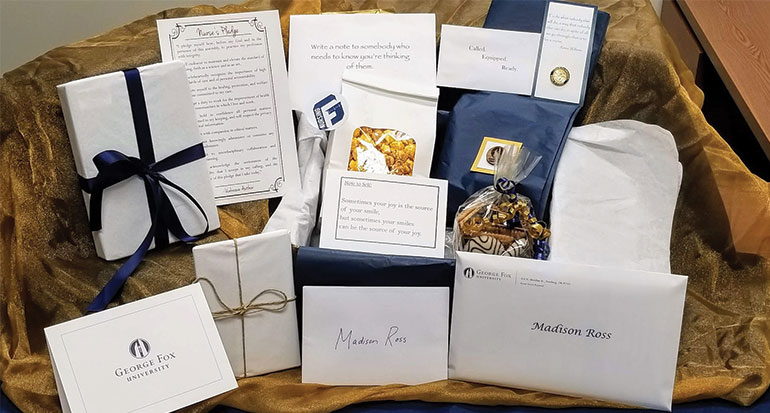 A pinning ceremony is a significant milestone in the life of any nursing student. Because students couldn't celebrate their achievement in person, the nursing department sent graduates a personalized pinning box.
Graduates also received a personalized pinning box – with stole, pin, pinning program, nurse's Bible, nurse's pledge, a wooden plaque and edible treats. "Each box was packed with love and sealed with a specific prayer for the intended student," says Caroline Wildhaber, the nursing program's clinical compliance coordinator and organizer of the pinning ceremony.
"Our staff went above and beyond to make sure this year's pinning ceremony was just as special to honor our graduates," Fifer says.
One mother of a nursing student was overwhelmed by the thoughtfulness of the pinning box. "When the box arrived, I had a bit of a cry and a very grateful heart for the efforts being made to make our students feel special and for including their parents and other family members in this great celebration."