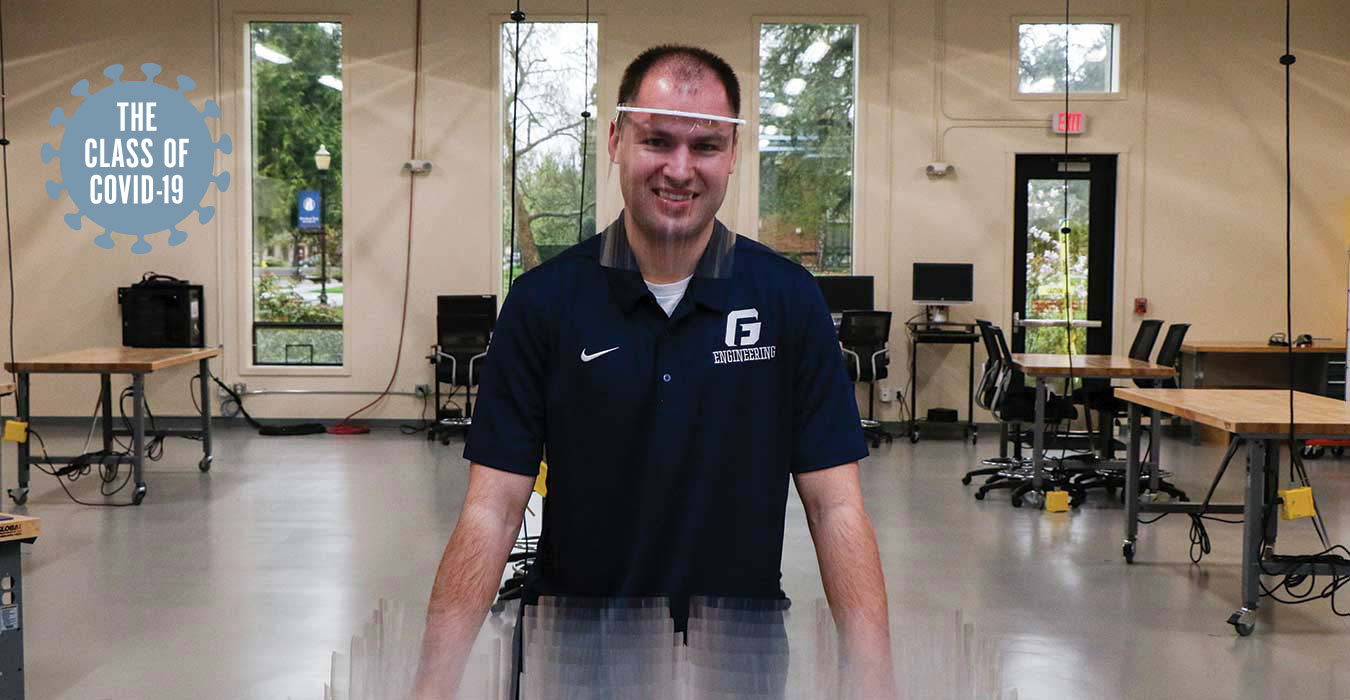 Engineering a Solution
The College of Engineering creates critical face shields for local healthcare workers battling the coronavirus pandemic
by Kimberly Felton
In March, as students headed home for the remainder of the school year, the College of Engineering took up a new, if temporary, vocation: creating plastic face shields for healthcare workers – eight hours a day, sometimes more.
As the COVID-19 pandemic took hold in Oregon, all manner of personal protective equipment became scarce. From disposable cloth painter's masks to medical-grade N95 respirators, the store shelves – both virtual and brick-and-mortar – were empty.
Soon news organizations began reporting that hospitals, clinics, first responders, and other healthcare professionals were on the verge of running out of personal protective equipment, critical for keeping medical personnel healthy while treating those who may carry the virus.
Meanwhile, workers in retirement and assisted living facilities, caring for those most vulnerable to COVID-19, could not find the necessary gear to protect residents.
That's when College of Engineering dean Bob Harder received an email that changed everything. It was from a friend, asking if the engineering team at George Fox might be able to make some of those desperately needed masks.
Harder immediately reached out to a group spanning several university departments, engineering faculty and staff, and even an alumnus serving as VP of engineering at a local medical equipment company.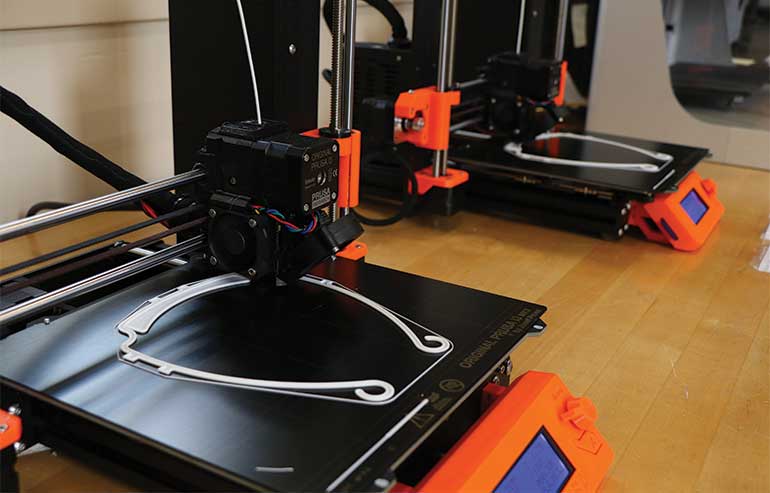 The engineering department has 3D-printed more than 1,000 face shields so far, distributed to 16 organizations in Yamhill County and beyond, not to mention several individuals in the healthcare industry who requested them.
The group began to brainstorm how they might help. They had at their disposal the Engineering Maker Hub – a 16,000-square-foot facility used primarily by engineering students for fabrication, design and prototyping. Now that students had been sent home, this spacious facility – perfect for accommodating a new concept that had recently come into vogue, social distancing – was available for a new purpose.
They considered cloth masks first. "The best designs in a DIY format filtered 75 to 85 percent," says Maker Hub Manager Nick Sullivan. This option was a vast improvement over unfiltered air, but time-consuming to make, and the research on its effectiveness was inconclusive.
More research led to 3D-printed respirator masks. The trouble with this solution, explains Sullivan, is the mask must mold to a person's face. With a wide variety of face and jaw shapes, sizing correctly would be challenging.
Finally, the team came upon just the right solution: a design for 3D-printed face shields from a group halfway across the globe in Sweden. When worn over a cloth mask or respirator, these shields prolong the use of a face mask by blocking larger particles. In a world strapped for PPE, this would help.
In just over a week, they had a plan in place and were ready to start production.
A call to the Yamhill County health commissioner opened the market; they would take as many face shields as the university could produce, distributing them to organizations around the county, including ambulance services, retirement centers, urgent care facilities, Providence Medical Group, clinics and dental offices.
"This was one of the pieces of PPE we had some of the least of," says Paul Myatt, public health emergency preparedness coordinator for Yamhill County. "When you're taking airborne precautions, they're just as important as the N95. The fact that we could come in with PPE that was in such a shortage, they were very grateful to receive that."
Engineering staff prototyped and adapted a 3D-printed frame that clasps just above the ears. Six pegs along the frame hold a plastic sheet in place – none other than the transparencies common in classrooms. A three-hole paper punch, punched twice on each transparency, made the necessary holes. After rounding off the plastic corners so they weren't sharp, the shield was ready to go. The process was tedious, but quick.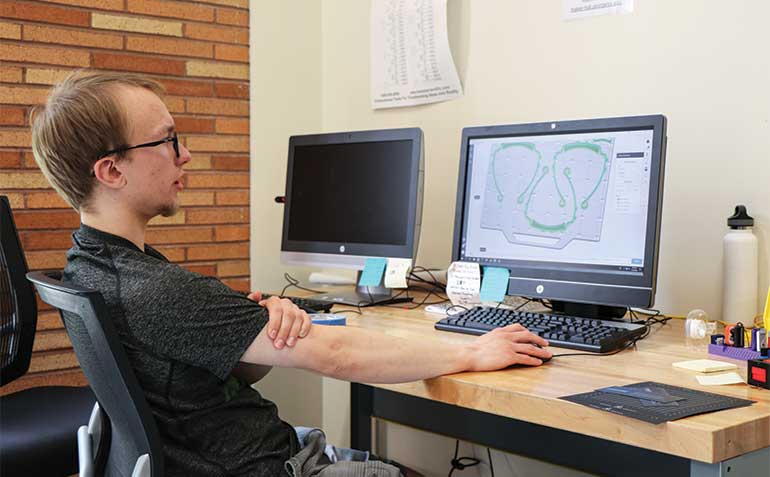 After considering several alternatives, the engineering team settled on a design created halfway across the globe in Sweden.
Local schools and university departments donated transparencies, online donations climbed above $5,000, and Harder approved the budget to purchase eight new 3D printers to increase production.
"For a solid four to five weeks, we pretty much did nothing but churn out face shields," Sullivan says.
In a typical eight-hour day, a crew of seven could assemble 70 to 150 shields, increasing output as they gained efficiency. Other volunteers came in weeknights and weekends to continue the work.
To date, 1,090 face shields have been produced, almost all of them distributed to healthcare workers who desperately need them.
"Eventually, we had other duties we had to get back to," Sullivan says. "Thankfully, the demand started to lessen a little bit. It's been an honor to know our face shields have been able to help."