Faculty Members Honored as Top Teachers, Researchers for 2019-20
George Fox honored four of its own this spring with the presentation of teaching and research awards for the 2019-20 academic year. Jillian Sokso and Debby Thomas were recognized as the top researchers at the undergraduate and graduate levels, respectively, while Todd Curtis and Jennie Harrop won the corresponding awards for teaching.
Jillian Sokso
Undergraduate Researcher of the Year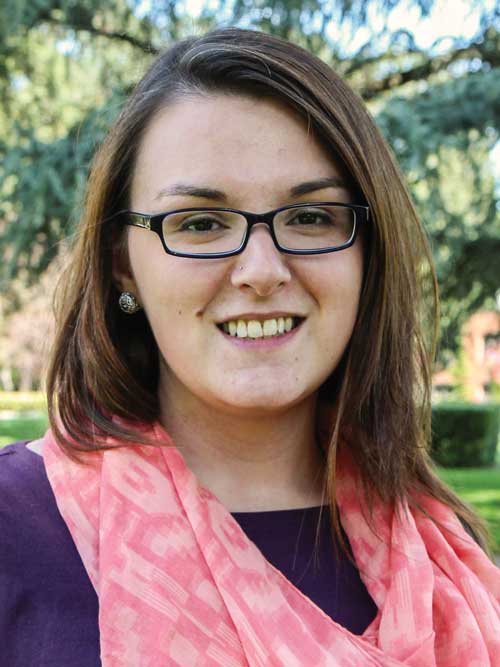 Sokso, a professor of art and design and chair of the art department, says she was "terribly honored and humbled" by her selection, which honored her work with two associations – Accessible Hope International and the Artist Mother Podcast Community. For the former, she has traveled twice with students to Sierra Leone to train locals in the art of processing native plants into paper, which are then made into stationery and journals and sold for a living wage. "I've been a papermaker for 16 years, so being able to work with students in that setting, using the arts and crafts to promote social justice, is particularly gratifying," she says. With the podcast project, started in 2019 by alumna Kaylan Reynolds Buteyn, Sokso has served as a guest speaker and online mentor to budding artists around the world. "I'm extremely proud of that association, because it began out of a real need for supporting a demographic lacking support and resourcing," she says.
Debby Thomas
Graduate Researcher of the Year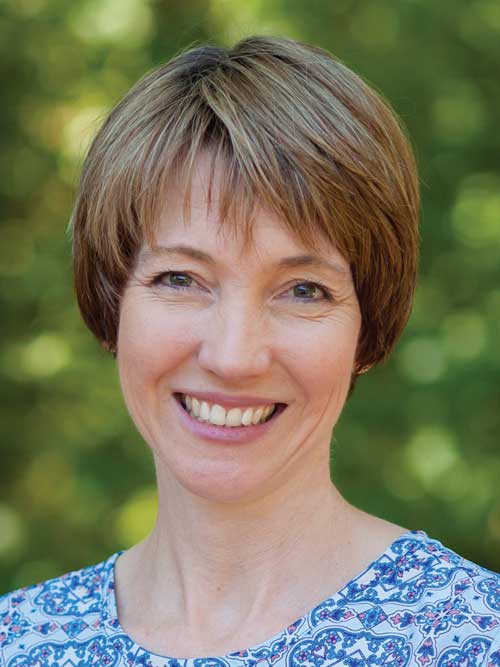 Business professor Thomas was recognized for her multifaceted research projects, including a series of articles she's written on biblical studies and leadership, in which she applies exegetical research from the Bible that applies to current leadership theories and situations. Her most recent work revolves around an experimental way of teaching business classes, Classroom as Organization, in which the classroom essentially becomes an organization. "It is a powerful teaching methodology, particularly well-suited for teaching business topics, that can enliven students' learning experience while giving them the opportunity to practice and develop workplace-related skills," she says. The model gives students the authority to teach in an active learning style, provide meaningful feedback, encourage and monitor team development, and essentially run a fictional organization. Her present research agenda is furthering the topic as she is finding ways to apply it to the university's Doctor of Business Administration dissertation process and its MBA program, including online options during the COVID-19 crisis.
Todd Curtis
Undergraduate Teacher of the Year
Physics professor Curtis needs just one word to describe what he enjoys most about teaching at George Fox: "Everything." He requires a few more to express his love of teaching. "I think the transformation I've been able to be a part of is what stands out," he says. "I've had many students who were afraid of science, thought they were bad at science, and those who feared science was at odds with faith. Aiding, encouraging and empowering them to overcome these fears – to work through and persevere through their failures and come out not only better at scientific problem solving, but with a new view of their own abilities as learners and workers for the kingdom of God – is what I am most proud of." His subject matter, students, colleagues and the university's mission fuel his commitment. "I love students, my colleagues and being at a place where I get to integrate my love for God with my love for physics," he says.
Jennie Harrop
Graduate Teacher of the Year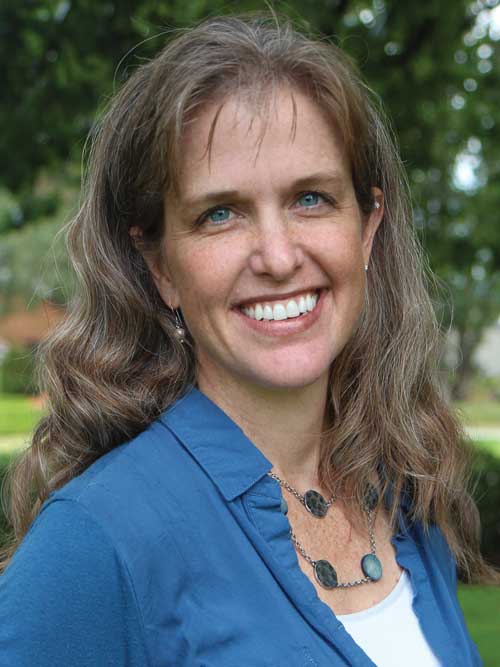 Harrop, chair of the Department of Professional Studies, could easily take pride in her resume. In 2017, she authored the university's first open textbook, The Simple Math of Writing Well: Writing for the 21st Century, and in 2019 she published a ministry book, The Jesus Quotient: IQ to EQ to AQ. With terminal degrees in creative writing, English and ministry, she is knowledgeable in a wide range of disciplines. And yet, her greatest sense of fulfillment comes not from her accomplishments but in seeing her students overcome doubt and ultimately thrive. "Negativity and a lack of confidence are common in the adult classroom, where our students frequently have shouldered years and even decades of failed attempts at school before joining our department," she says. "Students at all levels come to us broken by the world and tentative about their own abilities. The greatest gift we can give them is the assurance that they will be seen and heard for who they truly are – God's perfect creations." Harrop has built and taught a number of new courses, ranging from Writing for Adults to The American West in Film and Fiction, and says she "enjoys the challenge of creating a safe place for students to think deeply, critically and creatively."