Location
Our Undergraduate Campus
George Fox University
414 N. Meridian Street
Newberg, Oregon 97132
Phone: 503-538-8383
We are Oregon's oldest and largest Christian college and serve students at a number of locations, including a residential undergraduate campus in Newberg, a Portland Center, a Salem Site, and teaching sites in other Oregon communities.
Our undergraduate campus is a 108-acre, tree-shaded property in the city of Newberg. Experience a Christian university in our natural setting. After class, you can study or enjoy a relaxing time with friends on our landscaped grounds. Chat with classmates in the rose garden, read a book in the Centennial Tower's shade, or escape down a trail in the wooded Hess Creek Canyon.
The campus has expanded in recent years to include more than 70 buildings. Our Hadlock Student Center opened in 2018 – a 48,000-square-foot facilty featuring three full basketball/volleyball courts, an elevated track, a fitness center and a rock-climbing wall.
Previously, in 2016, we opened our Canyon Commons dining hall, providing a dining experience overlooking the lush Hess Creek Canyon for up to 800. An athletic field facility, the Austin Sports Complex, is a 24-acre tract north of the campus that serves as home to our soccer and lacrosse teams.
Our facilities include science, engineering and nursing labs equipped with the latest equipment and software; the 1,150-seat Bauman Auditorium, which has such good acoustics that the Oregon Symphony records here; and excellent athletic facilities, including the  Stoffer Family Stadium/Duke Athletic Center, home to our football and track programs.
Through numerous activities – sports, fellowship, study groups, Bible studies, etc. – our student body strives to create a fun, encouraging atmosphere.
---
Newberg, Oregon
Newberg is a friendly community close to a major metropolitan environment of 1.9 million people. It is also among the safest cities in Oregon. In a study released in 2019 by Safe Home, a community-focused safety organization, Newberg ranked No. 2 overall in its list of the top 25 "safest cities in Oregon."
Located on the Willamette River, Newberg has a population of 23,300. Historic downtown Newberg consists of a variety of stores, art galleries, coffee shops, restaurants and a retro movie theater. Newberg is also home to a drive-in movie theater – one of just 500 in the nation – and side roads lead to hillside vineyards, state parks and working farms.
The city enjoys a vibrant community spirit by bringing residents together for events such as the Downtown Art Walk, Newberg Farmers Market and Newberg Old Fashioned Festival.
For those who love the outdoors, the Chehalem Parks and Recreation District manages 11 parks in and around Newberg. The parks include Frisbee golf, basketball and tennis courts, softball and soccer fields, nature trials and much more. A $20 million renovation to the city's aquatic center will be completed in 2018.
The city is also home to a nationally renowned skate park that has 29,000 square feet of concrete surface. Prefer bikes? Next to the skate park is an expertly designed BMX track.
---
Surrounding Area
Oregon stretches from the Pacific Coast, over the Coast Range, through the fertile Willamette Valley, past the snowcapped Cascades, and into the high-desert country of central and eastern Oregon. Oregon is spectacular, so it's no surprise that tourism is one of the state's largest industries, along with high technology, forest products and agriculture.
Portland is a short drive from campus. The city is home to the Old Town district, the Tom McCall Waterfront Park, numerous art galleries and museums, a number of theatre groups and jazz clubs, Powell's City of Books and a world-class symphony, ballet, and opera. Other attractions include the Oregon Zoo, the Japanese Garden, the International Rose Test Gardens, and the Oregon Museum of Science and Industry. Every June, the city hosts its Rose Festival, with three parades, a coronation, and 25 days of festival events.
Portland has 9,400 acres of parks, including Mill Ends Park, the smallest in the world. The city also offers entertainment that includes the Portland Trail Blazers (NBA), Portland Timbers (MLS) and the Portland Winter Hawks (WHL) ice hockey squad.
Snow-capped mountains are about a two-hour drive away, and Oregon's rugged coastal beaches are just a little more than an hour down Highway 18.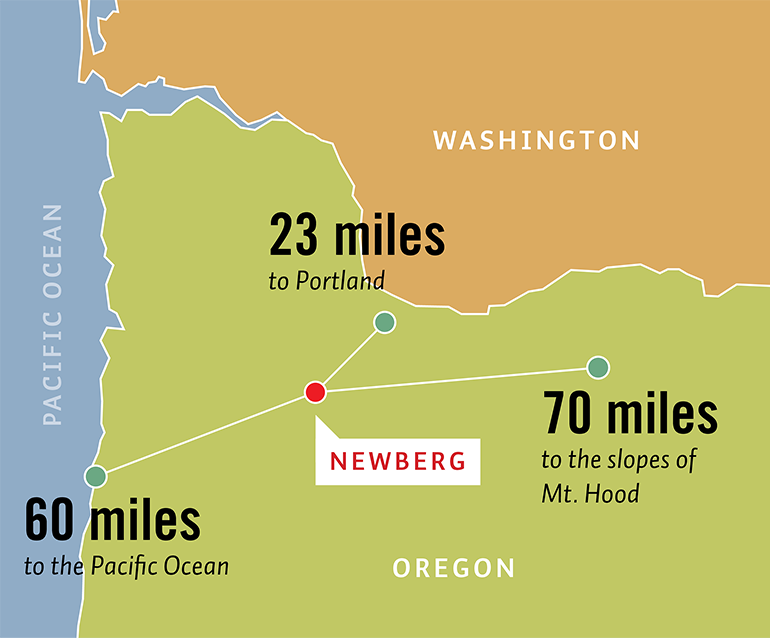 ---
Regional Sites
Our Portland Center is located off I-5 near Tigard. It is home to Portland Seminary, our graduate counseling programs, and degree-completion programs for working adults. The center also offers Master of Arts in Teaching courses and our part-time MBA program.
Our Salem Site offers graduate and degree-completion programs to residents in the mid-Willamette Valley. It offers master's degrees in counseling and teaching (MAT), and bachelor's degrees in elementary education and social and behavioral studies.
George Fox also conducts classes in Redmond, Oregon , and other teaching sites throughout Oregon.