Photos by Moses Hooper
Each summer, a group of George Fox Doctor of Physical Therapy (DPT) students, faculty and alumni travels to Uganda, treating hundreds with injuries and disabilities.
Last summer marked the sixth year the DPT team has made the journey to the capital city of Kampala, where they served in two boarding schools for children with special needs, then made the eight-hour journey to a medical center in the remote town of Paidha to work alongside Ugandan physicians and medical technicians.
The results have been life-changing: Children who were once wheelchair-bound can now walk. Adults with painful injuries from years of hard work receive relief. And the George Fox students who take part in the experience grow exponentially as clinicians and people.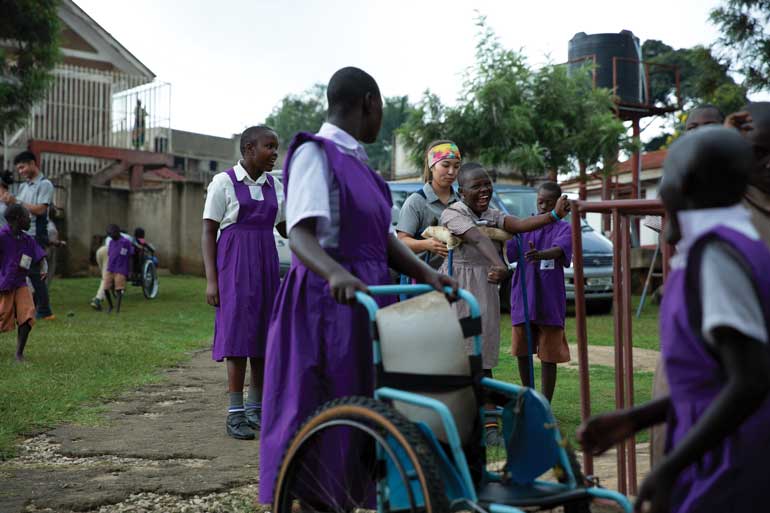 This 16 year-old-girl was wheelchair-bound until last year. She can now walk with assistance and also has the support and encouragement of her classmates to push her wheelchair and walk with her.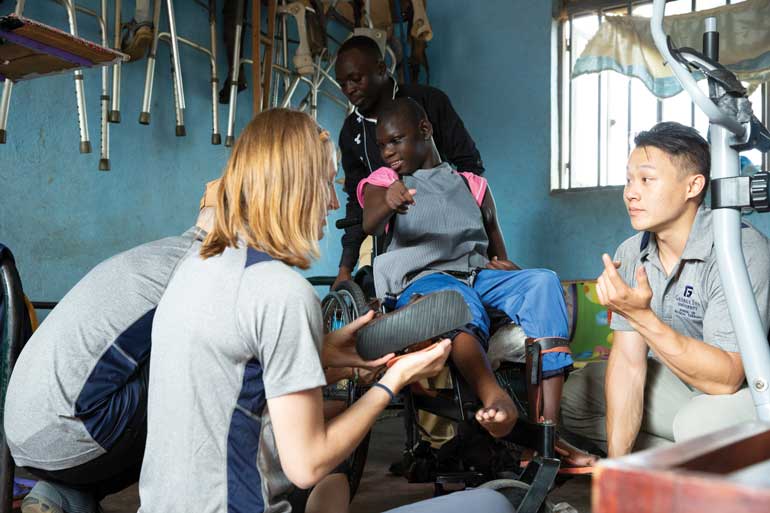 Ed Cheng and Rachel Lineback modify and repair a pair of orthotics. When this patient arrived at Kireka School she was unable to lift her head or walk. With training and guidance, she is now holding her head up, smiling, and even walking with assistance.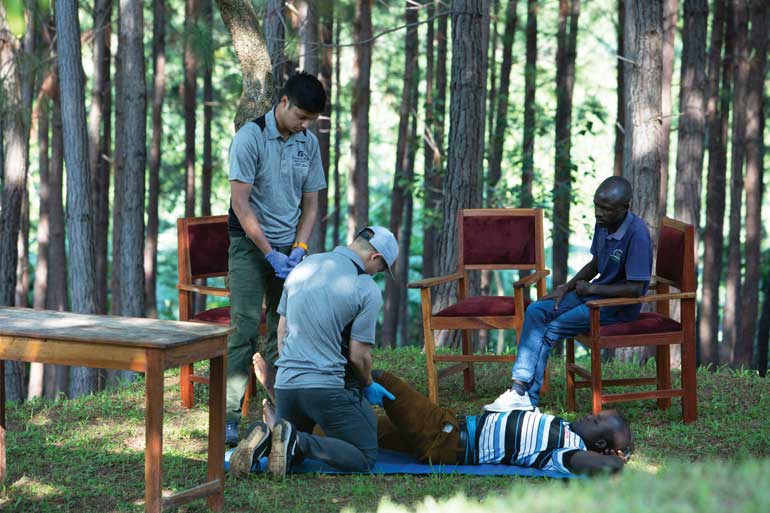 At a physical therapy clinic in Paidha, a village in northern Uganda, Ed and Kevin Coriano work with a local translator to treat a man with back pain.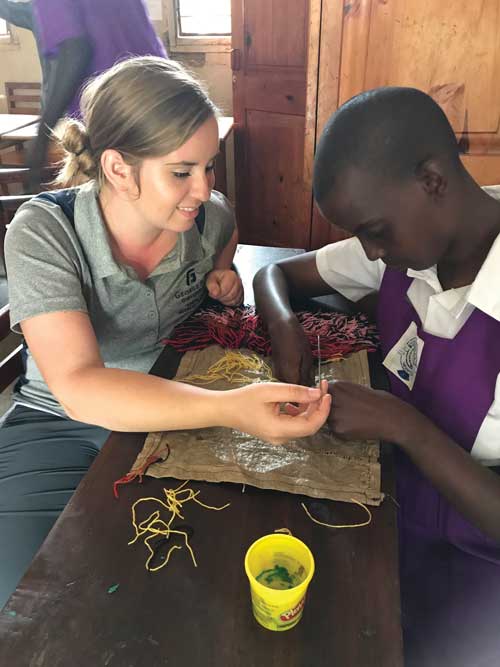 A student in the life skills course at Kireka School shows Lindsey Klemmer her strategies for bead work. She has visual impairment, and together they are thinking up strategies to be more accurate when threading a needle. Older kids often return to their home communities and help earn for the family using the skills they've gained at Kireka.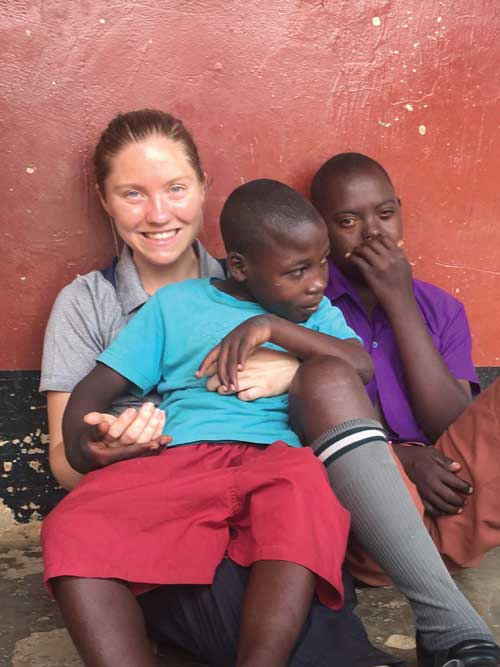 Rachel Cundy acquired a shoe to address a leg length discrepancy due to this student's cerebral palsy. This created a special bond between the two of them.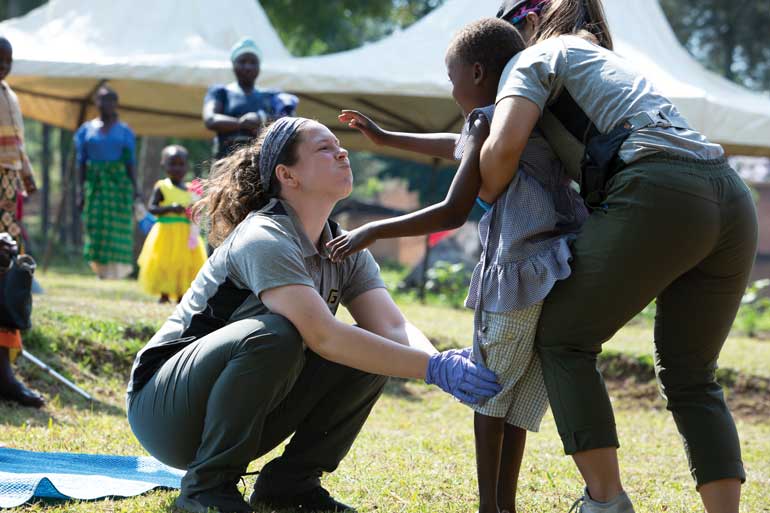 Kara Oshiro and George Fox alumna Katie Porter, a pediatric physical therapist, treat a child with cerebral palsy who has a foot deformity. Once up and standing for the first time, she became very motivated to walk.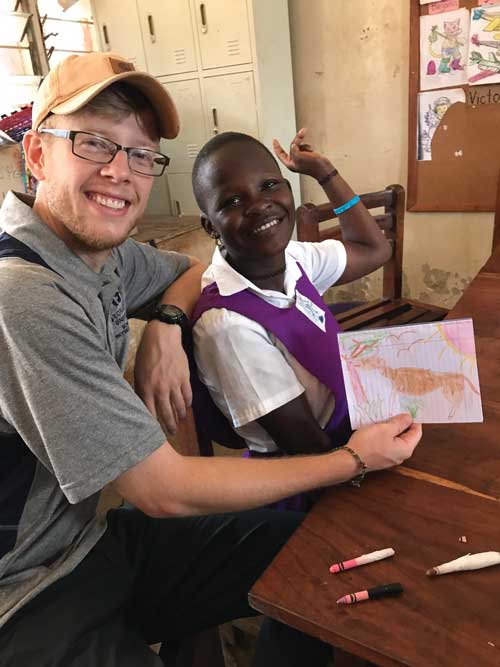 Caleb Zimmerman draws with one of the Ugandan students. Due to her inability to perform fine motor work with her hands, she verbally guided Caleb to create the drawing of a zebra. He was also able to modify the crayons to allow her to hold them in her mouth.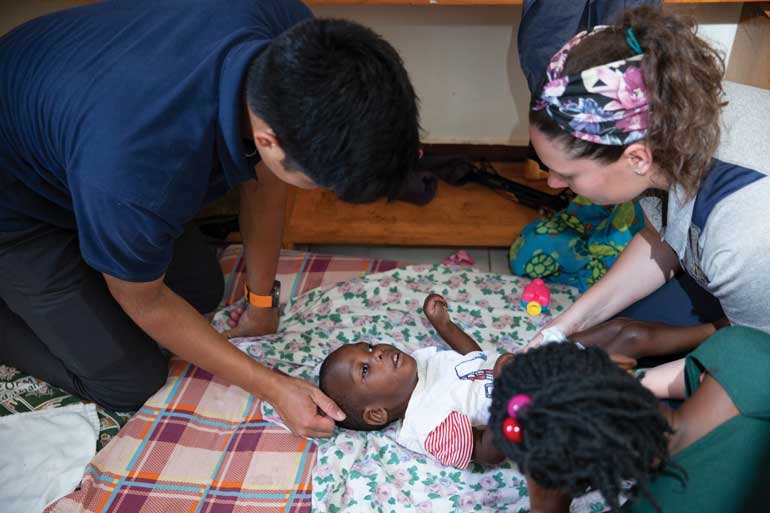 The mother of a young child with cerebral palsy seeks guidance from Kevin and Katie.