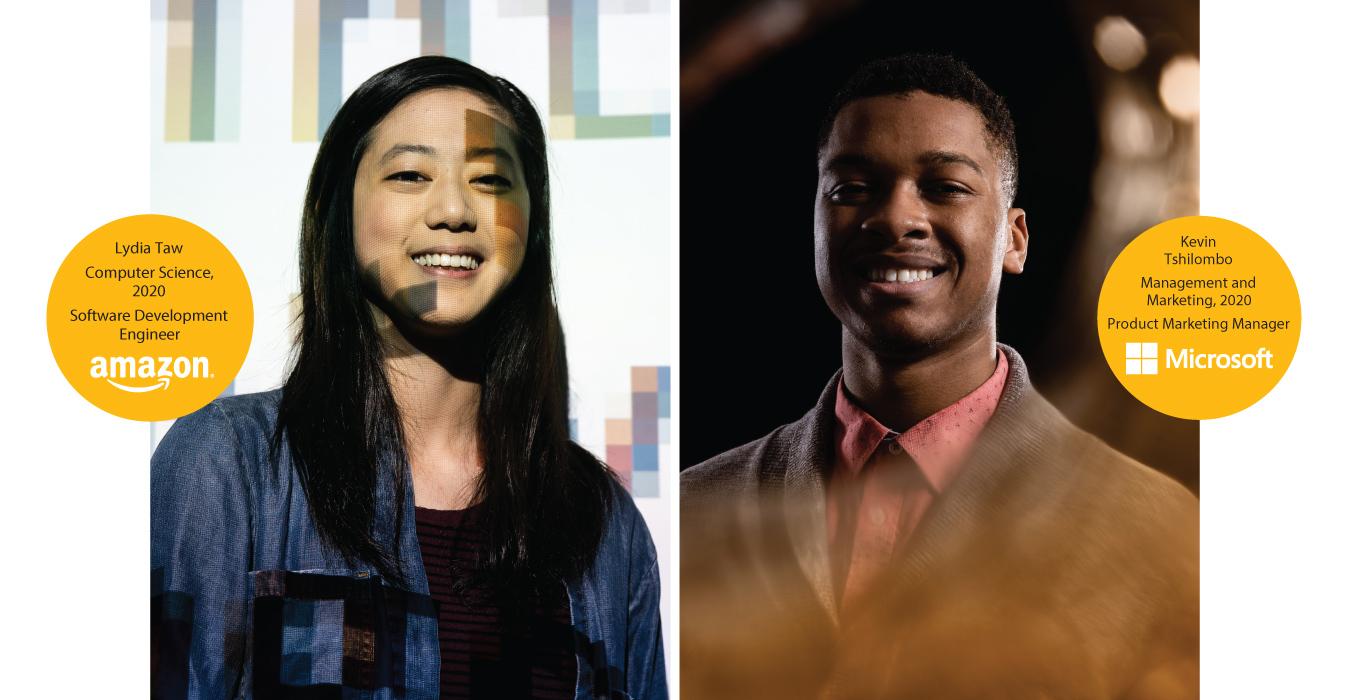 Lydia Taw
"I was mind-blown. I didn't know how to respond."
It was August of 2019, and Lydia Taw had just completed a summer internship at Amazon.
"My manager sat me down in a conference room on my last day and said, 'Here's your performance review, here's your evaluation, and by the way, we'd like to offer you a job.'"
It's rare enough to receive a job offer before your senior year of college, let alone a highly coveted software development engineer position at one of the largest technology companies in the world.
For Taw, it was the culmination of a journey she almost didn't begin. As a sophomore with no coding experience, she decided to change her major after struggling with a Data Structures course, known by computer science students as the "weed-out class."
"I got about halfway through that class and I was like, 'Everybody knows more than I do. I have no coding experience whatsoever. I'm obviously not smart enough to be in this field,'" Taw recalls.
She dropped the class and the major, but her professors wouldn't have it.
"They encouraged me to look beyond what I thought I was capable of," she says. "They literally took me from ground zero to Amazon. My professors played a major role in helping me believe in my ability to do this and developing my confidence."
Now, after graduating in May, Taw begins a new chapter this summer as a full-time employee at Amazon's headquarters in Seattle, bringing with her both the confidence and the unique Christian perspective on career and calling that she learned at George Fox.
"I think it's such a unique opportunity for a Christian to be in a place where they can influence a major corporation," Taw says. "I'm interested in someday leading teams and being able to influence the direction the company takes. I know that's a pretty big dream considering that it's Amazon, but all I've ever learned at Fox was to dream big."
What Lydia Does (as explained to her grandma)
"Grandma, you know about Amazon. Everyone knows what Amazon is, but very few people realize the work that goes into making every single aspect of the website work. The customer only sees a webpage of pretty pictures and colors, but there's a whole ton that goes on in the background. I'm one of the people who write code to make sure all the pretty pictures show up, you get what you bought, and you get the best deal possible."
Advice for Future Bruins
Connect with your professors. They want to get to know you!
Be well-rounded in your interests. Don't just focus on your major.
Be confident. Reach out for what you want.
Do little things that push you out of your comfort zone.
What she'll remember most about George Fox
"It's the people. It's the friendships that I've made. It's the connections that I never thought were possible. George Fox creates an environment where it seems normal to ask a question like, 'How is your soul?' That doesn't happen in most places."
Kevin Tshilombo
Kevin Tshilombo excelled as a business student at George Fox, earning his diploma this spring with a double major in management and marketing. But that wasn't the only reason he was swooped up by Microsoft more than eight months prior to graduation.
Tshilombo, who at the time had just completed a summer internship at the software giant's Redmond, Washington, headquarters, thinks it was his ability to connect with a wide range of people that ultimately got him the job.
"I feel I might have separated myself from some of my peers by actively trying to engage with people who are different than me," he says. "Whether it be culturally, different walks of life, different backgrounds, I really tried to make those true connections, and then I always made sure to stay true to myself in whatever I did."
It's something Tshilombo got a lot of practice at during his time at George Fox. Whether it was participating in student government, cohosting the annual lip sync competition, representing the university on a billboard, or painting his chest and cheering on the women's basketball team, Tshilombo squeezed every last drop out of his George Fox experience, connecting with people from all walks of life along the way.
The ability to connect with others and a diverse set of interests will serve him well in his new position as a product marketing manager, where Tshilombo will work with a variety of teams and people to create a positive and seamless experience for end users.
"It's a little bit of writing, a little bit of design, a little bit of coding. Just knowing enough about everything to communicate with everybody," he says.
And while the varied roles of his new job appeal to Tshilombo, it's not what he's most excited about.
"I just love learning," he says. "I think I can do a lot of learning at Microsoft and apply what I learn to my role in the outside world. That's the biggest thing I'm looking forward to: using the platform that I have to affect my community in a positive way."
Advice for Future Bruins
"Be involved and be engaged. Get involved with a club, be involved with the community around you, know what's going on in society. And then engage when you're in the classroom. Don't just be another person who fills a seat in the desk. Engage with the professor, your peers, and really soak in the knowledge and words that you're hearing because they can really affect you more than you can imagine."
What he'll remember most about George Fox
"It's got to be the community. I really felt I was alone coming here, but the guys in my freshman hall just welcomed me with open arms. They took me to play basketball, toured me around the school, answered all my questions. I'm still great friends with all of them."
Fun Facts
Plays the ukulele
Loves grilled cheese sandwiches
Tie fanatic
Action movie fan