Performing Arts and Music
Put your talent on display. Students in our art, theatre and music departments are a close-knit community of musicians, artists and actors in the service of Jesus Christ. Whether your passion is set design, writing, painting, acting, photography, singing or playing an instrument, we give you the tools and the opportunities to fine-tune your craft.
We offer numerous majors and minors through our three main programs: music, theatre, and art and design. Students can also construct an interdisciplinary major such as business and music. Students who don't major in one of the performing arts can choose to enrich their lives by performing in our vocal and instrumental ensembles or in theatrical productions.
Note: Because of the pandemic, several performances will be presented virtually during the 2020-21 academic year.
Music
Strike a chord. The National Association for Music Educators recently recognized George Fox University's Symphonic Band and Concert Choir as superior music ensembles, and our nationally accredited music education program has been acknowledged as one of the best in the country.
Music majors earn a bachelor of arts in music education or in music with concentrations in composition, performance, pre-teaching or general.
Bauman Auditorium, our acclaimed concert hall, is the site for many performances, including the Oregon Symphony, numerous concerts and student recitals. We also offer an annual concert series featuring our Bösendorfer Imperial Grand Piano.
Theatre
Tell a story. The theatre department presents three main stage productions each year. Works range from ancient Greek theatre to contemporary scripts and musicals.
Our touring theatre troupe, the University Players, is a decades-long tradition at George Fox that brings thought-provoking drama to schools, churches and prisons.
The theatre department offers students opportunities to be involved with major productions from day one, including works that are written, directed and performed by students.
Art and Design

Dazzle the eye. Art and design students pursue painting, printmaking, ceramics, photography, digital art and many other media. We offer art majors in graphic design, interior design, illustration, studio arts and arts administration, as well as an art minor. Distinguished guest artists from around the country come to George Fox and work with our students.
Our two on-campus galleries, the Roger and Mildred Minthorne Gallery and the Donald H. Lindgren Gallery, host several shows each year.
Cinematic Arts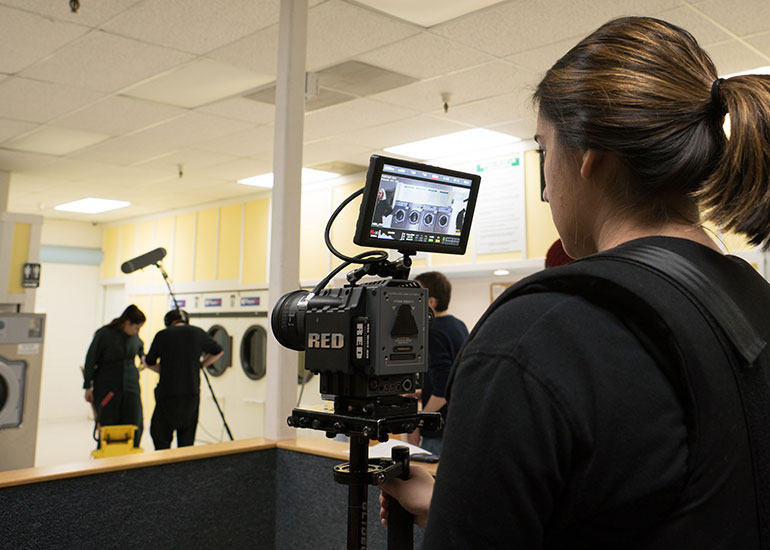 Lights ... camera ... action! Students in our cinematic arts major combine the liberal arts emphasis of communication arts with hands-on experience in video, film and digital media production. With concentrations in audio production, film and video production, film studies and animation, you design a program that fits your individual needs or interests.
All our cinematic arts programs are grounded in certain theoretical and general production courses. Areas of concentration are particular blends of course work that emphasize aspects of the cinema and media industry.