Performing Arts and Music
What sparks joyfor you?
If it's being creative, George Fox is your place to study everything from painting, acting and singing to cinema and set design.
We offer numerous programs in music, theatre, and art and design. Check out the options:
Music
Music is for everyone; it lives inside each of us. The Psalms encourage us to make a joyful noise to celebrate our God, and that's what humanity has done since our earliest days on earth. Join your fellow musicians – both instrumentalists and vocalists – in one of our many ensembles. You don't need to be a music major to be a musician at George Fox!
Vocal Ensembles
Chorale: A mixed choir, open to all students
Chamber Choir: A select, auditioned choir where all members must also be in Chorale
Masterworks Chorus: A chorus open to students and members from the community
Instrumental Ensembles
Symphony Orchestra: A student and community group
Symphonic Band: Auditions are required for students who wish to join this touring ensemble that plays concerts throughout the Northwest.
Jazz Ensemble: An auditioned ensemble to train instrumentalists in the jazz repertoire.
Drumline & Percussion Ensemble: Drumline runs from Aug-Nov; percussion ensemble runs from Dec-April
Chamber Ensembles: There are numerous to choose from including the keyboard ensemble, string quartets, and more!
Concerts
If you love attending musical performances, we host many concerts each year, ranging from jazz and chamber events to our concert series featuring our Bösendorfer Imperial Grand Piano.
Music Major
For those who wish to pursue music in their careers, our music major has an emphasis on the music industry and worship arts, and focuses on outcomes and employability by connecting students who love music with compelling vocational opportunities.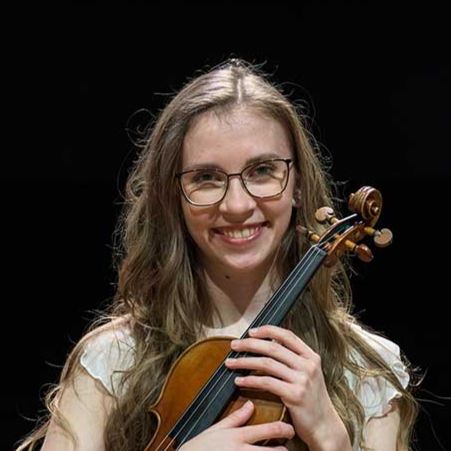 Alex Hastings, Class of 2020
My four years at George Fox have been a time of growth in pretty much every aspect of my life. As a musician, my professors helped mold me into a more versatile and professional musician. The thing I will remember most about George Fox is the handful of professors who really went out of their way to take care of me.
Theatre
Love to act? Or do you lean more toward the technical side of theatre? Either way, you'll have the chance to explore your craft in our three main-stage productions each year. We also produce several student-written and directed works, and bring thought-provoking drama to schools, churches and prisons through our traveling touring company, the University Players.
Led by a professor who earned the Kennedy Center Gold Medallion for Excellence in Educational Theatre, our program prepares students to enter the competitive field of theatre as actors, directors, designers, technicians and managers. Ultimately, our goal is to prepare artists to make meaningful contributions to our world.
Art
&

Design
You can pursue painting, printmaking, ceramics, photography, digital art and many other media in our art and design programs. We offer art majors in graphic design, interior design, illustration, and studio art and arts administration, and many students pursuing other majors enjoy taking art classes as an elective.
We also give you an outlet to showcase your creations in our two on-campus galleries, the Roger and Mildred Minthorne Gallery and the Donald H. Lindgren Gallery. Not an artist yourself? Feel free to browse these galleries totally free of charge.
Cinematic Arts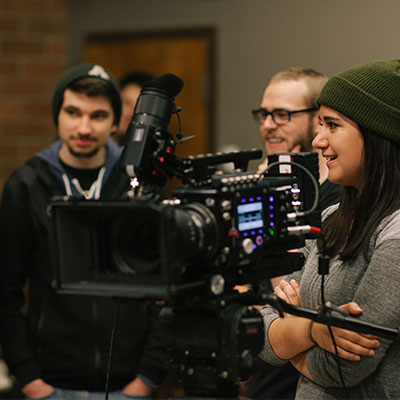 As a cinematic arts major, you'll get hands-on experience in video, film and digital media production. With concentrations in audio production, film and video production and animation, you design a program that fits your individual needs or interests.
You will also get a chance to travel to get "reel-world" learning experience (pardon the pun!) with a trip to the Sundance Film Festival – the largest independent film event in the U.S. – and your work may be showcased at our annual Fox Film Festival!
You'll put your knowledge to practical use through a series of intensive, hands-on projects, and all our students complete at least one internship to help them channel their passion into a career.
Don't want to major in cinematic arts? Not a problem. Many George Fox students and employees have appeared in student films over the years, and courses are open to students even if they're not majoring in cinematic arts.