There's beauty in directing a film that inspires change, power in producing sound that pulls at someone's heart strings, pride in creating animation that sparks joy.
If you are passionate about film and its potential to have impact, join the cinematic arts community as we pursue that shared passion through hands-on projects that develop creative skills.
The cinematic arts major teaches you to merge critical thinking, film theory, and imagination into production. Students choose from among three concentrations that prepare them for a wide variety of jobs, ranging from commercial filmmaking to recording rock bands, from crafting 3D animation and special effects to shooting documentaries in third-world countries.
Faith inspires us to be great filmmakers, to be directors, producers and editors who tell the truth and challenge the status quo. It guides us to create with integrity, humility and joy. And faith brings us together as a community, one where professors know you by name and take your passions and ambitions seriously.
'Reel' World Experience
George Fox cinematic arts students travel to the Sundance Film Festival in Park City, Utah, to screen films and learn about contemporary independent filmmaking from some of the world's top industry artists and experts. While at Sundance, students also participate in events such as the Windrider Forum, an event organized by Fuller Theological Seminary that integrates themes and questions of faith with film.
Concentrations
Learn to shape stories that inspire, inform and entertain through the art of visual storytelling, our culture's most powerful medium. Students in the film and video production concentration learn to write, shoot, direct and edit their own films in a way that meets the artistic expectation audiences expect, but also pushes the boundaries of film towards the next big ideas.
Animation is everywhere. Industries that utilize animation range from film and TV to advertising, gaming, motion graphics, scientific visualization, and so much more. Students in the animation concentration get to use industry-standard software to bring their animated stories to life.
Everyone is familiar with great movie soundtracks like Indiana Jones, Star Wars, Dirty Dancing, The Breakfast Club … the list goes on! Audio production encompasses not only music, but also the sound effects that enhance visual productions. As an audio production student, you will have access to our 5.1 surround sound recording studio that is fully stacked with some of the newest tech in our industry. Let's make some music!
Why

Study Cinematic Arts at George Fox?
You will be surrounded by a community that shares your passion for storytelling and impact through film. These are people who won't settle for less than their best, as students and as Jesus-followers, and who will push you to do the same.

You will learn from industry experts who have experience in the field. One of our professors worked with Lucasfilm Ltd in the 1980s, when she did sound design technician work on such films as Return of the Jedi, Indiana Jones and the Temple of Doom and Star Trek III.

There are so many different paths to pursue in the film industry, and that can feel overwhelming. Here, you'll be exposed to different aspects of the industry, giving you the interdisciplinary knowledge of different areas of film to back up your specialty.

You get hands-on experience with industry-standard equipment. This means your film, audio, and animation goes from good to great. And that means that your vision for your project is fulfilled!

Our students put knowledge into use through a series of intensive, hands-on projects. All our students complete at least one internship to help them channel their passion into a career.

Our small program means you get one-on-one access to professors consistently. You will never be lacking space to be heard and challenged in your faith and in your craft!

As a Cinematic arts major, you have the option to join George Fox University's honors program. This great books program will allow you to engage in active discussions with your peers and provide you with a challenging academic journey that informs your mind and deepens your spiritual walk.
What

will I Study?

You get to pick a focus, while also taking classes that round out your understanding of the many different aspects of the cinematic arts.

Our curriculum covers the broad spectrum of the cinematic arts industry ...
Cinematic camera movement and filming techniques (16 mm film technique as well as digital filming)
Lighting for the studio and on location
Sound recording for music and voice
Creating film sound effects and foley
Editing for television and feature film
Filming, writing and editing documentary nonfiction stories for news or streaming as full-length features
Writing an original script for a television series, short or feature film
Directing actors and creating the look of a film
Designing projects with virtual reality, augmented reality or emerging technology
Animation: Storyboarding, concept design, stop-motion animation, 2D & 3D animation and visual effects
Film history and cinematographic theory
My time as a cinematic arts major at George Fox was a truly enriching experience. My professors were extremely knowledgeable, encouraging, and made me feel prepared to work in the industry. The program is full of passion that intertwines with a desire to bring honor to God through our creation of art. We were encouraged to use the creativity that we were blessed with and share it with those around us.
What's

after George Fox

Employment of film and video editors and camera operators is projected to grow 18 percent through 2029, according to the U.S. Bureau of Labor Statistics. Beyond film studios, most businesses, churches and nonprofits use video and digital film to promote themselves in the marketplace. There are also numerous opportunities for freelancing and creating a small business in digital video/film.

Our cinematic arts students have gone on to do some game-changing work in the professional world.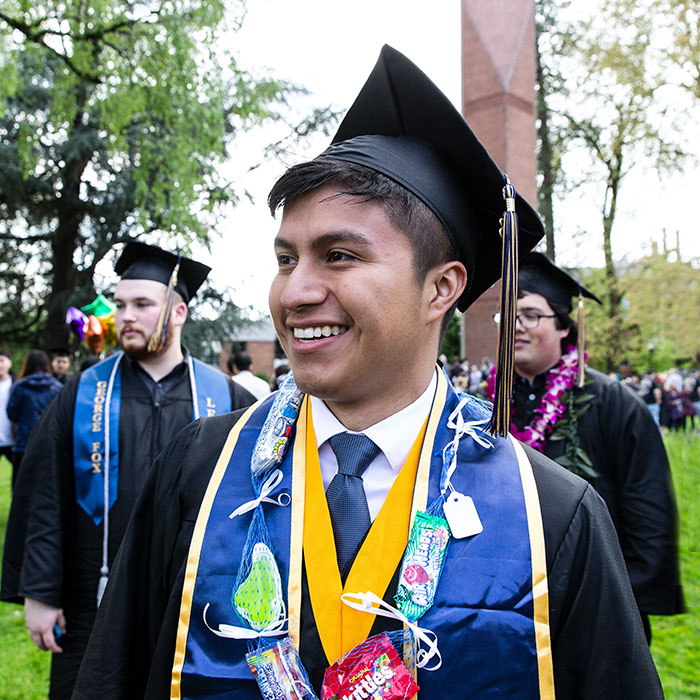 Jobs
Video Production, Portland Trail Blazers
Producer, Graystone Media → Sports Media Production (produced the Civil War: Ducks vs Beavers)
Portland Film Community: Grimm, Portlandia, Pretty Little Liars, The Librarians
Audiovisual Tech, Nike
Videographer, Reverie Creative Agency
Luis Palau Ministries
Producer, Happy Finish
Courtroom Trial Videographer
Director of Promotions and Listener Engagement, BOOST Radio
Site Director, Gear Up
Internships
Production Intern, Hollywood, California
Keiki O Ka Aina
Refuge VFX
Pixar
Graduate Schools
American Film Institute
University of Southern California
UCL (London)
University of Oregon