A
George Fox

Education

You deserve a university that won't just give you the answers, but will teach you how to ask the right questions. You deserve an education that keeps your heart focused on Jesus and uses the classroom to expand your understanding of his character and plan for the world. And for you!

Christ is our cornerstone, and he is at the core of every course in our new general education program, the Cornerstone Core Curriculum.

The Cornerstone Core is a set of 12 courses across 10 academic disciplines that undergraduate students take at George Fox to cultivate their character within the Christian context and the Great Commandment: how to love God with all their heart, soul, mind, and strength, as well as love their neighbor as themselves (Matthew 22:37-40).

The result? Students discover their calling and purpose as they develop into the next generation of Christian leaders, equipped with the virtues of Christ and professional competence.
How many credits is the Cornerstone Core Curriculum?

Students will take 37 credits across academic disciplines (12 courses) to complete this general education graduation requirement.

Each course is designed to be transfer-credit-friendly

However, regardless of how many credits you bring with you to George Fox through AP, dual credit or other options, you'll need to complete at least 9 units (three courses) from the Cornerstone Core Curriculum.

Note for transfer students: A transfer degree fulfills the GE requirements except for a few courses that are tied specifically to our institutional mission.

How will these courses be delivered?

Every Cornerstone Core course will be delivered in person as well as asynchronous online (i.e. assignments with due dates each week that you can complete on your own schedule), so you can choose whichever option works better for your learning style.
At George Fox our core experience in the Christian liberal arts isn't an afterthought! In fact the vast majority of Cornerstone courses are taught by our excellent and award-winning full-time faculty.
Meet the Professors
Cornerstone Core courses are taught by amazing faculty from each academic discipline. Meet a few of the professors you'll learn from in your first years at George Fox!
A Deeper Dive into the Cornerstone Core Curriculum
What is the purpose of general education?
Every university requires its students to take entry-level courses across numerous academic disciplines before diving into an academic major – but why? The goal is for students to gain exposure to the breadth of academia beyond their academic major in order to become well rounded, develop critical thinking skills, and push themselves to learn new ideas.
We set out to create something deeper. Something more intentional. Something exceptionally true to George Fox University with Christ at the center.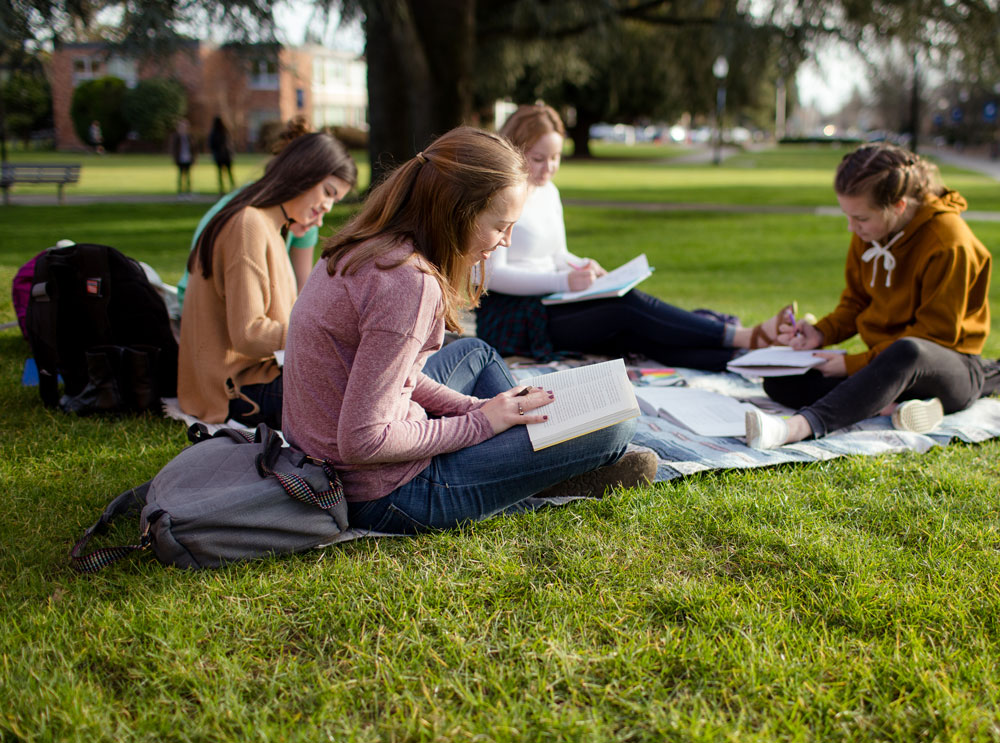 Simply being exposed to a variety of academic disciplines isn't enough.
At George Fox, we want our students to:
Learn how to live a meaningful life because of what they learn about the character and truth of Christ in each discipline
Understand what it means to be a Christian in today's world as they engage with every topic from civics to science to art to math, and
Become whole people who value learning and are equipped to better love God, love others, and love themselves (Great Commandment)
As students transition from general education to begin courses for their academic major, this capacity to love will be further developed in a concrete way through our degree programs that have a clear path toward excellence in professional work and advanced degrees.
In each academic department, students will be mentored by caring faculty who equip them to overflow the love of Christ into "all the world" (Matthew 28:16-20), including Christian ministries, teaching, engineering, commerce, art, law, healthcare, social work and the like.

Course Descriptions
The role of the Cornerstone Core is to form the whole person within the context of biblical truth and Christ's character. Accordingly, each course in our general education program is designed to accomplish a common goal: deepen faith, broaden worldview, and cultivate character formation.
Program Skills
Written & oral communication
Ethical reasoning
Empirical & Quantitative reasoning
Digital & information literacy
Cross-cultural literacy
Logic & problem solving
Program Features
Digital hybrid deliveries
Transfer friendly
Diverse epistemologies
Flexible scheduling
History of ideas
Parents Get a Chance to Learn, Too
George Fox parents are invited to participate in a free online course that provides the opportunity experience some of Cornerstone Core content that students are learning while they're away at school. Once your student has started classes at George Fox, you'll receive an email invite to participate in this special course, designed just for families and supporters of George Fox students.
General Education

Alternatives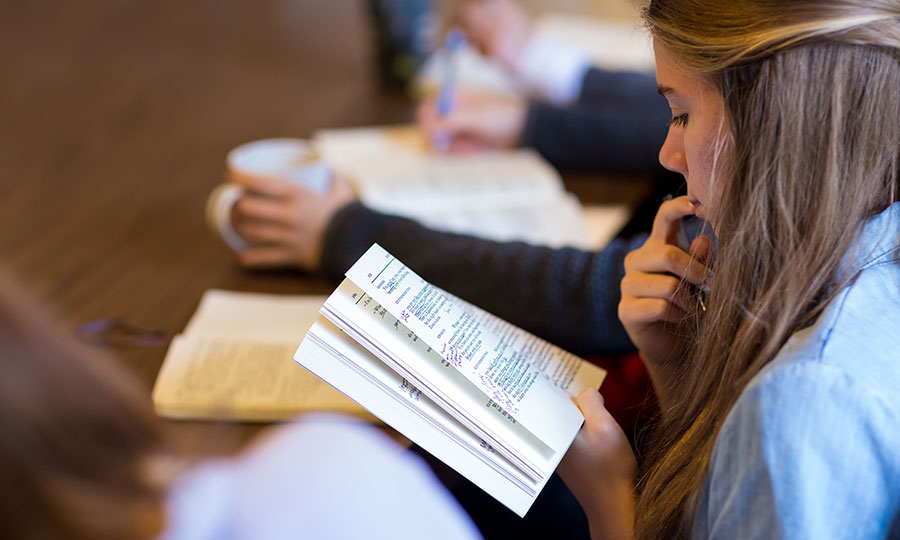 Great Books Honors Program
The honors program pairs rigorous reading material with discussion-based classes. These challenging discussions are grounded in the common understanding of faith, dignity and respectful dialogue.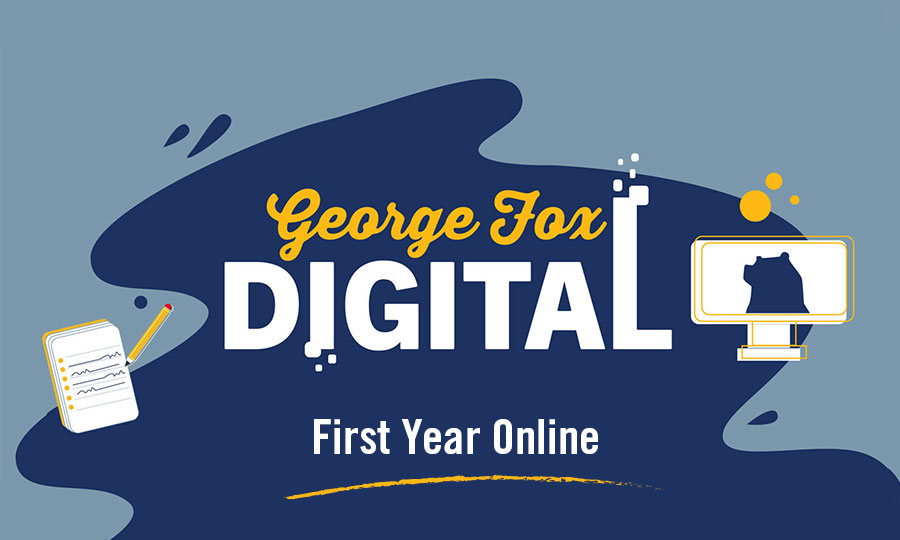 George Fox Digital: First Year Online
George Fox Digital is an immersive online-learning experience that empowers students to complete general education requirements within the flexibility of remote education. This program equips students to graduate in four years – one online and three on campus.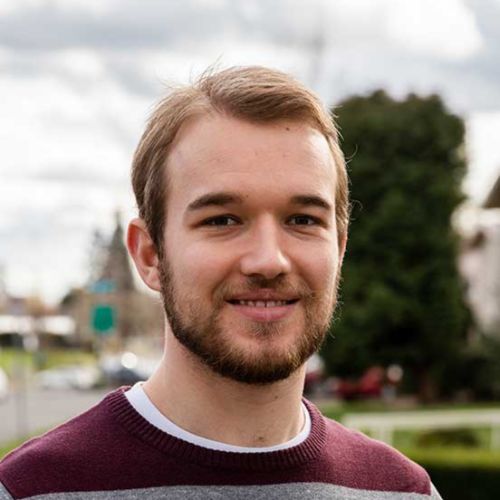 Tristan Panke, Class of 2020
I am indebted to my professors and peers in the honors program for showing me what the intellectual life looks like and for instilling in me a lifelong hunger for wisdom and for a greater understanding of God and of the world. Through my experience, I have learned more of what it means to be fully human and to live a life in pursuit of God.