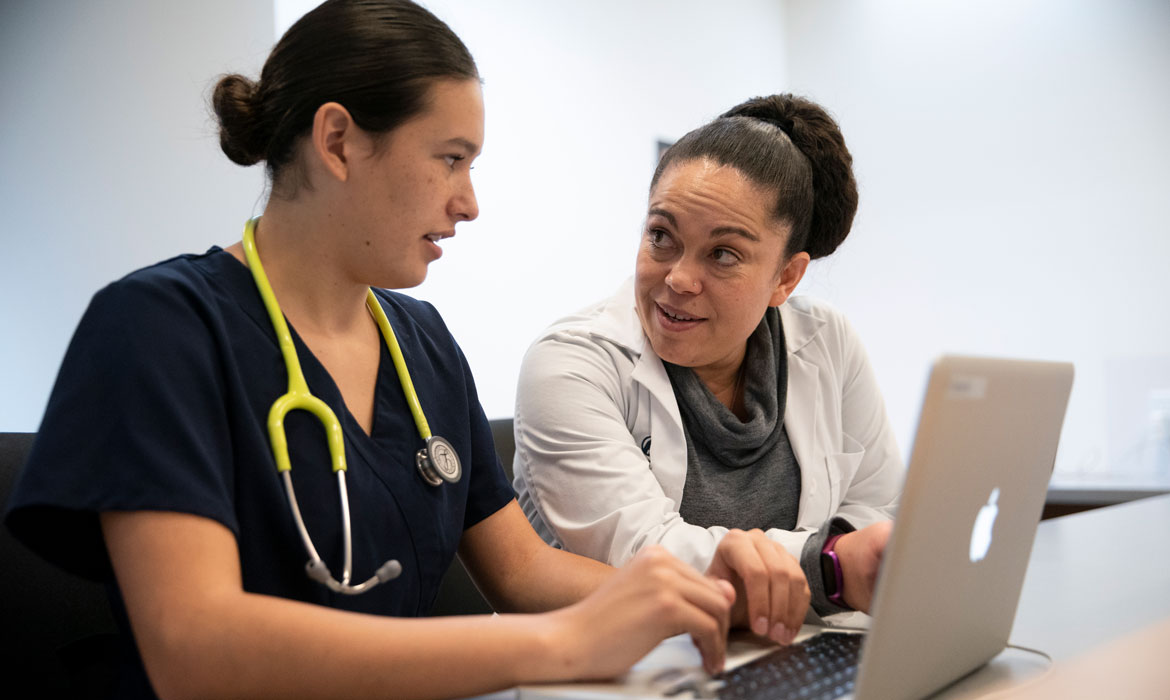 Nursing Admissions for Transfers
The Spring 2024 admission cycle is closed. Applications for Fall 2024 will open late December and will close April 8th, 2024. 
All eligible applicants will be invited to an online group interview in late April.
You may use the Should I Apply for Direct, General, or Transfer Admit? questionnaire to help you determine what type of application you should fill out.
George Fox's nursing program accepts transfer students, who must complete all general education requirements needed to obtain the baccalaureate degree. As a transfer student, you will also need to complete 9 credits of theology (THEO) at George Fox (6 credits if you have a transfer degree).
General education course work can be met through an approved transfer degree or completion of general education course work.
All transfer students must complete an application to George Fox and then complete the College of Nursing application.
Note: Transfer admit spaces are not guaranteed. Applicants will be offered admission based on a point system and space availability.
Prerequisite Courses
For fall admission cycles, all nursing prerequisites must be completed by the winter term. For spring admission cycle, all nursing prerequisite courses must be completed by the previous summer term.
Science courses must be completed within seven years of the anticipated program start date (or have approval from the nursing program director). The MATH 180 prerequisite course cannot be satisfied through a statistics course. Our transfer guide shows equivalent course at local community colleges.
Science prerequisite courses:
BIOL 221: Anatomy & Physiology I
BIOL 222: Anatomy & Physiology II (if taking quarter courses, a third A&P is required to complete the sequence)
BIOL 367: Microbiology
CHEM 150: General, Organic & Biological Chemistry (must include all three components)
Non science nursing prerequisite courses:
COMM 111: Communication in Society (Intro to Communication)
WRIT 111: Caring for Words (English Composition)
MATH 180: College Algebra
PSYC 150: General Psychology
PSYC 310: Lifespan Human Development
THEO 380: Ethics
MATH 240: Statistical Procedures
NURS 220: Nutrition Essentials
For a complete evaluation of your prerequisite courses, schedule a meeting with our transfer admissions counselor Madi Bradley or contact her at mbradley@georgefox.edu or 503-554-2254.
GPA Requirements
Transfer students must have a 3.0 cumulative GPA in both their nursing prerequisite and nursing prerequisite science courses to be eligible for admission. Students must receive a letter grade of "C" or higher in all nursing prerequisite courses. A grade of "C-"or lower (including pass/fail) will not be accepted. Retakes of prerequisite courses will be evaluated and multiple retakes could impact the decision to admit.
Running Start Applicants
Running Start students who complete at least two semesters with a minimum of 12 credits at George Fox University will be considered for Direct Admission. Running Start students with one semester (minimum of 12 credits) at George Fox University and no additional college credits (earned after graduation from high school) will be considered for General Admission. If a Running Start student has additional college credit (earned after graduation from high school), they will be considered a transfer student and must apply via the George Fox University website and then the application for the College of Nursing.
Please contact the nursing office at nursing@georgefox.edu for specific instructions regarding your transfer courses.
Waitlist
A waitlist is implemented when there are more qualified applicants than placement capacity for an incoming class. Applicants placed on the waitlist are notified both by mail and email. If positions become available to accommodate additional eligible students, the waitlist will be activated. Applicants are only on the waitlist for the year of application.
COVID-19 & Nursing
The majority of our clinical partners are allowing exemptions to the COVID vaccine requirement. Individuals seeking admission to the College of Nursing for Spring 2024 and beyond may complete a COVID vaccine exemption form.
Fall 2023 Admission Resources
Note: The prerequisite requirements changed starting Fall 2022. Please review the overview pages to ensure you have completed all the required courses.
Final acceptance to the program is contingent upon passing a background check and drug screen.
Learn more about program and clinical requirements