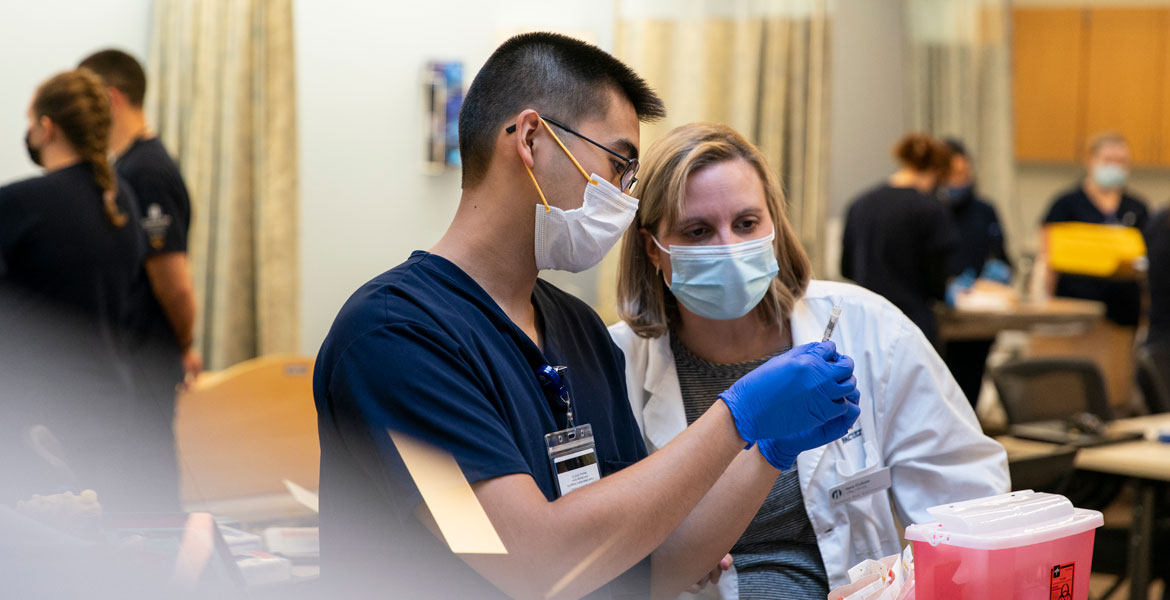 About the College of Nursing
At George Fox, we view the nursing profession as a calling that goes beyond simply treating the physical. We believe in training practitioners who exemplify compassion, care, empathy and kindness to those who are under their charge.
This approach to the profession is reflected in our mission:
The George Fox University College of Nursing prepares students to enter the profession with a commitment to promoting health with excellence and integrity and as imitators of Christ through caring with compassion and hope.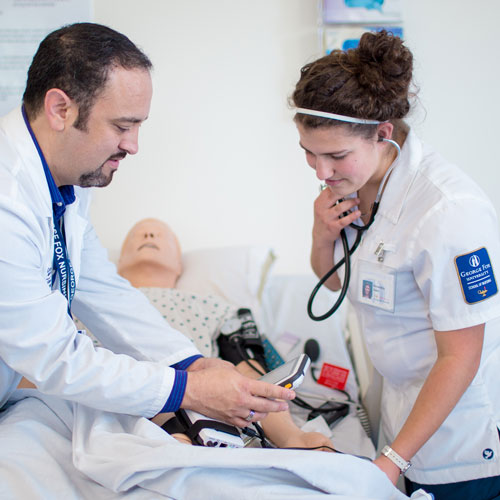 Our Values
In a word, we value the dignity and value of each individual. To that end, we integrate the following values into nursing education.
Promoting Health: We seek to enable people to increase control over and improve their health and well-being (body, mind and spirit).
Excellence: We seek to demonstrate the highest professional standards.
Integrity: We adhere to moral and ethical principles with character and honesty.
Imitators of Christ: We seek to follow the attributes of Christ, who exhibited love, joy, peace, patience, kindness, goodness, faithfulness, gentleness and self-control.
Caring: We respect, honor and advocate for the dignity of one another and those we serve.
Compassion: We hold a deep awareness of and desire to relieve suffering and promote justice.
Hope: We believe in the opportunity of a positive future.
Outcomes
Our program is comprehensive, going beyond the science of nursing to explore the management, technology, policies and practices associated with the profession. The end result: a well-rounded education that prepares you for a wide range of jobs in the field.
As part of our program, you will:
Integrate concepts from liberal arts and sciences in promoting health and delivering individualized care
Utilize standards of nursing practice and current science to deliver safe, competent, patient-centered care to patients across the lifespan in a variety of settings
Integrate evidence, clinical judgment, and patient preferences throughout the nursing process
Apply information management and technology across the health continuum to facilitate high-quality nursing care
Demonstrate basic knowledge of healthcare policy, finance, and regulatory agencies, including domestic and global healthcare trends
Use communication, collaboration, and organizational skills to work in partnerships with clients, families, communities, and the interprofessional healthcare team to promote health
Employ principles of leadership to support quality improvement, safety, and cost containment initiatives in a variety of settings
Demonstrate professional values that integrate lifelong learning, service, and reflective practice
Provide evidence-based nursing care that incorporates diversity, human dignity, and cultural humility
Provide holistic, empathetic nursing care that reflects the character and compassion of Christ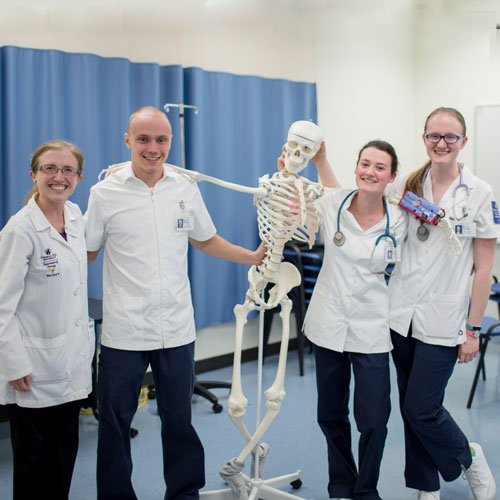 Get Involved
Seeking connections beyond the classroom? Consider joining the Nursing Club on campus.
Program Awards
Each year at our annual pinning ceremony, we honor class members with awards that recognize their commitment to leadership, innovation, mentoring, collegiality, and character.