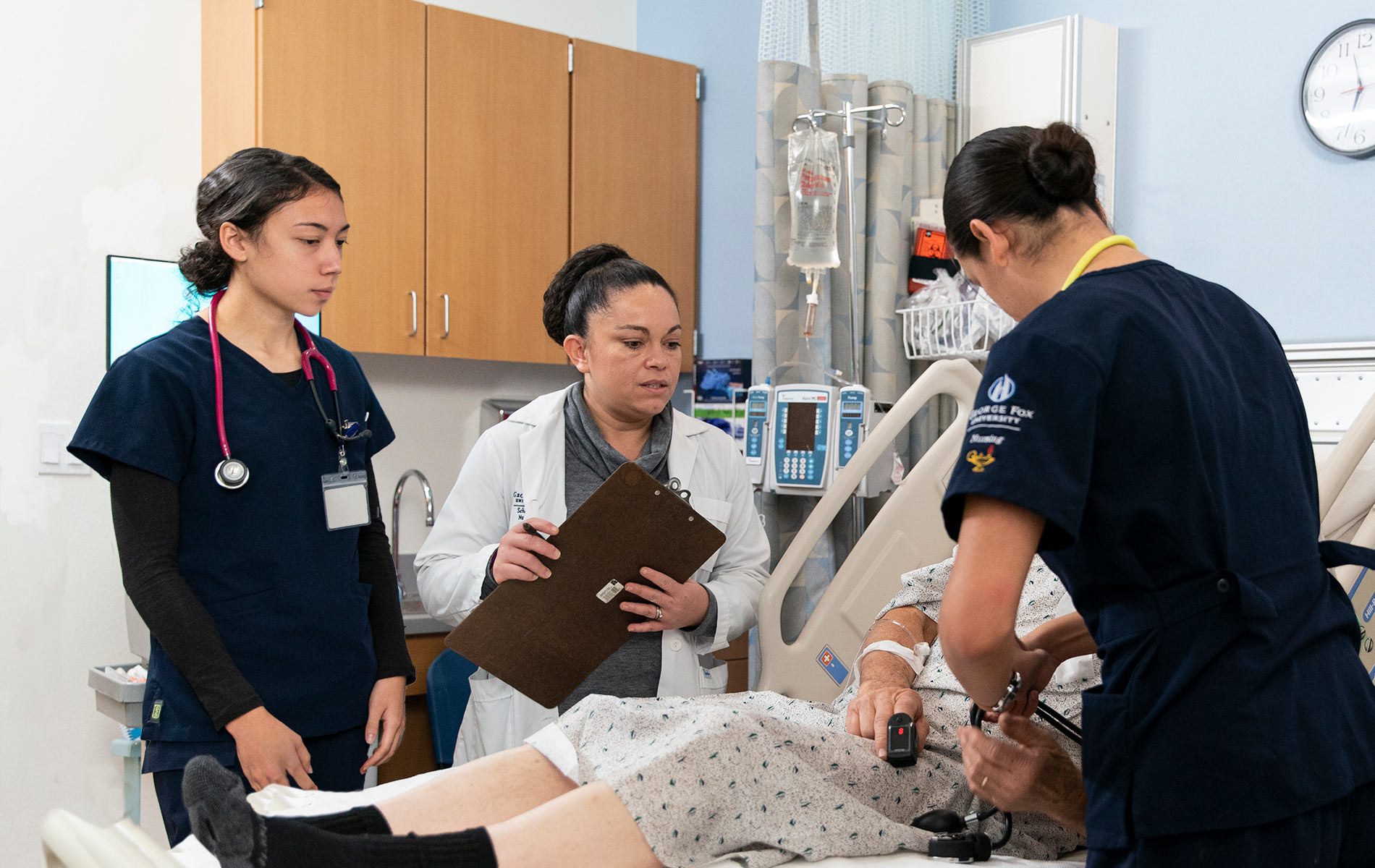 College of Nursing
What role will you play in a world desperate for dedicated healthcare professionals?
How will your compassion for others be reflected in your work?
If these are the kinds of questions you've asked yourself, you've come to the right place. George Fox's nursing major will take your love of helping others and combine it with sound scientific training to equip you to serve in hospitals, research facilities, community-based clinics, doctors' offices, and nonprofit organizations.
You will find our graduates everywhere – from inner-city clinics and urban hospitals to rural outposts and the mission field, offering hope and healing to the world's most underserved populations.
Upon graduating, you will be eligible to take the National Council Licensure Exam (NCLEX-RN) for licensure as a registered nurse (RN).
highest nclex first-time pass rate of any bsn program in oregon in 2020
97.67%
Our Goal
Our goal in the College of Nursing is to develop competent, professional nurses who will:
Be imitators of Christ
Serve as leaders in providing holistic health care to a global community
Foster an attitude of lifelong learning
Be prepared for graduate education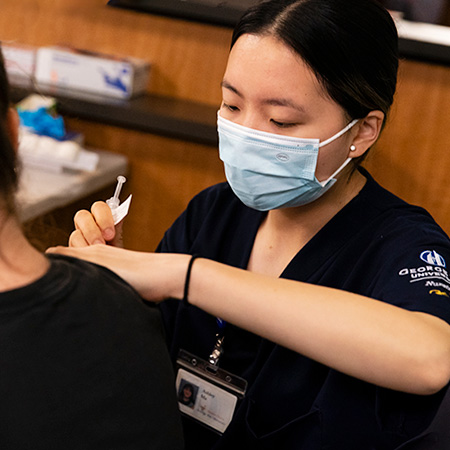 As a student in our program, you'll have the opportunity to engage in learning experiences both inside and outside of the classroom, including in our recently introduced simulation clinic, which will challenge you to respond to real-world scenarios with patient actors.
Clinical experiences take place in a variety of acute care and community healthcare settings, allowing you to gain valuable experience in professional nursing practice. Ultimately, you will be prepared to serve in areas such as acute care, cardiology, emergency, home care, hospice, obstetrics, oncology, pediatrics, school nursing and medical missions.
CCNE Accreditation
The baccalaureate degree program in nursing at George Fox University is accredited by the Commission on Collegiate Nursing Education (
http://ccneaccreditation.org
)
.
The baccalaureate program is also approved by the Oregon State Board of Nursing (OSBN).
Upon completion of the nursing program, you will be prepared to take the NCLEX-RN licensure exam and enter into nursing practice.
Our nursing program launched in 2006 and has been accredited since 2008.
Educational Requirements
The Bachelor of Science in Nursing program at George Fox University meets the educational requirements for professional RN licensure in all 50 U.S. states and the following jurisdictions:
States and jurisdictions information
Alabama
Alaska
Arizona
Arkansas
California
Colorado
Connecticut
Delaware
District of Columbia
Florida
Georgia
Guam
Hawaii
Idaho
Illinois
Indiana
Iowa
Kansas
Kentucky
Louisiana
Maine
Maryland
Massachusetts
Michigan
Minnesota
Mississippi
Missouri
Montana
Nebraska
Nevada
New Hampshire
New Jersey
New Mexico
New York
North Carolina
North Dakota
Northern Marietta Islands
Ohio
Oklahoma
Oregon
Pennsylvania
Rhode Island
South Carolina
South Dakota
Tennessee
Texas
Utah
US Virgin Islands
Vermont
Virginia
Washington
West Virginia
Wisconsin
Wyoming
Note: The educational requirements for professional RN licensure requirements for American Samoa cannot be determined at the time of the last review.
Reviewed: July 2023 and will be reviewed annually
View specific state and/or jurisdiction nursing licensure requirements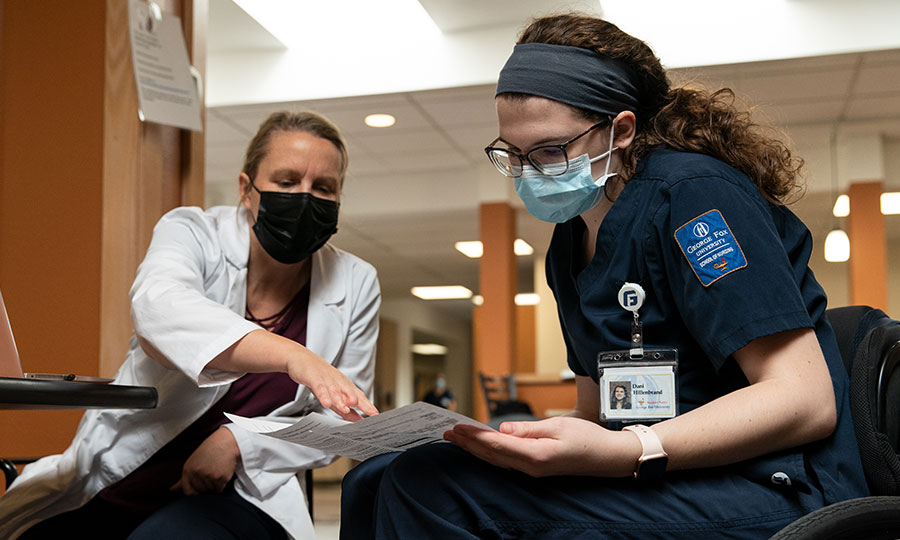 Admissions
George Fox students meeting academic requirements may be eligible for either direct admission or general admission. Students may also apply to transfer into the nursing program from outside of the university. A waitlist may be implemented when there are more qualified applicants than placement capacity.
COVID-19 & Nursing
The majority of our clinical partners are allowing exemptions to the COVID vaccine requirement. Individuals seeking admission to the College of Nursing for Spring 2024 and beyond may complete a COVID vaccine exemption form.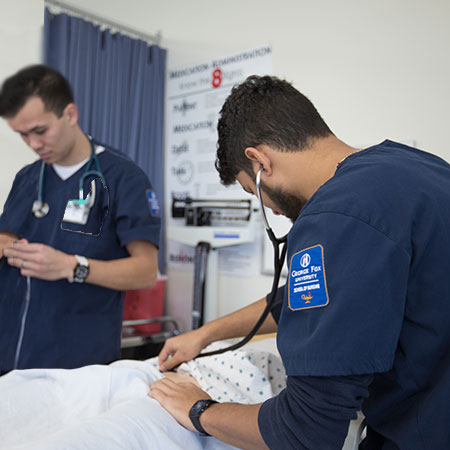 Resources
Want more details about our program? Have questions about the process of becoming a nurse in Oregon? Are you game for a virtual campus tour?
If so, check out the following resources to learn more!