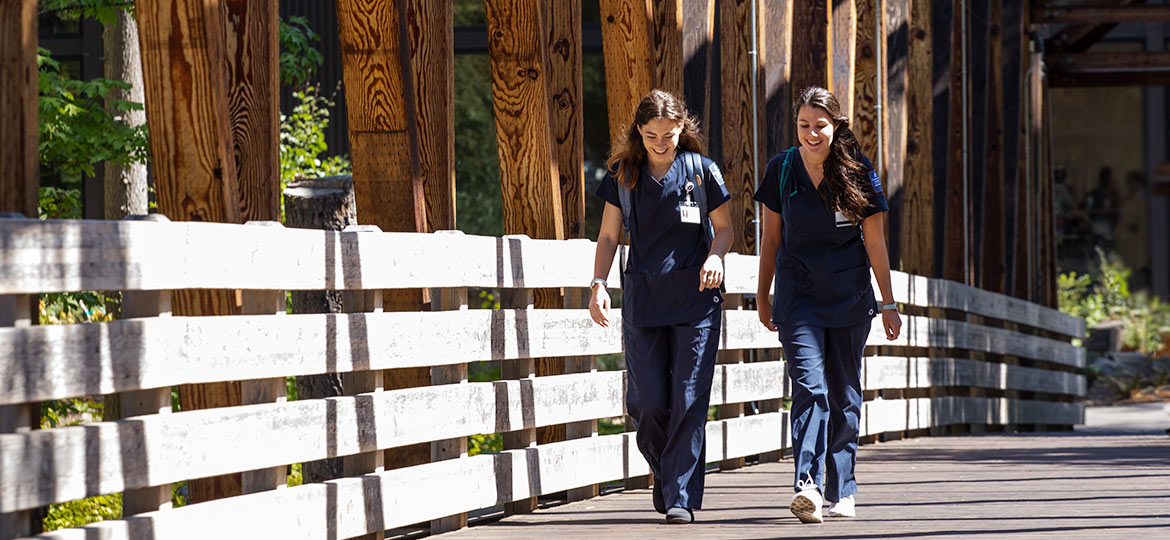 Nursing Program & Clinical Requirements
General Education Requirements
Nursing students must meet the general education requirements of the university for the Bachelor of Science in Nursing degree.
Upon Acceptance Into the Program
Students who accept the offer of admission into the College of Nursing will receive information from the clinical placement coordinator about immunizations, CPR certification, background checks and drug testing. All students must have health insurance and a laptop computer (Chromebooks and tablets are not acceptable; view minimum specifications for computers).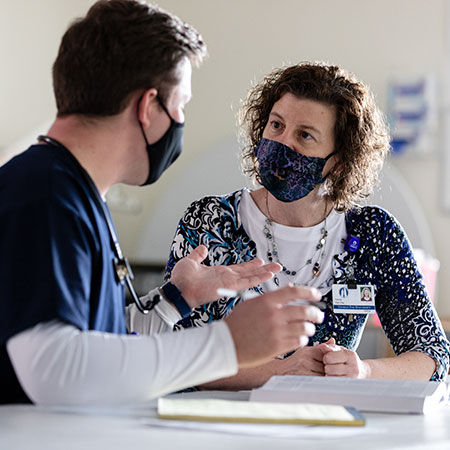 In order to attend class and/or clinical, all of the following compliance requirements must be completed by the dates below. Requirement deadlines are dependent upon the admission cycle.
Fall Admission Cycle: Requirements must be completed by Aug. 1
Spring Admission Cycle: Requirements must be completed by Jan. 1
The George Fox College of Nursing uses an outside vendor to manage compliance requirements (immunizations, CPR certification, background check, drug test). Once a student accepts the offer of admission into the nursing program, detailed information will be provided on how to establish a student account with our vendor.
Students are responsible for uploading all required documents to their student account. The one-time fee for this service is $135, which is the student's responsibility to pay at the time the account is established.
Immunizations for Admission
Students who are admitted to the program must have the vaccinations outlined below.
Official documents will be required to validate students are current with all immunization requirements. Review immunization documentation requirements
One of the following is required:
Two-step TB skin test (one to three weeks apart) or
QuantiFERON Gold Blood Test or
If positive results, provide a clear chest X-ray
Proof of current immunizations:
Diphtheria, tetanus (tetanus only within past 10 years)
Two (2) MMR, or titer is drawn if you have not had two MMR vaccinations
Series of three (3) Hepatitis B, and titer
Influenza (flu shot), obtained later in the fall semester each year
Proof of either two (2) varicella (chicken pox) vaccinations or one (1) titer for varicella. Having had chicken pox is not sufficient documentation.
All official vaccination documentation will be reviewed and approved by our outside vendor.
COVID-19 & Nursing
The majority of our clinical partners are allowing exemptions to the COVID vaccine requirement. Individuals seeking admission to the College of Nursing for Spring 2024 and beyond may complete a COVID vaccine exemption form.
Healthcare Provider CPR Certification (American Heart Association)
In order to attend class, certification must be obtained from the American Heart Association only.
BLS for Healthcare Provider CPR/AED certification only
Certification must be kept current throughout your time in the nursing program.
Criminal Background Check
Students who are admitted to the program must complete a background check. The final acceptance is dependent upon the completion of a background check.
Mandatory Drug Testing
Final acceptance into the program is based on a satisfactory drug screen.
Health Insurance
Proof of health insurance for all nursing students, both full- and part-time status, is required upon admission.