Do you aspire to help people overcome injuries, assist those with physical pain, or help them navigate health-related crises in their lives? Or perhaps you simply want to help others live healthfully, knowing there's a correlation between physical activity and quality of life.
George Fox's kinesiology major prepares you to be that very person, offering a scientific foundation for careers in a wide range of healthcare disciplines.
Preparation for a Wide Range of Careers
Perhaps "versatility" isn't the word that comes to mind when you think of kinesiology, but this major equips you to be successful in careers beyond athletic training or physical therapy. Our graduates go on to work as physical therapists, occupational therapists, physician assistants, and as trainers/therapists in a variety of sports science-related fields.
This program is also the ideal launch point for furthering your education in the field, setting you up to pursue a doctorate in physical therapy or occupational therapy, a masters in kinesiology, exercise physiology or athletic training, or to enroll in other degree programs related to human performance and corrective exercise.
Why

Study Kinesiology at George Fox?
You will get a well-rounded education. In addition to the sciences, you will take general education courses ranging from Bible and humanities to communication and mathematics – all taught in a Christian college environment where faith is integrated with learning.

Our

kinesiology

students have a high acceptance rate into masters and doctoral graduate programs, including

physical therapy

,

occupational therapy

, exercise physiology and athletic training.

We will work with you individually to make sure you are strategically preparing yourself to be competitive in the field and to reach your career goal.

Our small class sizes allow for close interaction with faculty, hands-on learning experiences from lab-based coursework, and the opportunity to conduct applied research studies.

You will gain practical experience working in the Find your Fit program, a department-led health and fitness initiative for George Fox employees.

You have the opportunity to lead and serve through the student-led Exercise Science Club.

As a Kinesiology major, you have the option to join George Fox University's honors program. This great books program will allow you to engage in active discussions with your peers and provide you with a challenging academic journey that informs your mind and deepens your spiritual walk.
What

will I Study?
Exercise science is the scientific study of human movement and the changes to the body caused by physical activity. Our core curriculum includes courses in anatomy and physiology, kinesiology, exercise physiology, and performance enhancement.
In addition to core courses in exercise science, you will take classes in supporting academic areas such as chemistry, biology, health science, and physiology.
You will expand upon theoretical knowledge through practical experiences in exercise testing and prescription, strength and conditioning, exercise physiology, therapeutic exercise, independent study in applied research, and clinical internships.
Our curriculum will help you understand how exercise can be used to maintain or improve health and fitness.
I thoroughly enjoyed my time at George Fox in the exercise science department because I learned more in-depth about how God uniquely designed the human body. I always felt encouraged by the professors to think critically and I appreciated how they were always there to help us fully grasp the material, in addition to how they genuinely wanted to see all of their students succeed.
What's

after George Fox

With the growth in preventative medicine, careers in exercise science are on the rise. According to the Bureau of Labor Statistics, employment of physical therapists is projected to grow 18 percent from 2019 to 2029, much faster than the average for all occupations. Demand for physical therapy services will come from aging baby boomers in addition to those with mobility issues stemming from chronic conditions, such as diabetes or obesity.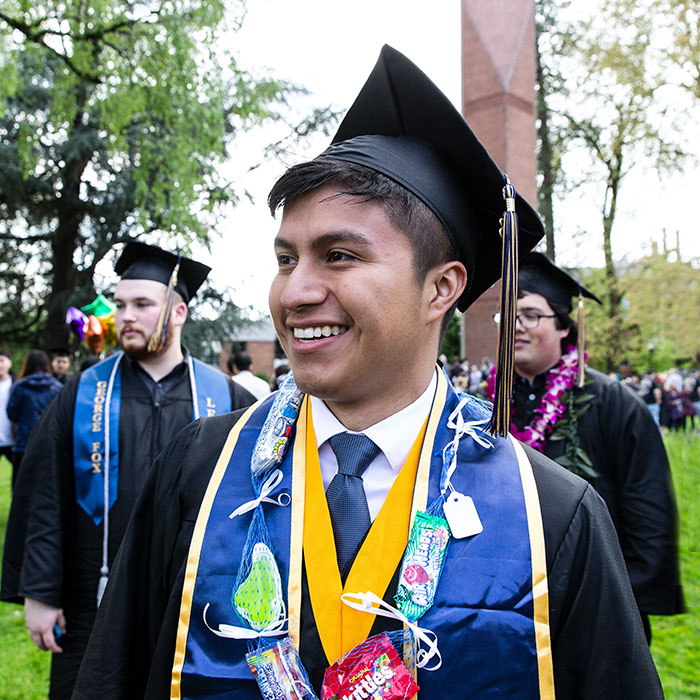 Occupational therapists are projected to see a 16-percent growth in employment opportunities during the same time period. Occupational therapy will continue to be an important part of treatment for people with various illnesses and disabilities, such as Alzheimer's, cerebral palsy, autism or the loss of a limb.
Positions our graduates have held
Physical Therapist, Salem Hospital
Physical Therapist and Clinic Owner, Reger Physical Therapy
Physical Therapy Aide, Willamette Spine Care and Physical Therapy
Physical Therapy Aide, Star Physical Therapy
Physical Therapy Aide, Tigard Orthopedic and Fracture Clinic
Pharmacy Technician, Rite Aid Pharmacy
Graduate schools our students have attended
George Fox University, Doctor of Physical Therapy Program
Loma Linda University, Doctor of Physical Therapy Program
Oregon State University, Master of Science in Kinesiology
Seattle University, Master of Science in Kinesiology
Pacific University, Doctor of Physical Therapy Program
Creighton University, Doctor of Occupational Therapy Program
Ball State University, Clinical Exercise Physiology Program
Lamar University, Masters of Nutrition
Utah State University, Athletic Training
Arizona State University, Doctor of Physical Therapy and Doctor of Occupational Therapy Program
Rocky Mountain University, Doctor of Physical Therapy Program
Companies that have hired our students for internships
Providence Physical Therapy
Marquis Post Acute Rehab
Chehalem Physical Therapy
Therapeutic Associates
ProAction Physical Therapy
Providence St. Vincent Rehabilitation Acute Care
Special Olympics Oregon
Progressive Fitness
Active Edge Physical Therapy and Sports Medicine