Whether it's creating a chest-pounding dance mix or a gut-wrenching sound effect for a movie, you will harness the power of sound in artistic, creative ways in George Fox's audio production concentration of the cinematic arts major.
As part of our program, you'll record in our 5.1 surround-sound recording studio complete with hidden Foley pits, using cutting-edge digital devices as well as warm old-school ribbon mics and tube preamps. We believe you learn best when you get your hands on the equipment and go to work.
As a new audio student, you'll get to sit down at a console full of glowing LEDs that look like the cockpit of a 747, and you'll master it amazingly quickly! By graduation, you'll be equipped to produce great sound, from recording rock bands to mixing featuring films. In fact, we've had graduates of our program cut sound for Z Nation and Larson Sound Studios in L.A.
Why

Study Audio Production at George Fox?
The size of our program allows for plenty of personal attention and one-on-one instruction – not something you'll get at a larger school.

We live out our faith, integrating it into all we do at George Fox. That includes instruction in our audio production concentration, as our professors will challenge you to integrate your core beliefs into your projects. Beyond preparing you professionally, we emphasize your development and growth as a person.

Students have the option of spending one semester at the Contemporary Music Center in Nashville, offering different tracks for performers, engineers and the music business.

We encourage our students to use our 96-channel recording studio in their spare time. Several albums have been recorded by students there.

As a Cinematic Arts major, you have the option to join George Fox University's honors program. This great books program will allow you to engage in active discussions with your peers and provide you with a challenging academic journey that informs your mind and deepens your spiritual walk.
What

will I Study?
You will learn the physics of sound, and how different microphones work.
You will learn how to record a band to afford maximum flexibility in mixdown.
You will learn how to record, edit and mix the elements of sound for film and video – dialogue, music and sound effects.
You will mix films in 5.1 surround, or develop immersive 3D sound for VR applications.
You will likely stay up all night, experimenting with cool, abstract sounds when you should be sleeping.
My time as a cinematic arts major at George Fox was a truly enriching experience. My professors were extremely knowledgeable, encouraging, and made me feel prepared to work in the industry. The program is full of passion that intertwines with a desire to bring honor to God through our creation of art. We were encouraged to use the creativity that we were blessed with and share it with those around us.
What's

after George Fox

Employment of film and video editors and camera operators is projected to grow 18 percent through 2029, according to the U.S. Bureau of Labor Statistics. Beyond film studios, most businesses, churches and nonprofits use video and digital film to promote themselves in the marketplace. There are also numerous opportunities for freelancing and creating a small business in digital video/film.

Our cinematic arts students have gone on to do some game-changing work in the professional world.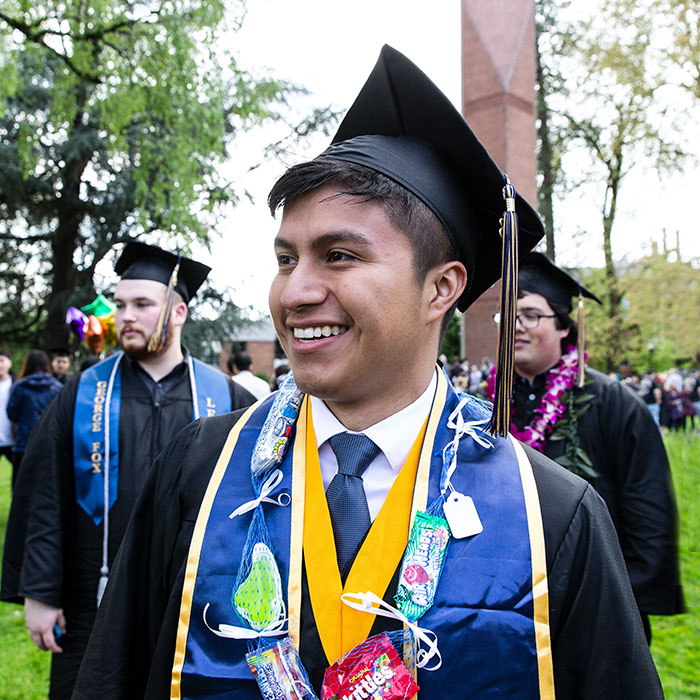 Jobs
Video Production, Portland Trail Blazers
Producer, Graystone Media → Sports Media Production (produced the Civil War: Ducks vs Beavers)
Portland Film Community: Grimm, Portlandia, Pretty Little Liars, The Librarians
Audiovisual Tech, Nike
Videographer, Reverie Creative Agency
Luis Palau Ministries
Producer, Happy Finish
Courtroom Trial Videographer
Director of Promotions and Listener Engagement, BOOST Radio
Site Director, Gear Up
Internships
Production Intern, Hollywood, California
Keiki O Ka Aina
Refuge VFX
Pixar
Graduate Schools
American Film Institute
University of Southern California
UCL (London)
University of Oregon
Student and Faculty Filmmakers Win National Awards
In a competition with nearly 1,500 entries representing 174 colleges and universities from across the country, the odds of winning one of only 18 "Best of Festival" awards at the Broadcast Education Association's annual convention are minimal.
Winning two? Miniscule at best. But that's exactly what George Fox pulled off, as cinema and media communication professor Dawn Ford and student Emily Hamilton earned prizes in their respective categories.