Online Spiritual Direction Certification
Spiritual Direction certification is for those of you who have already completed training as a spiritual director and desire certification.
We offer scriptural and Christ-centered training from experienced spiritual directors who are certified and who are trained as supervisors.
Pursue this Certificate if ...
You wish to practice spiritual direction as a vocation
You wish to increase the professional value of your calling
Format
You can take advantage of the flexibility of a fully online structure for both certification credits (SFAD 576 & SFAD 577).
If you need to complete spiritual direction prerequisites (see Admission Requirements), those prerequisites may be completed online at Portland Seminary.
Curriculum
Our spiritual formation curriculum is biblically grounded and Christ-centered, and our understanding of spiritual formation involves the intersection of Scripture, theology and social-cultural factors. The focus of our curriculum, therefore, is on developing awareness, increasing empathy and compassion skills, and building distinct practices that are spiritually centering.
Completion of prerequisites may be required prior to starting certification courses (see Admission Requirements).
In this program, you will:
Successfully complete SFAD 576 Spiritual Direction Certification I and SFAD 577 Spiritual Direction Certification II

Complete 30 hours of spiritual direction with at least three persons over one year

Receive 10 hours of supervision and a written recommendation from the your spiritual-direction supervisor after all supervision and direction hours are complete

Pass a final interview with a Portland Seminary spiritual-formation professor
Note: There is a course fee for SFAD 576 and 577 to cover the cost of contracting with program selected spiritual directors and supervisors.
Course Requirements (2 hours)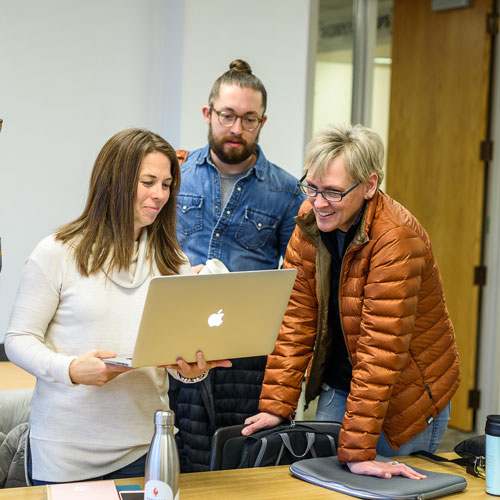 Admission Requirements
A graduate theological degree from an ATS-accredited seminary
Previous spiritual direction training equivalent to that earned through our spiritual direction specialization OR completion of 14 additional credit hours of prerequisites prior to start of certification. NOTE: The prerequisite courses include an in-person intensive once a semester.
If you have experience in spiritual-direction relationships without formal training or if training was completed at another institution (Renovaré, etc.), we will do a leveling evaluation on a case-by-case basis in light of the standards of this certification program.