Diversity
At Portland Seminary, diversity in all its facets – whether racial, theological or denominational – is embraced. We are an inclusive community that values diversity as an essential dimension of what it means to be human.
At our heart, we believe that the kingdom of God is a rich palette of color that embraces people of all ethnic backgrounds, denominations and creeds. Scripture is clear that the outpouring of the Holy Spirit following the resurrection of Jesus Christ enacts a form of community that both embraces and transcends our differences.
Collectively, we believe that racism and other forms of division are destructive to redemptive community.
Our Heritage
As part of George Fox University, Portland Seminary is influenced by its Quaker heritage regarding matters of racial and ethnic diversity. This heritage – rich and prophetic – also includes actions by early Quakers that at times were misguided and flawed.
As members of an evangelical institution arising from this complex heritage, we are inspired by the examples of courage and chastened by the need for continuing grace as we seek to live fully in the light of truth.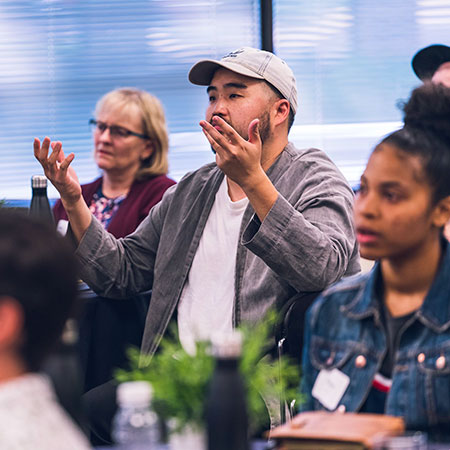 Our Theological Mandate
In Jesus Christ, our individual identities are both preserved and liberated to engage in redemptive community and in the reconciling work of Christ in the world. We are compelled to be the "light" and "salt" of the earth, which calls for us to dispel divisions that threaten to disrupt the unity of Christ's church.
We believe that God values each of us in our uniqueness. Therefore, we seek to be a community that celebrates the uniqueness of each of its members, including one's race, gender, ethnicity, age, and theological background.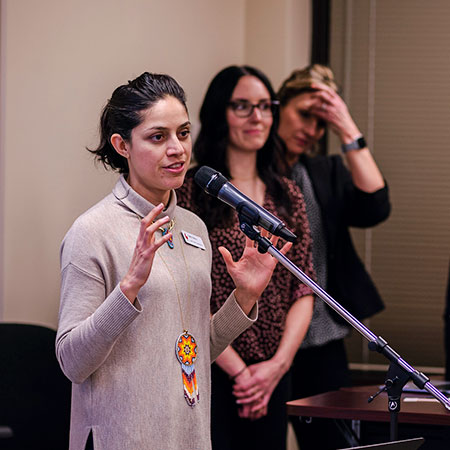 Our Diverse Community
When it comes to diversity, we practice what we preach. Our faculty and students come from a wide range of backgrounds – theologically and racially – and we value women leading in ministry.
In fact, 69 percent of our faculty are women, half of our staff and faculty are ethnically diverse, and we have more than 45 church denominations and Christian ecclesial traditions represented in our student body.
You can learn more about George Fox University's commitment to diversity by visiting our diversity page and reading our Theology of Racial and Ethic Diversity document.