Bruin Preview
The Ultimate George Fox Visit Experience
Of all our visit options, Bruin Preview offers the most in terms of showing you what makes Fox such a special place:
Meet professors, coaches and current students; attend classes that look interesting to you; and learn about our majors.
To get an insider's glimpse of campus life, you can eat meals with current students in our dining hall and attend exclusive sessions only hosted during Bruin Preview! We also host department showcases, where you can meet professors in the major you're interested in, see how our professors care for their students, and tour department facilities.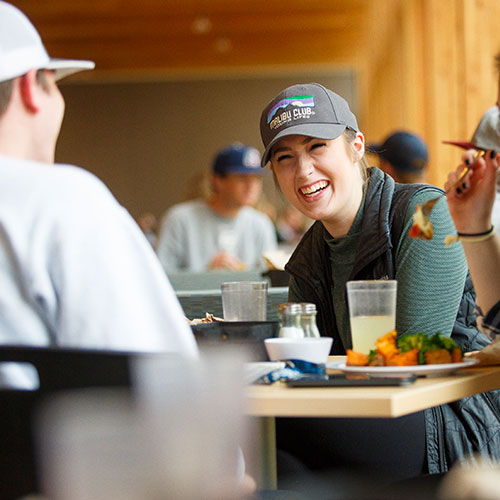 Who's Invited?
High school students
College transfers
Admitted students
Date:
Friday, October 28, 2022
Friday, April 7, 2023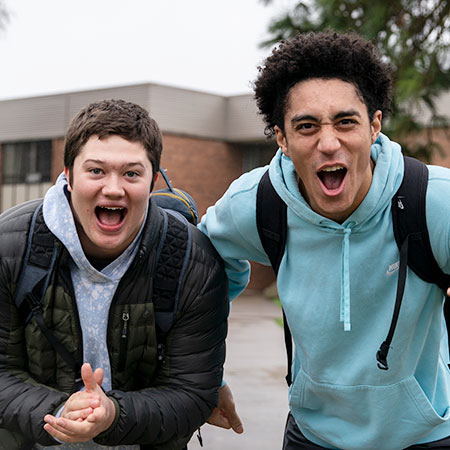 Transfer Students
We know: You've been through this before, so you have a different set of questions and concerns. We'll get you the info you need, in addition to showing you what campus life is like at George Fox University.
Admitted Students
Welcome to the Bruin family! We cannot wait to see you at Bruin Preview and celebrate you being admitted to George Fox! Let's get you connected to your future friends, professors, mentors and more. Come join us to learn more about your future home!
Admitted Student Bonus Activities:
Admitted high school seniors and college transfers (ages 16-23 only) are invited to stay overnight* in one of our dorms with a current student. Your host will meet you at check-in when you arrive on Thursday, March 31. You'll need to bring a sleeping bag, pillow, towel and toiletries. Try to get a little sleep, OK?

Future Bruin Financial Aid Session: This is an opportunity to connect with other admitted students, learn about your next steps for financial aid, and enjoy a treat!
Plus, receive an admitted student gift.
*Overnight stays have limited availability. Sign-up to reserve your spot. 
Sample Schedule
Schedule subject to change
Friday
8:00 a.m
Check-in 
8:30 a.m.-8:50 a.m.
Bruin Preview Welcome (Spanish interpretation available)
9-10:00 a.m.

Class Visit
Campus Tour
Housing Tour
Admissions & Financial Aid Session (Spanish interpretation available)

10-11 a.m.

Campus Tour (Spanish interpretation available)
Attend a Class
Honors Program Open House
Admissions Counselor Visit

10 a.m.-3 p.m.
Open Rock Climbing at the Hadlock Student Center
11 a.m.- 1 p.m.
Resource Fair
11 a.m.-Noon

Future Bruin Financial Aid (for admitted Fall 2022 students only ft. cookies from Crumbl)
Campus Tour
Housing Tour
Attend a Class
Admissions Counselor Visit

11 a.m.–2 p.m.
Lunch Open
Noon-1 p.m.

Athletics Session
Attend a Class
Student Hosted Scholarship Workshop

1-2 p.m.

Campus Tour
Housing Tour
Attend a Class
Admissions Counselor Visit

2-2:30 p.m.
Chapel, Prizes and Closing Session
3:00-4:00 p.m.

Optional Acivities

Campus Tour
Housing Tour
Admissions Counselor Visits

7:30 p.m.

George Fox Theatre production: The Hijabis, Wood-Mar Auditorium (Purchase tickets here)
Transportation
Transportation is available from the Portland airport, train station or bus depot for students traveling from outside the local area without a parent or guardian. For local students (30 mile radius) who do not have any way to get to campus, transportation is available.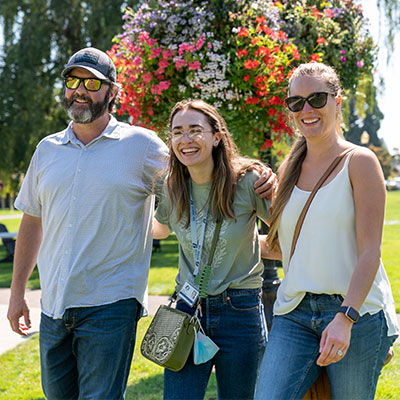 If you need transportation, please email visit@georgefox.edu with your travel itinerary by October 20 if you did not submit your plans on the registration form. We will then follow up with you regarding shuttle details.
If you'll be driving yourself to/from the airport, keep in mind that it's about an hour away from campus.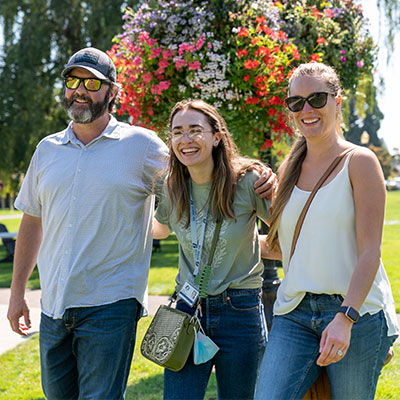 Parents, Families and Guests
We encourage parents, families and guests to attend Bruin Preview too!
Join us for sessions that address your questions specifically and meet with and hear from George Fox faculty, admissions counselors, financial aid counselors, coaches and current students.
If you are traveling from out of town, here are some suggestions for nearby lodging.
Department Tour Offerings
Take a tour of one of the following academic departments during Bruin Preview
April 1, 2022 (Bruin Preview)
Academic Department Tours Offered at Bruin Preview
Art and Design
Biological and Molecular Sciences
Business
Cinematic Arts
Communication
Computer Science
Elementary Education
Engineering
English
History and Politics
Kinesiology
Mathematics
Music & Theater
Nursing
Psychology
Social Work and Criminal Justice Minor
Theology (Christian Ministries, Biblical Studies, Philosophy)
Other Open House and Information Session Options
Athletics
George Fox Honors Program
Study Abroad