Social Work Major (BSW)
The world needs people like you who are willing to advocate for individuals and communities whose lives have been touched by grief, stress and trauma. To stand in the gap for those who have experienced hardship and are without much hope. To support those who need guidance, resources, a lifeline to joy.
If helping others is what fuels you – gets you out of bed in the morning – we have just the major for you.
We believe in meeting the unique needs of the individual and welcoming the diversity of experiences in our systems. We believe so because we are held to the highest standard of love, empathy and non-complacency by our faith.
A World of Options Awaits
Our nationally accredited Bachelor of Social Work (BSW) program prepares you to work in a wide range of public and private social work and social welfare settings, providing the knowledge, skills and value base to succeed in fields ranging from healthcare and child welfare to ministry and criminal justice.
Get Hands-on Experience in the Field
We don't expect you to learn all this in a classroom. All social work majors are required to work in the field before they graduate, so can expect hands-on experience through internships. Our experienced faculty will get to know you by name and teach you to focus on the unique needs of individuals, enabling you to link social research with real-world social work practice.
On top of that, we offer a Christian college environment that encourages not only academic – but spiritual – growth. Challenge yourself to be the change agent you were born to be and bring hope to those who desperately need it.
Why

Study Social Work at George Fox?
We believe in turning theory into practice. Within your time as a social work student of George Fox, we will help you find and complete two internships, resulting in 500 hours of real-world practice before graduation.

You will engage with faculty, fellow students, and professional social workers who understand the integration of faith and vocation as they relate to service and social justice. We stand by the Lord's Word to "walk humbly, love mercy, live justly" (Micah 6:8) as it relates to social work.

George Fox's BSW program is nationally accredited by the Council on Social Work Education (CSWE). This looks good on graduate school and job applications!

You will complete the program in a cohort model, working through the curriculum in small groups that provide opportunities for rich relationships. We believe deeply in the power of community.

Completing your undergraduate studies in the social work major means that, should you choose to get a

masters in social work at George Fox

, you will be able to complete your postgraduate studies in just one year!

As a Social work major, you have the option to join George Fox University's honors program. This great books program will allow you to engage in active discussions with your peers and provide you with a challenging academic journey that informs your mind and deepens your spiritual walk.
What

will I Study?

The George Fox social work program takes a holistic approach to the practice of social work, offering courses that cover the wide spectrum of the human experience. Through the coursework and internships offered, you will be trained to work with a wide variety of populations.
You will build a strong foundation of social work practice that includes ethical and professional values and skills.
We teach the Generalist Model of Social Work Practice and the four stages of practice: engagement, assessment, intervention, and evaluation.
Social work students develop knowledge and skills related to working with individuals, families, groups and communities.
We do not shy away from the hard topics, including diversity, equity, human rights and social, economic, and environmental justice.
You will learn about policy practice and analysis. How does law affect the individual?
Research projects will develop strong research skills to help inform your social work practice.
Applying to the Social Work Program
In addition to applying to George Fox, social work students also apply for admission to the social program.
George Fox's social work program gave me the opportunity to apply the skills and theories we were learning in the classroom directly to my internship sites. Having practiced these skills, I developed a readiness and confidence to take with me into a broad range of direct-service settings. My classes and internships humbled me as I realized that my education was less about me and more about the clients I am now serving.
What's

after George Fox

According to the Bureau of Labor Statistics, employment for social workers is expected to increase by 13 percent between 2019 and 2029. The demand for mental health and substance abuse workers is projected to grow by 25 percent, while healthcare social workers should grow by 20 percent. Other strong growth areas include work with the elderly, families and children, while employment opportunities in rural areas should be especially plentiful.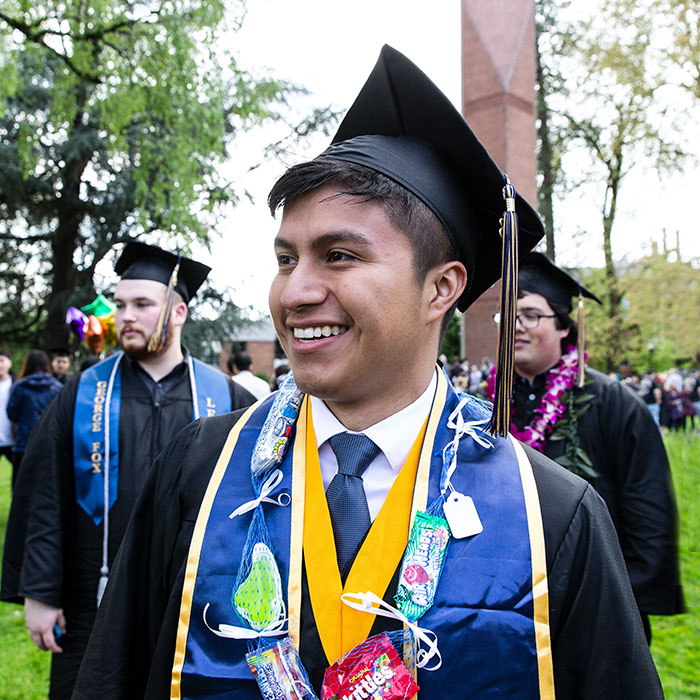 Jobs
Adoption Specialist
Forensic Social Worker
Probation Officer
Retirement Community Social Worker
Case Management with Veterans
Shelter Program Director
Life Skills Coach
Youth Behavioral and Mental Health Specialist
Child Protective Services
Community Organizer
Public Policy Advocate and Manager
Drug Dependency Counselor
School Social Worker
Immigration Counselor
International Social Work
Internships
Catholic Charities
Ecumenical Ministries of Oregon
Friendsview Retirement Community
Newberg School District
Oregon Department of Human Services: Child Welfare and Adult Protective Services
Multnomah County Health
Salem for Refugees
Washington County Juvenile Justice
Washington County Victims Assistance
Youth Outreach
Graduate Schools
George Fox University

Portland State University

American University

Baylor University

University of Southern California

Berkeley College

Columbia University

University of Chicago

University of Denver

Boston College

University of Hawaii
Baking Bread, Building Community
Baking bread for the Tuesday evening chapel on campus, Shalom, has been a ritual since it began. The women of Friendship House joined the tradition three years ago when the home was established in Newberg, and their presence at the chapel now is as expected as the bread itself.
After two years of baking bread together each week, Meghan Donohue, a junior social work major, applied to live in the house in the fall of 2019. "I was drawn to deepening these relationships," she says. "I love these ladies I get to live with and wanted to be part of that. The mission of this house … it really strives to help and integrate these ladies into the Fox community."