91%
Of our students who join an adult degree cohort earn their degree (2009-2019)*
16-20 months
Program length for students with associate's degree or equivalent
Format
Part-time; online, hybrid or in-person (depends on major)
Location (for in-person format)
Portland (near Tigard) or Redmond, Oregon (depends on major)
Cost per Credit Hour
$502-$540** (Depends on major. Financial aid available. See cost scenarios.)
* This does not include the Elementary Education program
** All stated financial information is subject to change
One of the Best Online Bachelor's Programs
George Fox University's adult degree program is ranked by U.S. News & World Report as one of the nation's "Best Online Bachelor's Programs" (2020-21).
Designed for Working Adults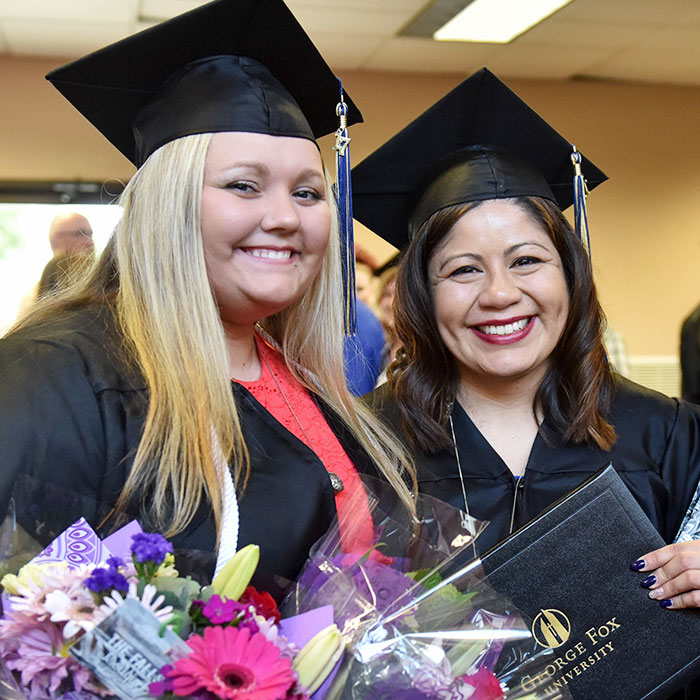 Adult degree programs are accelerated bachelor's degree completion programs specifically designed to fit the schedules of working adults.
Students in a major either take classes online or meet one night per week for 16 to 20 consecutive months, and most students take only one class at a time. Classes in a major are all taken with the same group of no more than 16 students called a cohort – colleagues who get to know each other and provide ongoing support and community.
Students who need to take general education/elective courses before they're ready to begin their majors can do so online or in a weeknight or weekend format.
25-60
Average age range of George Fox adult degree students
Credit for Professional Training and Life Learning
Students can earn up to 30 hours of elective credit for professional training and/or life learning through our prior learning assessment process. After taking a class about how to document prior learning, students are then eligible to submit prior learning essays, trainings, and certificates to demonstrate learning outside of the classroom so that they can finish their degree faster.
Someone to Walk with You, Beginning to End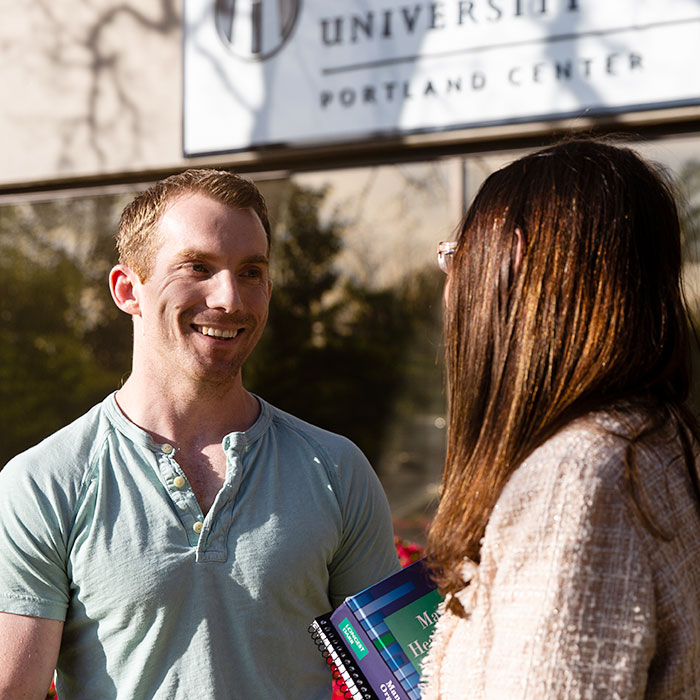 George Fox enrollment counselors and professors are committed to the mission that our students will Be Known.
Enrollment counselors serve as an admissions counselor, academic advisor, general troubleshooter, and encourager for students throughout their time at George Fox. She or he will create a clear and complete academic plan for you, including your graduation date and upfront cost information.
Professors bring both academic and professional expertise to their classes and are able to offer personal attention and care for each student.
Affordable and Clear Pricing
There are no hidden prerequisites, no hidden fees, and no hidden online class requirements. Payment plans are available, and financial aid is available for all incoming students who qualify. You'll find that George Fox is one of the most competitively priced adult degree programs around. To find out how much it will cost and how long it will take to finish your degree at George Fox, request a transcript evaluation.
Choose from Five Accelerated Bachelor's Degrees: