Frequently Asked Questions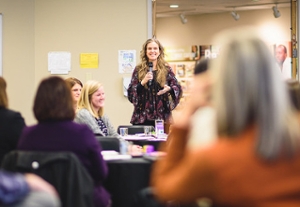 Where do I start?
Take one or more of the following steps:
Learn More
Request information to learn how easy it is to get started. Also, be sure to find out when your program start date is, and when your application is due.
Submit a Request for More Information
Complete this online request and someone will contact you in the way you prefer. Or, give us a call, toll free:
Get a Free Transcript Evaluation
We would like to meet with you to review your current academic credits. This will help determine how close you are to meeting the entrance requirements and how soon you will be able to begin a degree-completion cohort(major). This is a free service offered to you with no obligation.
Contact one of our counselors to arrange a meeting. It's best for us to receive your unofficial transcripts ahead of your meeting so we can spend our meeting time creating your degree plan.  However, an initial unofficial evaluation can be completed at your appointment.
Once you know how many credits you already have, your enrollment counselor will advise you on how to meet any remaining entrance requirements. Even if you are beginning with little or no college credits, many options are available, including taking additional credits with George Fox, earning credit by examination and taking courses at other community colleges.

Back to the top
Why should I attend George Fox?
The time-tested, adult-learning format that you will experience in our classes will allow you to build on what you know, learn from fellow professionals, and gain the competitive edge you're looking for. Most of all, you will be transformed in mind and spirit and will join the rich heritage of alumni at George Fox, which dates back to 1891. As Oregon's first adult degree program, we also believe we're Oregon's finest adult degree programs.
As a student in the George Fox adult degree program, we promise that you will be known - personally, academically and spiritually.
The faculty and staff genuinely care about the students in the program and their success after graduation. In short, we offer a high-quality academic program with a personal touch. George Fox was one of the first universities in the nation to provide adult-centered degree completion.
How long will it take to finish my degree?
This will depend on the number of credits you already have, but most students can complete their degree in as few as 16-24 months.
Is this a real degree, and what will my diploma say?
Absolutely! The degree you receive from the adult degree program is the same degree you would receive from the traditional program. You will have a George Fox diploma which will have the name of your major program on it.

Back to the top
Can I afford a degree from George Fox?
We think so. Financial aid is available to those who qualify. We have two financial aid counselors who specifically work with our adult degree completion students to assist in the financial aid process. Students must be registered for at least 6 credits in a semester to qualify for financial aid.
What are the admissions requirements?
The minimum admission requirements to apply to take general education classes are:
At least 20 transferable semester credits (30 quarter credits)
At least three years of post-high school experience
At least a cumulative 2.0 transferable GPA
The minimum admission requirements to apply to a degree-completion program major are:
At least 62 semester credits (93 quarter credits)
75-90 semester credits are recommended (113-135 quarter credits)
At least five years of post-high school full-time work experience
At least a cumulative 2.5 transferable GPA
Do I have to take any standardized tests to be admitted (SAT, ACT, etc.)?
No.
When are the application deadlines?
Dec. 3 – for January majors (spring semester)
April 2 – for May majors (summer semester)
July 31 – for August majors (fall semester)
How do I apply?
You may apply for admission if you have at least 20 semester hours of credit. Simply follow the How to Apply instructions to complete your application packet.
When do the programs start?
Management and Organizational Leadership begins each January (online and face-to-face) and August (online and face-to-face)
Social and Behavioral Studies begins each January (online) and August (online and face-to-face)
Health Administration begins each January (online) and begins each August (face-to-face)
Project Management begins each January (face-to-face) and August (online)
Additionally, our general education classes meet either once a week, or for three weekends, over the course of eight weeks. Our semester is 16-weeks long, and is split into two, 8-week sessions. Even if we are nearly halfway through a semester, there still may be time for you to enroll in general education classes in the second half of the semester.
What are the instructors like?
Our faculty is made up of individuals with academic credentials and professional experience who are committed to the unique needs of adult learners. Unlike many adult degree programs, our program also has many full-time faculty who also serve as mentors to their students.
What are the courses like?
The classes are designed with the working adult in mind, taught in a seminar-style format. Professors encourage students to dialogue about the course topics and facilitate this learning through group conversation, presentations, and in-class projects.
When are classes taught?
Classes in your major meet one night a week for 16 months from 6 to 10 p.m. (an occasional Saturday class may be required).
General education classes are taught in a one-night-a-week format from 6 to 10 p.m.
Online classes generally have no specific meeting times, just assignment deadlines.
How long do courses take to complete?
ADP major courses last 5-6 weeks; general education and elective courses last 8 weeks.
Where can I take courses?
Classes are offered at multiple sites. The extent of course offerings will depend on student demand.
How do I know which courses to take?
Our adult-focused enrollment counselors will help you develop your plan of action. If we have not seen your transcripts, we encourage you to submit them for a free evaluation. This is necessary for us to advise you correctly.
Can I take general education courses at George Fox?
Yes. Students can take non-cohort courses that are offered in a weeknight format. These classes will fill your need for general education or elective credits. We offer a rotation of communications, humanities, social science, natural science, health and math courses.
Is there a video or audio conferencing component to online classes?
Some professors make online conferencing opportunities available to students; however, these opportunities are almost always optional and rarely required.
What is the difference between a semester credit and a quarter credit?
Quarter credits and semester credits are two ways of measuring education. Though they are different numbers, they measure the same quantity. You could compare it to how Fahrenheit and Celsius measure the same temperature, but use different numbers to describe it.
At a school on the quarter system (state universities and community colleges in Oregon), the academic year is 30 weeks long. This year is divided up into three 10-week long quarters: fall, winter and spring. 
At a school on the semester system (many private colleges), the academic year is also 30 weeks long. This year is divided up into two 15-week long semesters: fall and spring.

As you can see, the academic years are the same length. George Fox University uses a semester system. When your transcripts are evaluated, if you have quarter credits, they will be converted to semester credits. This is how the conversion works:
1 Quarter Hour = 0.667 Semester Hours
2 Quarter Hours = 1.334 Semester Hours
3 Quarter Hours = 2.001 Semester Hours
While this may be confusing, or seem like your credit amounts are changing, they are just being converted, and your academic hours are still recognized.
What is the maximum number of credits I can transfer in?
The maximum number of transferable credits is 90 semester hours; the minimum is 20 semester hours (most adult students meet this requirement).
Are there specific requirements for transfer credits to be accepted?
Transferable credits must be from 100-level (or above) courses taken at a regionally accredited college (up to 30 transfer credits from a nationally accredited college will be accepted) in which the student earned a C- or greater.
What is "Life Experience Credit"?
Our Personal and Professional Assessment course (3 semester hours) teaches you how to write Prior Learning Essays based on your life experience and submit professional training and non-traditional classes for credit. During this class, you will complete three Prior Learning Essays which you may submit for additional credit evaluation. After passing the course, you may continue to submit additional essays or trainings at no extra cost. You may earn up to 30 semester hours of credit for life learning essays and/or professional training.