Do you like building teams? Have you found that you've got a skill for helping a project to keep moving toward success? Are you fascinated with the stories of what happens behind the scenes? Then you're already on your way to becoming an organizational communication professional! 
Understanding how communication works both inside and outside the organization is a key "soft skill" that employers value. Internally, we figure out how to recruit and manage the best talent. Externally, we examine how our product is seen by everyone: customers, clients, government agencies, stakeholders and future employees.
At George Fox, we emphasize the value of both effective and appropriate communication. When we look at something like a major product recall, for instance, we aren't just thinking about the bottom line; we also think about the training and conflict management skills that will prevent future problems while ensuring that our reputation-management plans don't sacrifice our values.
After completing your course of study in the communication major, which includes a robust internship program, you'll join our alumni in fields that include:
Project management

Marketing

Social media management

Recruiting and onboarding

Event planning

Customer service training

Alumni and advancement specialists

Human resources
Why

Study Organizational Communication at George Fox?
Just as organizational communication looks at how messages work throughout the entire organization, we embrace the fact that a faith-based education invites students to think about all of the implications of their decisions. We believe that excellent communicators are ethical communicators.

The required courses and internship program will bring you into contact with real-world examples starting in just the second week of the introductory class. And you won't just be studying these cases; in some courses, you'll even have real clients!

Our collaboration with George Fox's business school allows you to tailor your program to specialize in the focus that you find the most rewarding. All of our students complete a three-course track in either marketing or management, but many of them go on to complete those sequences in order to add a minor or even a double major.

As an Organizational communications concentration major, you have the option to join George Fox University's honors program. This great books program will allow you to engage in active discussions with your peers and provide you with a challenging academic journey that informs your mind and deepens your spiritual walk.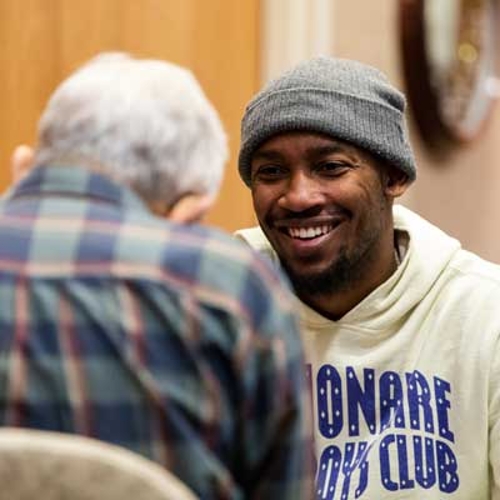 What

will I Study?

The core communication courses will give you a broad base, covering subjects like interpersonal communication, professional writing, and persuasion, culminating in a senior capstone course that brings all of your work together and focuses on the ethical implications of your calling. In the specialized courses, you will study:
The life cycle of an idea as it moves through an organization

Project management, ranging from small committees to multinational corporations

Building cohesive and successful teams

Resolving conflicts and responding to crisis situations

Branding and reputation management

All students also complete a three-course sequence in either marketing or management, and an internship guided by our faculty