Course Work
Doctor of Ministry in Semiotics, Church, and Culture
How will you apply your seminary education to practical needs in your ministry? Our project portfolio research sequence and mentor-taught courses will help you more clearly answer that question.
As a student in the Semiotics, Church, and Culture DMin program, you will take part in two parallel course sequences:
Project portfolio research sequence with project faculty (DMIN 750, 751, 850, 851, 950, and 951)
Lead mentor-taught courses (DMIN 709, 719, 729, 809, 819, and 829)
Project Portfolio Research Sequence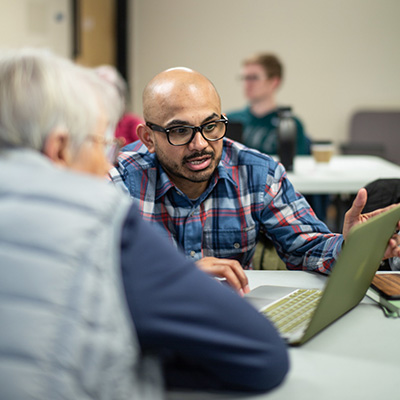 In the Project Portfolio research sequence, you take six courses designed to give you greater flexibility to engage in research and writing on a ministry Need, Problem, or Opportunity (NPO) of interest to you.
As part of the process, you are assigned to a small peer group under the supervision of a project faculty member who guides your research through a series of key milestones to generate the final portfolio.
The research course sequence is divided into three stages: Discover, Design, and Deliver, with milestone assignments to mark the completion of each stage.
Year 1 | Discover
You first explore a Need, Problem, or Opportunity (NPO) from your ministry context, then draw on discoveries from grassroots stakeholder insights as well as expert analysis through immersion in relevant academic and theological literature.
Year 2 | Design
You engage stakeholders from your context to brainstorm solutions. Out of this process, you then identify and test a project prototype to develop in the third year.
Year 3 | Deliver
You refine the prototype with potential users, evaluate your findings, and create a launch plan to further develop your doctoral project after graduation. An evaluation committee assesses the entire portfolio, including project and launch plan, for final approval.
All of the key milestone documents are compiled in a final portfolio for the library archival and digital publication.
Courses Taught by the Lead Mentor
Dr. Len Sweet's courses are characterized by directed reading and cohort-based interaction. Following Dr. Sweet's lead, you will explore various aspects of applied semiotics and ministry in a fast-changing culture. His courses normally include the following elements:
Reading: Dr. Sweet provides a reading list and schedule of books, articles, and websites for students to discuss.
Online discussions: Cohorts engage with one another in weekly online forums to discuss and analyze the assigned course materials.
Zoom Chat: Students meet once a week for a live video conference Monday mornings, Pacific Time. Dr. Sweet personally facilitates these discussions with the cohort.
Advances: As a part of DMIN 709, DMIN 729, and DMIN 829, students engage in face-to-face lectures with Dr. Sweet.
Curriculum Sequence
Year 1
Fall Semester (6 hrs)
| Course | Credit Hours |
| --- | --- |
| DMIN 709 Introduction to Biblical, Ecclesial, and Cultural Semiotics (includes First Advance) | 2 |
| DMIN 750 Identifying the Need / Problem / Opportunity (NPO) | 4 |
Spring Semester (6 hrs)
| Course | Credit Hours |
| --- | --- |
| DMIN 719 Semiotics as a Change Agent in Preaching, Ministry, and Mission (Church and Culture) | 2 |
| DMIN 751 Exploring Theological and Contextual Foundations of the NPO | 4 |
Summer Semester (4 hrs)
| Course | Credit Hours |
| --- | --- |
| DMIN 729 Re-Cognizing and Re-Signing Jesus in 21st Century Culture (includes Second Advance) | 4 |
Year 2
Fall Semester (5 hrs)
| Course | Credit Hours |
| --- | --- |
| DMIN 809 Global Church and Local Church | 2 |
| DMIN 850 Discovering Stakeholder Perspectives for addressing the NPO | 3 |
Spring Semester (5 hrs)
| Course | Credit Hours |
| --- | --- |
| DMIN 819 Cultivating Imagination and Innovation in Ministry and Mission | 2 |
| DMIN 851 Experimenting with Prototypes | 3 |
Summer Semester (4 hrs)
| Course | Credit Hours |
| --- | --- |
| DMIN 829 Semiotic Shifts: Perspectives on Changing Trends in Church and Culture (includes Final Advance) | 4 |
Year 3
Fall Semester (4 hrs)
| Course | Credit Hours |
| --- | --- |
| DMIN 950 Designing the Doctoral Project | 4 |
Spring Semester (4 hrs)
| Course | Credit Hours |
| --- | --- |
| DMIN 951 Assessment of the Doctoral Project | 4 |