Hadlock Student Center Policies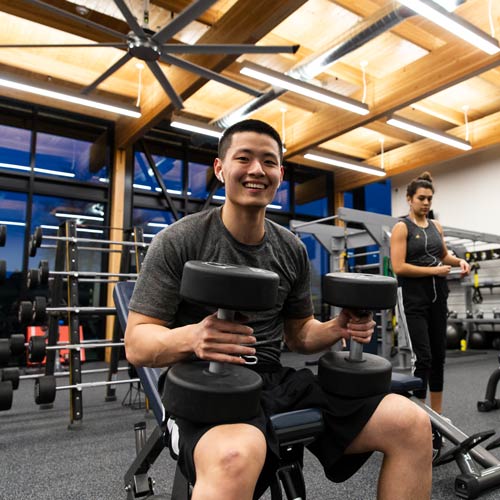 In order to provide an enjoyable experience for our guests, we ask that all patrons demonstrate respect for others by adhering to the Hadlock Student Center (HSC) policies.
Members and guests should familiarize themselves with the policies posted below and throughout the facility. Verbal instructions from HSC staff are for the safety and comfort of all guests and must be followed at all times.
Membership and access information
George Fox University ID
To enter the Hadlock Student Center, members of the George Fox University community must have their current university ID card. A valid ID card is also required to check out most equipment (basketballs, climbing shoes, volleyballs, etc).
Individuals using an ID other than their own to gain access to the facility risk having privileges suspended – for both the individual using the false ID and the valid member. Members may be denied entry without a card.
Attire
In an effort to promote safety and inclusivity, we ask all members and guests to adhere to this attire policy when engaging in University Recreation services. We encourage all users to consider how they can contribute to creating a welcoming and inviting environment in UREC facilities and programs.
All patrons are required to wear a shirt (covering the pectoral region), shorts/pants, and shoes. Footwear must be closed-toe, closed-heel, and non-marking. 

Accommodations to clothing/shoe requirements may be made based on activity-specific needs, as determined by University Recreation staff.
For sanitation and maintenance of the facility, we ask patrons to wear clothing and shoes free from dirt, mud, fluids, or any substances that might put others at risk.
University Recreation staff reserves the right to determine what attire is appropriate for use in UREC facilities and programs.
As you engage in programs and use UREC facilities (including the Hadlock Student Center), please be aware that exposed skin can increase your risk of disease exposure. Patrons can help minimize the risk for themselves and others by limiting skin contact with equipment and disinfecting fitness equipment before and after use.
Court Usage
Please respect our facility and keep yourself and others safe by following guidelines and procedures below:
No dunking, hanging on rims, or hanging on nets.
No weights, dumbbells, kettlebells or other heavy equipment is allowed on the courts.
If you would like to play volleyball, badminton or pickleball, please inquire with the welcome desk staff.
Gym is available on a first-come, first-served basis.
Include new players in pickup games.
Bags/Personal Items
Please store all items in designated day-use lockers and cubbies located on both floors throughout the facility. Unattended items will be collected and placed in lost and found if they are not stored in a day-use locker or cubby.
Lost and Found
Please contact the welcome center regarding lost or missing items. All items left in the facility overnight, or that have been in the facility for an extended period of time, will be added to the lost and found. Lost and found items will be kept for a minimum of seven days. Items that remain unclaimed will be donated to charity or move to the lost and found in the Campus Public Safety office.
Donations to charity will occur several times throughout the semester and at the beginning and end of each semester. To inquire about items which you believe you have left in the facility, visit the welcome center or call us at 503-554-3333. George Fox University and the staff members of the Hadlock Student Center are not responsible for lost, stolen or broken items.
Entrance/Exit
The Hadlock Student Center is a single entry/exit facility. Please use the glass doors on the north side of the building. Other exits are for emergency use only and are monitored with alarms.
Food/Drink
Water in a clear plastic container with a lid is allowed throughout the HSC. Chewing gum is prohibited in all activity areas. Tobacco products, drugs and alcohol are prohibited in the facilities as well as on all university property. Anyone exhibiting signs of being under the influence of a controlled substance will be denied entry and referred to the student life office.
Bicycles and Other Wheeled Vehicles
Wheeled vehicles (e.g., bicycles, skates, skateboards and scooters) are prohibited in the Hadlock Student Center. Bicycles may be parked in the provided outside racks at the owner's risk.
Personal Music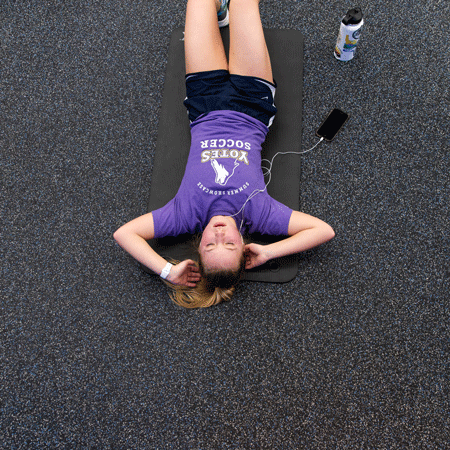 Personal music devices such as phones, tablets, MP3s and iPods are permitted to be used with headphones only. Music volume should be kept at an appropriate level so the individual can hear others and any announcements through the student center's public address system.
Use of portable electronic speakers (i.e. Bluetooth speakers) is not allowed outside of the group studio rooms. Speakers can be used for personal music in the studios as long as it does not interfere with others using the space.
HSC staff have the right to ask individuals to turn down or turn off their music if it is disruptive to others using the space, poses a safety concern, or is found to be offensive.
Cell Phones
Cell-phone use is not permitted in the locker rooms. The use of cell phones is permitted inside the recreation center as long as their use does not interfere with others' enjoyment of the facility or the safety of patrons. Please be courteous and move all cell phone conversations to a lobby or lounge area.
Photography and Filming
Photography and videography is restricted in the Hadlock Student Center and requires advance notice with explicit permission. Requests to film or photograph within the HSC must be sent to the director of campus recreation at least three  business days in advance. There is no allowance for photography and videography in private spaces, including restrooms and locker rooms.
All photography/videotaping must be conducted in a manner showing care for patrons and respect for personal privacy. If participants may be identified in any shot, their explicit permission must be obtained. Participants have a right to decline being in any shot.
Participants may not use the Hadlock Student Center for any photography or videography of a promotional nature that benefits a business or company unless explicit permission has been granted by the director of campus recreation. This includes "selfies," photoshoots, workout videos, or other media that may be posted to a company's social media accounts, websites, or other promotional material.
Tour groups, summer camps and conferences, and other special event groups are allowed to use handheld point-and-shoot cameras to document their time within the Hadlock Student Center as long as the individual stays with the group at all times and does not negatively impact the experience of patrons. If a guest with one of these groups is suspected of inappropriately using their photo privileges, they will be asked to put away their camera or leave the facility.
Closures
The Hadlock Student Center may be closed when warranted. During official university holidays and breaks, facilities may be closed or may operate on a limited schedule. In addition, required maintenance and staff training may necessitate the partial or full closure of the facility. All closures and amendments to the schedule will be posted in advance on the HSC website.
Comments and Concerns
There is a comment box located at the welcome center. University Recreation staff read these comments daily and will respond accordingly.
Code of Conduct
University Recreation is committed to creating a safe, comfortable and enjoyable experience for guests. The staff will intervene to support an environment in which all members and guests can enjoy facilities and programs free from the following behaviors:
Foul/abusive language or obscene gestures
Intoxication or other signs of impairment related to alcohol consumption or illegal drug use
Fighting, taunting, or threatening remarks or gestures
Spitting
Horseplay posing safety risks to participants or others
Mistreatment of any equipment
Displays of affection not appropriate in a public setting
Obscene or indecent clothing
Any disruption to the progress of a sanctioned activity
Unsportsmanlike conduct
Obtaining entrance under false pretense
Elevator
The HSC is equipped with an elevator that provides access to both levels of the facility.
Emergencies and Evacuation Procedures
In the event of a serious emergency, the campus recreation staff will direct patrons to a safe area. For your safety and the safety of others, please follow all instructions given by the staff.
Liability Waiver
All patrons are required to sign a liability waiver prior to using campus recreation facilities. Recreational and fitness activities pose an inherent risk; all users should consult a physician prior to participation. If you have special health considerations, allergies or serious health conditions, please inform the campus recreation staff.
Video Cameras
For the safety and security of our guests, video cameras that can be monitored are located throughout the HSC (not in locker rooms or restrooms).
Guests
Service Animals
F or information on service animals, please refer to George Fox University's  guidelines for animals on campus.
Removal from Facility or Program
University Recreation staff reserve the right to eject anyone from the facility whose behavior is unruly, combative or illegal in nature.