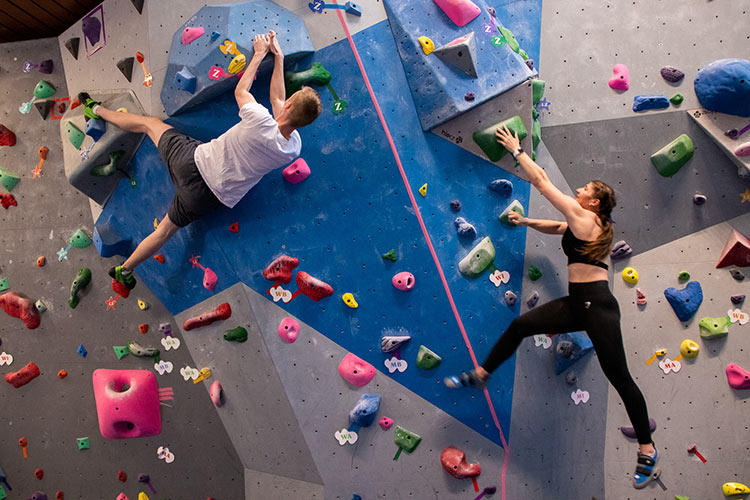 Climbing Wall
The Hadlock Student Center indoor climbing facility features five roped lines on a 40-foot wall and 1,000 square feet of bouldering space. Climbing wall staff are excited to help individuals of all ability levels get the most out of the sport and connect them with the university's climbing community.
Instruction in climbing technique and rope use is ongoing, so be sure to get plugged in to get the most out of this space. Watch for upcoming climbing competitions and climbing-related events throughout the academic year.
If you're interested in utilizing the facility, please watch the Climbing Wall Orientation video and then take a short Bouldering Assessment. Once you've completed these steps, just check in at the front desk to access the climbing wall. 
Climbing Wall Hours
Bouldering hours are open anytime the Hadlock Student Center is open.
Top Rope Climbing Hours:
Monday-Thursday: 7-10 p.m.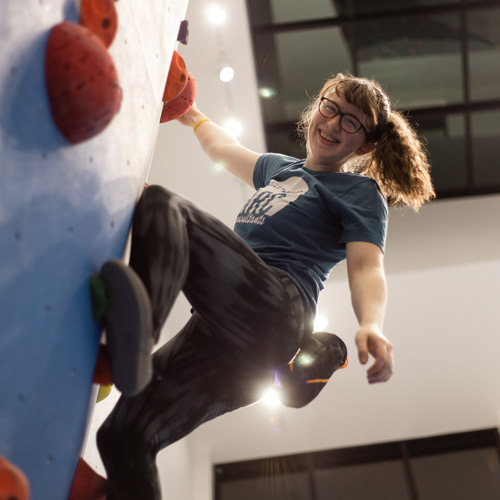 Bouldering
Bouldering is rock climbing in its simplest form, as it requires very little equipment. All you need is some climbing shoes and a chalk bag to get vertical. Bouldering problems are shorter in height and therefore do not necessitate the use of a rope or harness. This is a great activity if you're looking to work on technique or if you have an aversion to heights.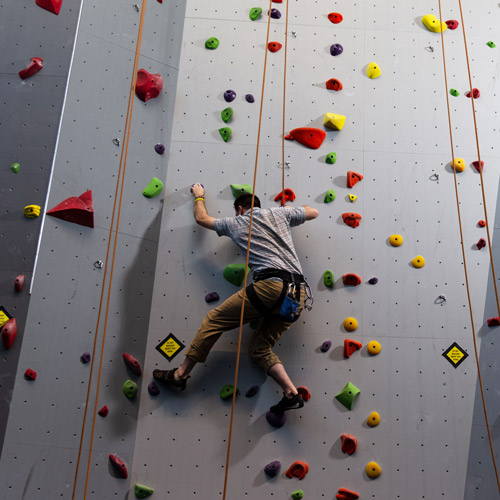 Roped Climbing
Climbing with rope and harness is a popular way to experience the sport. This style utilizes both a climber and belayer connected by a rope through an anchor at the top of the wall. As the climber ascends their belayer manages the rope to keep them safe in the event of a fall.
Climbing Wall Policies
All climbers must check in at the welcome center and obtain a wristband. Climbers are required to display a wristband any time they are on the wall.

Only participants who have passed the George Fox University belay test are permitted to belay. All belay tests are good for up to one year, but climbing wall staff can mandate a refresher at their discretion. Ask climbing wall staff or refer to the HSC website for information on belay clinics.

Exit and enter the climbing area through the entryway

 

only. Do not attempt to climb into the facility from the top floor.

Be aware of fall zones and maintain spatial awareness of other climbers. Always check to see if your route will cross another climber's path before establishing on the wall. Do not stand, walk or climb under another climber.

Do not attempt to climb on top of the boulder wall. Topping out is prohibited at all points in this gym.

No climbing, belaying or hanging out in bare feet or sandals is permitted. Slip-on closed-toe shoes are permissible.

Climbing shoes should be worn within the climbing area of the HSC only. Do not wear them to the locker room or restroom.

Loose chalk is not permitted (use chalk balls only). Chalk can be purchased at the front desk.