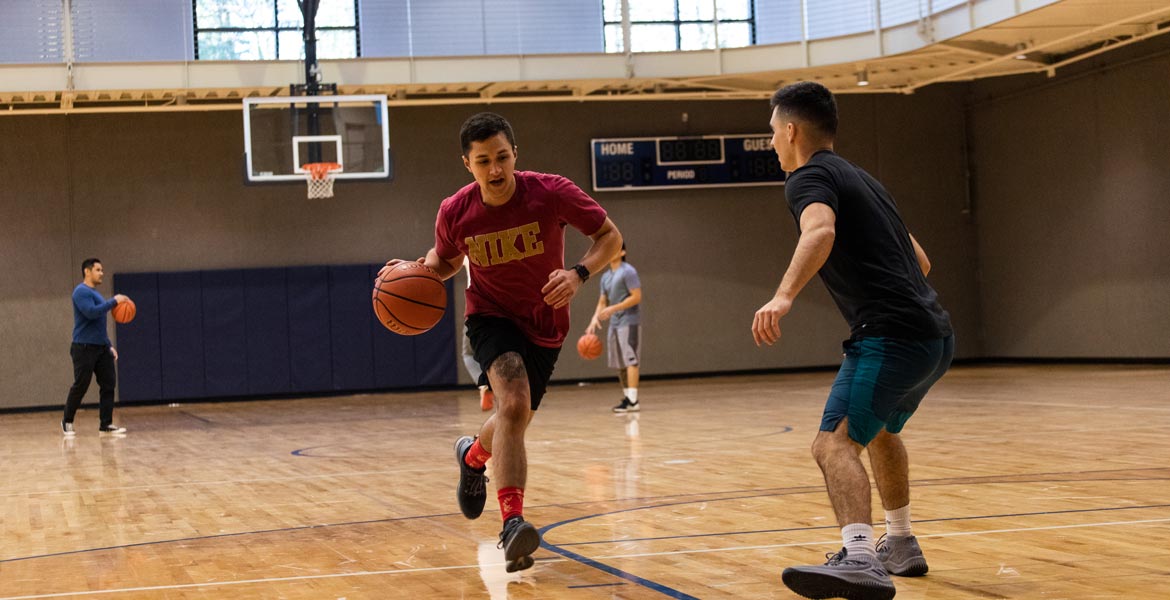 Intramural Sports
At George Fox, we believe everyone who wants to get in the game should be given that opportunity. Our intramurals program gives students an outlet for friendly competition and a forum to build relationships, foster teamwork and create memories.
A few of the sports we offer are flag football, volleyball, 3-on-3 basketball, 5-on-5 basketball, dodgeball, badminton and soccer. We also host single-day tournaments in sand volleyball, Wiffle Ball and disc golf.
Please stop by the front desk in the Hadlock Student Center to see a complete list of intramurals that are being offered this semester. Sign-ups can be completed through IM Leagues or at the welcome center.
Eligibility
Only current undergraduate students, graduate students, George Fox Employees, and employee (FTE) family members are eligible to participate in intramurals.

Coaches are not allowed to compete in the sport that they coach.
Participants may only play on one team per sport; participants may not participate in multiple divisions of a sport either.
Players who have been on the roster of one of George Fox University's intercollegiate teams within the same academic year are not eligible to participate in the same/similar intramural sport/activity. Once the student-athlete's eligibility has expired, or if they are removed from the team's roster, they must wait until the following academic year to register for the intramural sport that correlates with their intercollegiate team.

Intramural participants must be in good standing with University Recreation and have no suspensions for sportsmanship or other reasons.
Intramurals Policies
To create a welcoming, inclusive and safe environment, shirts and shoes are required. Shirts must cover, at a minimum, your sides/torso, and midriff. Sports bras must be covered by a shirt of some type.

Individuals or teams should arrive at the designated site at least 10 minutes prior to the scheduled time of the contest. The decision to declare a contest forfeited will be made by the intramural staff on duty. A game is not officially forfeited until the staff declares a forfeit. Any game whose outcome is declared a forfeit will result in a loss being credited to the forfeiting team.

If a team does not have the appropriate number of players to begin a competition, they will be granted a two-minute grace period. If they still do not have the appropriate number of players to begin after three minutes, they will be forced to forfeit the game or play short a player(s).

Teams can add players at any point throughout the regular season, but your roster must be set before the start of playoffs. In order to add a player, they must have not played on any other team throughout the season, and have completed the registration process on IMLeagues.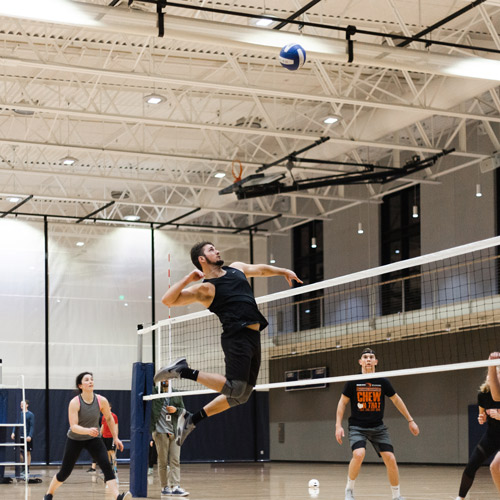 Code of Conduct
Unsportsmanlike conduct is defined as a player, coach or spectator who, at any time while at a George Fox University intramural event, conducts themselves in an abusive, offensive or illegal manner. This includes but is not limited to: fighting, verbal abuse or dissent toward an official or opponent, racial or ethnic slurs, inappropriate comments or actions that may be construed as sexual harassment, profanity, intoxication, obscene gestures, flagrant and violent fouls, taunting, trash talking, cheating, throwing or abusing equipment, and any acts of deceit.
The intramural department takes sportsmanship very seriously. Sportsmanship policies will be strictly enforced to ensure the safety and enjoyment of all participants and intramural staff. Actions that are dangerous and/or conduct that is detrimental to the intramural program or harmful to others will not be tolerated and are grounds for suspension from further participation in all intramural sports activities.