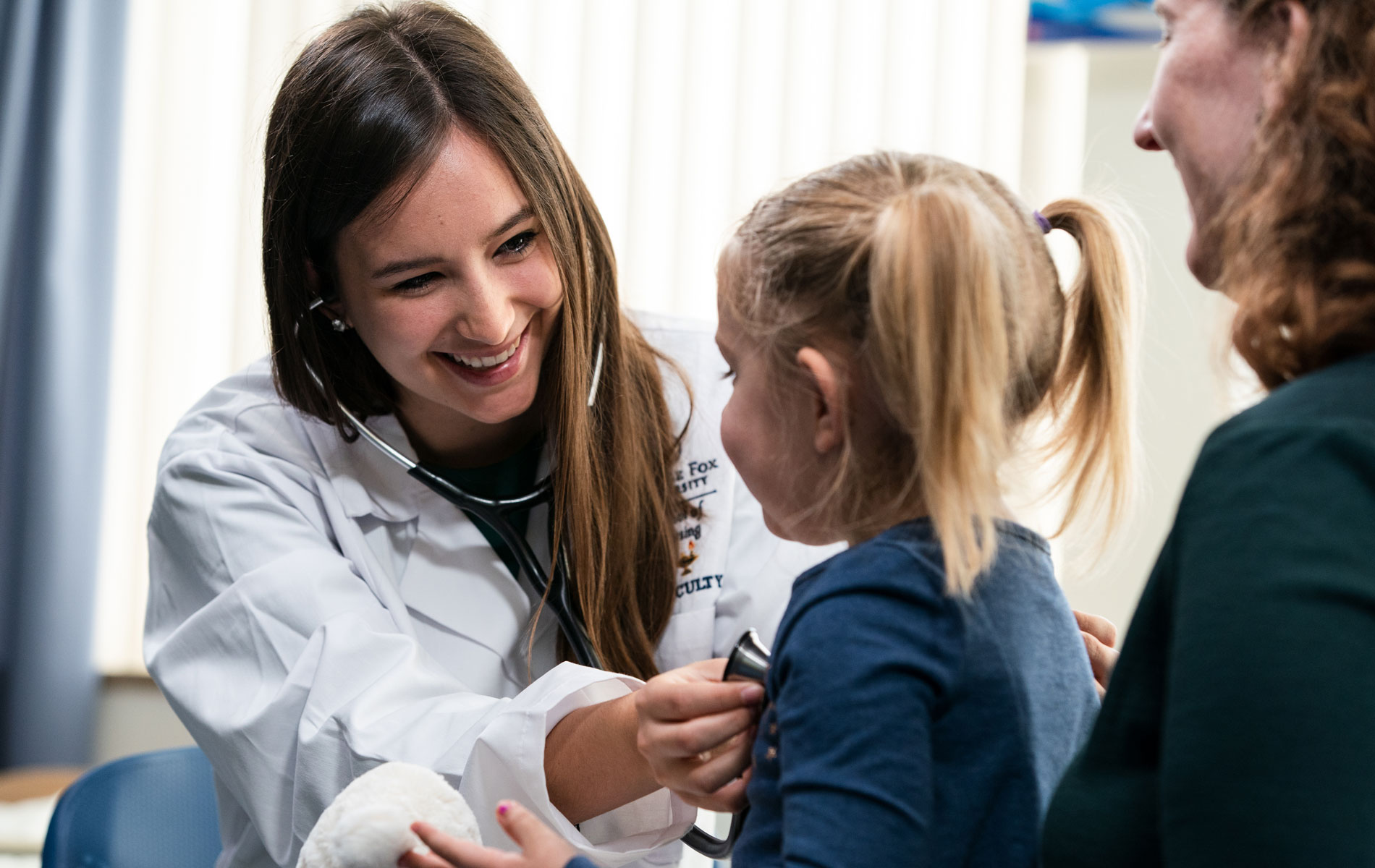 Master of Medical Science (MMSc) Physician Assistant (PA) Program
At A Glance
Application Deadlines
End of April to September 1st (rolling admissions)
* All stated financial information is subject to change. Financial aid available.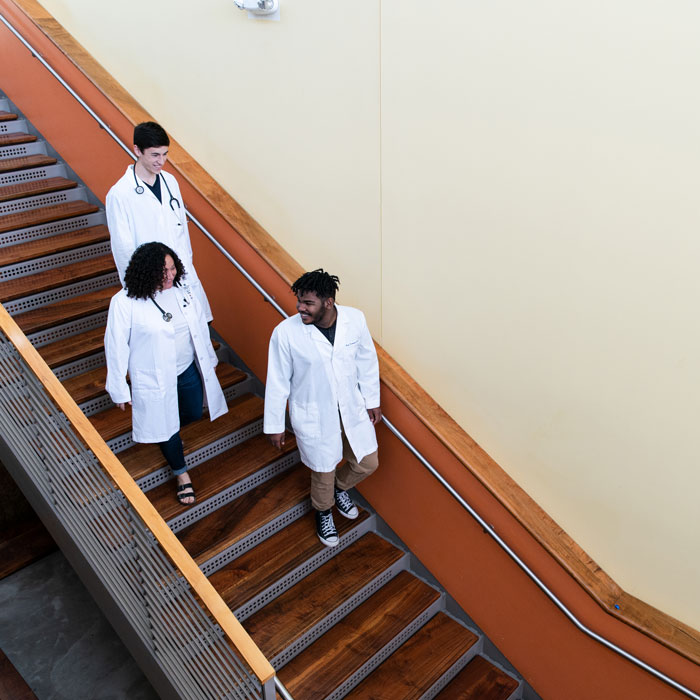 Program
Overview
George Fox University offers a six-semester, 112-credit Physician Assistant (PA) program that awards a Master of Medical Science (MMSc) degree, with the option to also earn a Doctor of Medical Science (DMSc) degree.
The full-time program starts a new cohort each January, with classes held in person at the university's new state-of-the-art Medical Sciences Building in Newberg and affiliated clinic sites the second year.
Our aim is to develop well-informed, resilient and compassionate PAs who provide patient-centered and service-oriented care in diverse environments to transform healthcare for the benefit of individuals and their communities. See how we are doing on our Goal Attainment and our NCCPA PANCE results. 
Interested in finding out more about our approach to PA? Visit our Mission, Vision, Values and Goals page.
Our Commitment to Care for
All
We are committed to Care for All by training a culturally agile healthcare workforce designed to meet the needs of our diverse communities.
We commit to educating our students in all aspects of care to all patients, communities and settings.
We commit to fostering a culture of compassion, service, leadership and knowledge.
We commit to graduating health care providers that are respectful and responsive to the populations they serve.
We commit to graduating health care providers that are ready to serve in rural and medically underserved communities.
Program Distinctives
Doctor of Medical Science Degree Option
In response to the demand for humanitarian services in our local and surrounding communities, we recently introduced a Doctor of Medical Science (DMSc) program. Launched in January of 2022, the program enrolls up to 36 current George Fox MMSc students each spring semester.
The four-semester, 36-hour program includes 12 semester hours of advanced standing credit, 24 semester hours of online education, including a week-long service trip to a high-need community domestically and/or abroad.
The DMSc addition not only meets the mission and vision of the PA program, it fulfills the university's mission of faith and service with its focus on leadership and humanitarian service to underserved parts of our state, nation and world.
Problem-Based Learning
Problem-Based Learning (PBL) is a teaching approach that centers on the process of developing knowledge rather than simply memorizing the right answer. It develops critical thinking skills in an active, rather than passive, learning environment.
In Problem-Based Learning, students work in collaborative small groups to solve complex real-world medical problems while building communication skills at the same time. Students are given a medical case and use their curiosity to ask questions about the patient's condition. These questions either lead to things they already know or things they have yet to discover.
Service and Humanitarianism
Providing care for all is the cornerstone of the program. We teach students how to integrate what they learn into serving others, demonstrating compassion, knowledge and leadership. We strive to instill a spirit of volunteerism focused on the care of our fellow humans as we use the blessing of our education to bring health and healing to those who need it most and where medical care is scarce.
Our goal is that students not only see this modeled in our faculty and staff, but that they themselves embody our vision to transform healthcare through increased access, affordability and equality for the benefit of people and communities.
Curriculum Details
Program competencies, concepts and course descriptions are available on the curriculum page.
Facilities and Location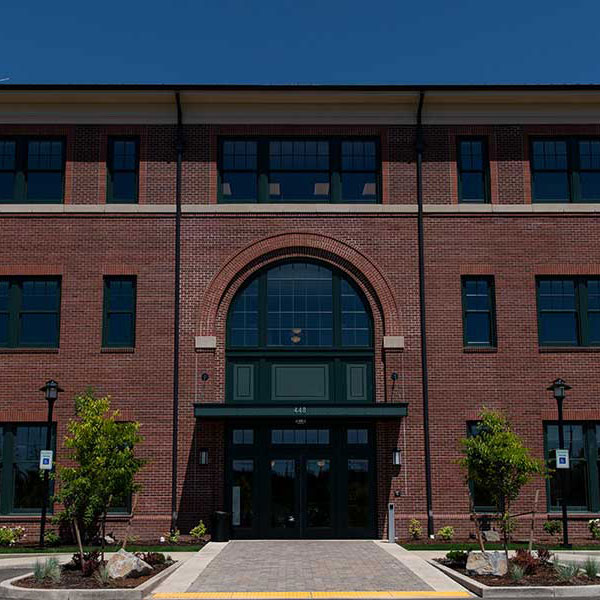 Medical Sciences Building
The physician assistant program is housed in a brand-new 43,000-square-foot, three-story facility located adjacent to Providence Newberg Medical Center. The building was designed specifically for the PA program and features state-of-the-art classrooms, labs, small-group rooms, exam rooms, study rooms and technologies to enhance student learning. The facility provides a space where students are equipped to address the glaring regional and national shortage of primary-care health professionals.
We share the building with the physical therapy program, allowing us to collaborate on local and global service projects to promote the health and wellness of our community and beyond.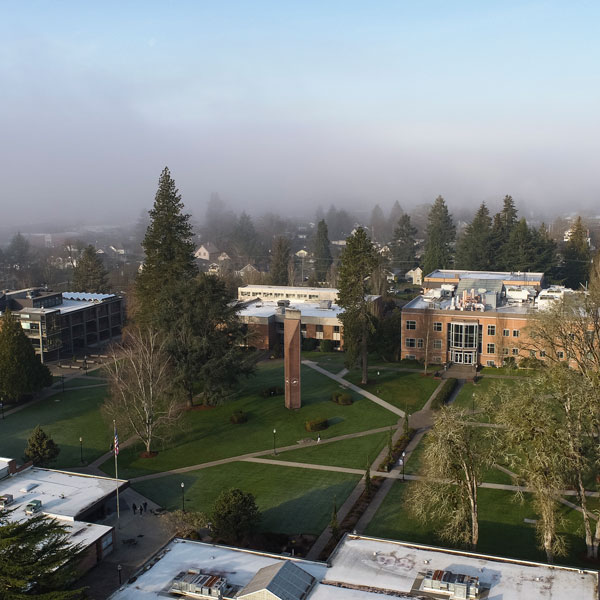 Our Home: The Pacific Northwest
George Fox University is located in the beautiful Pacific Northwest, home to lush green valleys, breathtaking vineyards, the Cascade Mountain Range and the splendor of the Pacific Ocean. Oregon is 96,981 square miles of diverse geographical features, ranging from the valleys, ocean and mountains of the west to the high-desert country in the east.
Newberg, home to George Fox, is situated along the Willamette River, between the Oregon Coast and the spectacular Cascade Mountains. Whatever your interest, it's probably just a short drive away.
45 minutes to the vibrant cultural life of Portland
60 minutes to the Pacific Ocean
90 minutes to the slopes of Mt. Hood
State Licensure Links & Reciprocity Table
Students earning their license through the George Fox PA program have reciprocity to practice in all 50 U.S. states. 
Questions?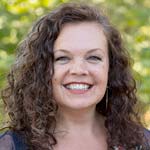 Admissions Counselor, College of Medical Science