Human Communication Concentration
No matter your future professional endeavors, you will work with people. And to be successful, you'll need strong communication skills — enabling you to problem solve in a team environment, manage and mentor effectively and pursue common goals across departments.
Whether you see yourself working in a leadership role at a company or overseeing a ministry or nonprofit organization, the human communication concentration of the communication major will equip you to step into the role effectively and with confidence. Talk about versatility!
This concentration focuses on the theories of communication and everyday communication interactions and problem solving. Course work will prepare you for leadership and management positions in settings that range from global organizations to the political arena, human resources and ministry – and any other field where communication is critical.
Now it's up to you to decide where you will apply your newfound communication skills!
Why

Study Human Communication at George Fox?
You will receive plenty of personal interaction in small classrooms where professors know you by name.

You will emerge more versed in the skills of debate and persuasion.

You will have the opportunity to showcase your communication skills as a member of our speech and debate team.

You will analyze current cultural trends in communication and graduate with a better understanding of how you can influence whatever field you choose.

As a Communication major, you have the option to join George Fox University's honors program. This great books program will allow you to engage in active discussions with your peers and provide you with a challenging academic journey that informs your mind and deepens your spiritual walk.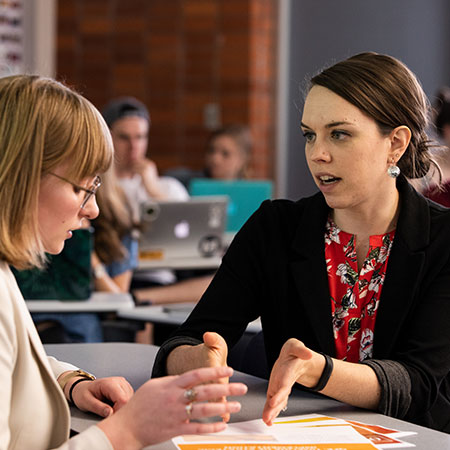 What

will I Study?
In our mass media and popular culture course, you'll analyze the roles of mass media in shaping and altering opinion and values in contemporary culture.
You will delve deep into the major sources of communication theory (e.g., meaning theory, humanistic psychology, symbolic interactionism, relational theory, information processing) and examine contemporary exemplifications of each approach.
You'll study methods of rhetorical criticism as applied to public communication of the past and present, including but not limited to, speeches, broadcasts, films, and campaigns.
Our small-group communication course examines and applies theories of small-group structures, climate, roles, leadership, motivation, and conflict management.
Bachelors (BA) in Communication Requirements
×
Concentrations (21 hours) - choose one
Complete the following:
Complete the following:
6-hours of upper-division COMM coursework required. Courses in other disciplines must be approved by faculty advisor.
Communication Arts (COMM) Course Descriptions
Complete the following:
Complete one of the following 9-hour sequences:
Study of the marketing concept, consumer demand and behavior, and marketing functions of the firm. The objective is to understand the development of marketing channels, products, prices, and promotion strategies. Prerequisite or Co-requisite of BUSN 110 Introduction to Business
We will take a look at how customers shop, buy and use products and services to satisfy their needs and wants. This class highlights physiological and psychological content that promotes consumer behavior understanding, such as perception, learning, language, internal and external motivations, emotions. Creating personas is an outcome of consumer behavior knowledge, allowing you to instinctively know your customer and create personalized marketing campaigns that hit the target each time. Prerequisite: MKTG 260 Principles of Marketing.
We will incorporate traditional and non-traditional B2B and B2C techniques to effectively communicate with our target audience. You will learn how to create a unified, cohesive Integrated Marketing plan, essential to a successful marketing career. In today's market, it is critical to know how to leverage digital strategies across a variety of deliverables including branding, design, usability, IT development, SEO, and social media integration to drive active commerce and audience engagement. You will learn how to solve business problems with a persuasive marketing strategy. Prerequisites: MKTG 260 Principles of Marketing and MKTG 300 Consumer Behavior: Know Your Customer.
OR
A study of the theory and practice of management. The course involves discussion and application of areas such as social responsibility, strategy, problem solving, communication, change, job performance, and financial/operational controls. Prerequisite or Co-requisite: BUSN 110 Introduction to Business.
This course recognizes that managers are also called upon to be leaders. The differences between a leader and manager will be discussed with focus on effective leadership and management skills, philosophies and orientations. Prerequisite: MGMT 260 Principles of Management.
This course examines the complex and dynamic interactions of people and organizations in society. Particular focus will be on organizational theory, human perception, motivation, group dynamics, power, conflict, culture, leadership, organizational development, and managing change. Prerequisite: MGMT 260 Principles of Management.
Choose one of the following:
This course is an introduction to industry-standard graphic design applications such as Adobe Illustrator, Photoshop and InDesign. Additional course fee required.
Students work collaboratively to explore story and script essentials, the technical, creative, and aesthetic elements of the video production process. Course includes professional script formatting, basic lighting, sound, camera operation, composition, and design of visual elements, producing and directing basics through lecture, classroom and supervised laboratory experiences.
Complete the following:
Suggested Elective:
This course examines how social media intersects with existing psychological, communication, and marketing theories. In addition to providing a foundation in current terminology and trends, the course will also require students to develop critical thinking techniques in order to improve their media literacy. Students will analyze, evaluate, and prescribe communicative approaches in a variety of contemporary case studies, such as: crisis communication, public relations and branding, campaigns, citizen journalism, "big data," micromarketing, and social protest. Prerequisites: COMM 111 Communication in Society and sophomore class standing.