What can you do with a mastery of the English language? Let us count the ways.
Our English major provides you with the opportunity to explore your own imaginative power. Do you aspire to be a writer or editor? A teacher? A lawyer? A degree in English can launch your career in these fields and countless others. Become a communicator of clarity and grace – someone who can cast a vision, weave a narrative, and craft an experience.
As an English major, you will be taught to read and write with attention to truthfulness, logic, rhetoric and aesthetics. In an increasingly competitive and changing marketplace, a degree in English can be the foundation for the thinking, imaginative and interpretative skills necessary for workplace success.
Concentrations
Literature
Choose this concentration and become familiar with both classic and contemporary works of world, American and British literature. Skills developed include close reading, critical thinking, analytical and problem solving, empathy, and faith integration.
This path will prepare you to pursue graduate studies to become a teacher at the middle school, high school, community college or university levels; attend law school; or earn a degree in library science.
Writing
Choose a writing concentration and practice writing in a variety of genres, including creative writing (poetry, fiction, creative nonfiction), journalistic writing, and technical/business writing. Skills developed include analyzing and writing for specific audiences, marketing, editing and publishing. This concentration requires an internship experience.
Why

Study English at George Fox?
Each member of our faculty is a published writer who is knowledgeable about the publishing industry. They teach from practical experience, not textbook knowledge. Each specializes in different kinds of writing, from young adult fiction to poetry to journalism to academic writing.

Beyond exploring the classics of literature, you will become a more perceptive reader and interpreter of the Bible, helping you gain a better understanding of how your faith informs your writing practice.

Our faculty are available for tutoring and mentoring and give great advice about careers and grad school options after graduation.

You will have many opportunities to write and get your work published outside the classroom, whether it be writing for the campus newspaper, The Crescent, or working on the editorial staff of our creative writing journal, The Wineskin. In addition, several students in our Magazine and Feature Writing course are published regularly in media outlets outside the university.

If you are an English major or minor with a 3.0 GPA or above and three semesters of college credit, you may join the George Fox chapter of Sigma Tau Delta, which qualifies you to submit your creative and scholarly writing and, if selected, to present your work at the international convention. There, you compete for recognition and cash prizes in various presentation categories. Several of our students have won prize money for their work over the years.

You will become a better thinker, researcher and writer and learn to share that passion with others through writing and teaching. You will find your voice.

You will benefit from interdisciplinary connections through literature (history, philosophy, art, theatre, religion, etc.)

As an English major, you have the option to join George Fox University's honors program. This great books program will allow you to engage in active discussions with your peers and provide you with a challenging academic journey that informs your mind and deepens your spiritual walk.
What

will I Study?
Literature from a variety of times and cultures
Various theories of interpreting literature
Analyzing and writing for specific audiences
Navigating the publishing world and marketing your writing
The principles of composition and how to teach writing effectively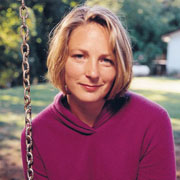 Gina Ochsner
Author, winner of 2002 Flannery O'Connor Award
What I appreciated the most about the time I spent studying at George Fox was the creative latitude to explore, define, craft and hone my own creative aesthetic. Under the guidance of gifted instructors I was encouraged to examine rigorously what it is I wanted to write and how best to write it.
What's

after George Fox