Why study English?
For starters, an English major is versatile. Whether you plan to enter the fields of business, education, academia, law or government, a degree in English provides the thinking, imaginative and interpretive skills necessary to excel.
Secondly, fundamental to the study of writing and literature is its power to illuminate. Such study enlarges our understanding of who we are and how we should live within our shared human condition. An English degree nourishes individual wisdom, expands your grasp of our culture, and increases your capacity for empathy.
Why

Study English at George Fox?

Alumni of our department consistently point to three general advantages of a George Fox education:
The smaller size of the university helps contribute to the feeling of belonging and being recognized as an individual with unique talents and abilities.
The liberal arts curriculum helps broaden perspectives and contributes to an appreciation and understanding of all aspects of society.
The strong spiritual emphasis of George Fox helps students grow in their personal relationships as well as their relationship with God.
Students and faculty in our major share much in common: We love to read and discuss good literature, and we want to improve our own writing to enrich the lives of others – and maybe even change the world.
You can learn more about our English major on our undergraduate admissions site. The major includes two concentrations – in literature and writing – and we also offer minors in literature and writing.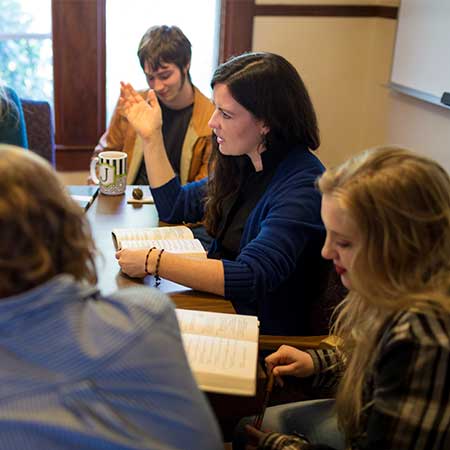 Our Mission
The mission of the English Department is to prepare socially responsible and spiritually aware students for vocations by educating them in the essential concepts, knowledge, and skills of writing and literature.
Outcomes
Our graduates will:
Develop the ability to write clearly and effectively in a variety of rhetorical situations
Interpret literature with an attention to a text's historical, aesthetic, cultural and global dimensions
Formulate how their spiritual development interacts with and informs their reading, writing and thinking
Course Offerings
Following are selected courses we offer (for a full listing, please see the undergraduate catalog):
Ancient World Literature
Advanced American Literature (recent topics: Mary Oliver; William Faulkner)
Advanced British Literature (recent topics: Lewis and Tolkien; Victorian novel)
Literary Criticism
International Women's Voices
Professional Writing
Writing Poetry
Writing Fiction
Magazine and Feature Writing
Creative Non-Fiction
Advanced Fiction Writing (recent topics: Young Adult Fiction; Science Fiction/Fantasy Fiction)
Shakespeare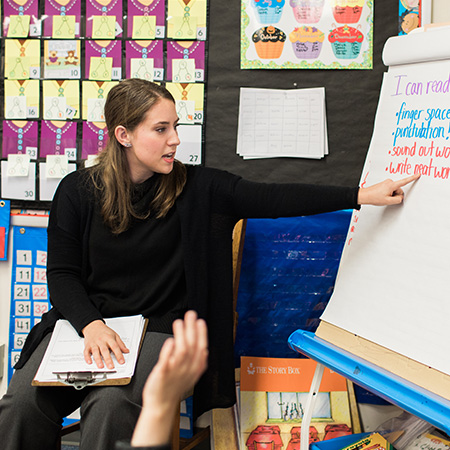 Degree Plan
The registrar's office has degree plans for all majors and years. Keep in mind that a number of English courses are not offered every year, and there will be special course offerings that occur only once during your time at George Fox.
Expect to be a little flexible. However, these plans will give you a solid idea of what you should tackle each semester to graduate on time.
Interested in teaching English? Visit our Become a Teacher page.
Our Faculty
Our faculty boast a wide range of teaching and publication experience. Meet them through their personal profiles.