Sigma Tau Delta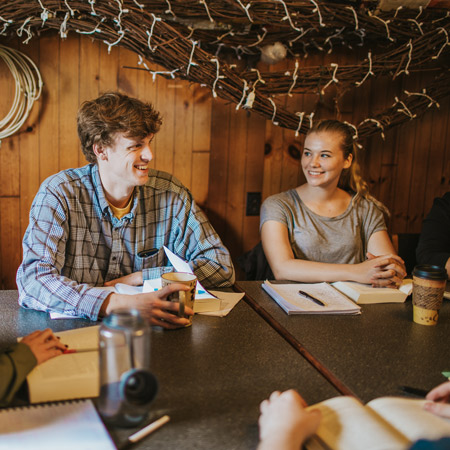 Sigma Tau Delta is an international honors society for English majors and minors. George Fox University's chapter, named Alpha Rho Omicron, was approved in the spring of 2009 when the first student members were inducted. Gary Tandy serves as the faculty sponsor.
The organization promotes:
Students getting to know their colleagues and professors outside of the classroom
Participating in scholarly activities
Developing and leading service projects for the campus and community
Applying for internship opportunities and scholarships available to members of the organization
Sigma Tau Delta has more than 750 active chapters in public and private colleges and universities in the United States, Europe and the Caribbean. The organization's three primary objectives are to recognize excellence in all areas of English language and literature studies, encourage further achievement in these areas, and to foster the disciplines of creative and analytical writing.
As a member, you'll be eligible to compete for scholarships valued at up to $4,000 each, several $2,000 new teacher awards, a number of writing awards valued at up to $500 each, and internship positions with well-known publishers.
To be eligible for membership, you must be at least a second-semester sophomore, have completed two classes in writing or literature (beyond freshman English), have a B average in the major and in all classes, and be majoring in English or minoring in literature, writing or journalism.
Please direct questions about the society to Gary Tandy at gtandy@georgefox.edu