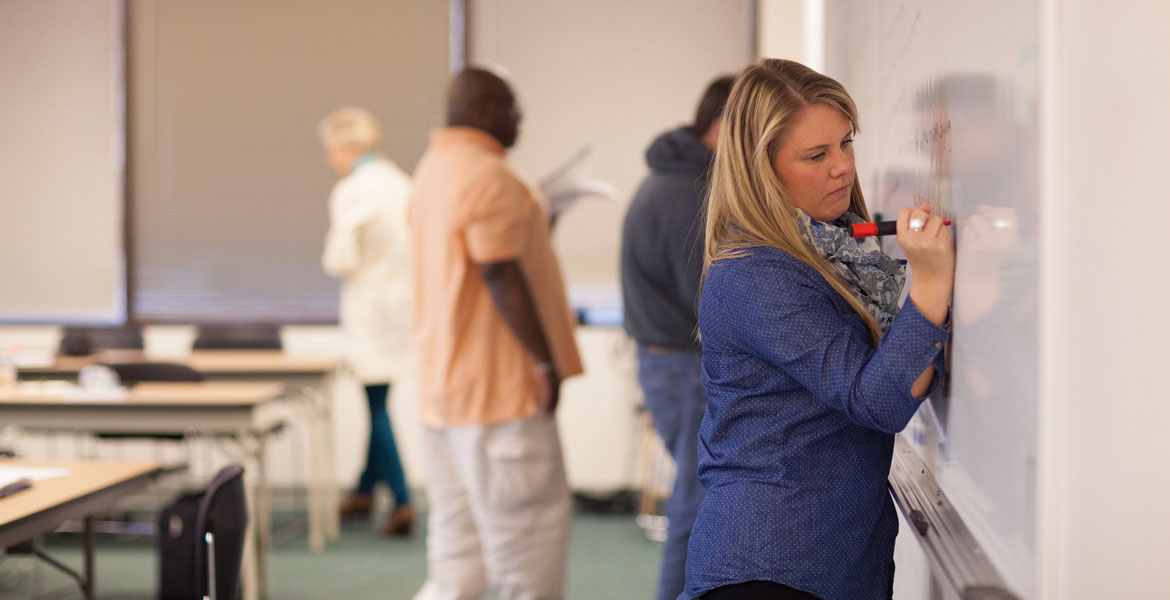 Doctoral Project Portfolio
At Portland Seminary, we value what you bring to the table ... as a person, ministry leader, and as someone called by God to fill a need in the world that only you can fill.
The seminary's three-year doctoral research process takes this into account. We recognize each student has individual gifts, passions, and callings. Our approach to Collaborative Design for Ministry and Nonprofit Contexts enables you to engage with stakeholders to address a challenge, customize your learning experience, and apply what you discover.
The Research Journey
I love this means of discovering a problem. I hope to use this tool for the rest of my ministry career. "
- Shawn Cramer
The 22-credit-hour research sequence is divided into a series of milestone assignments organized around three stages: Discover, Design, and Deliver. These milestones facilitate a clear sense of progress, moments to celebrate and timely graduation.
Ultimately, the goal of the process is to develop competency in addressing real-world Needs, Problems, or Opportunities (NPO) and provide you with expertise in your chosen area of research.
In This
Three-Year Program

, You Will:
Gain experience in addressing a need, problem, or opportunity (NPO)

Develop a Doctoral Project

Earn a doctorate
Identify a need, problem, or opportunity (NPO) from your context to research.
Connect with project faculty for guidance.
Engage stakeholders: those impacted by your NPO research.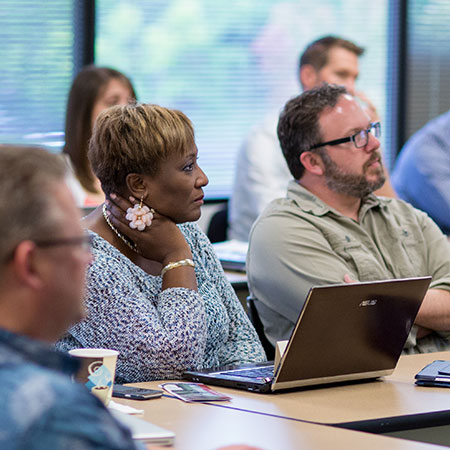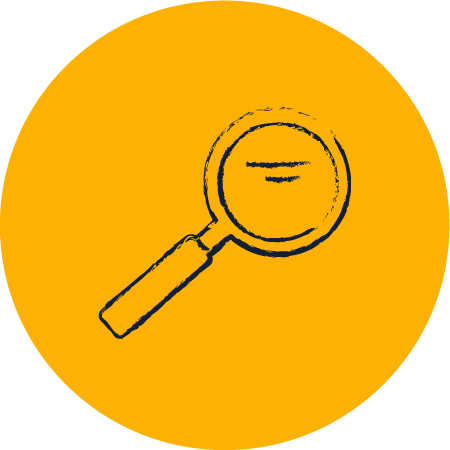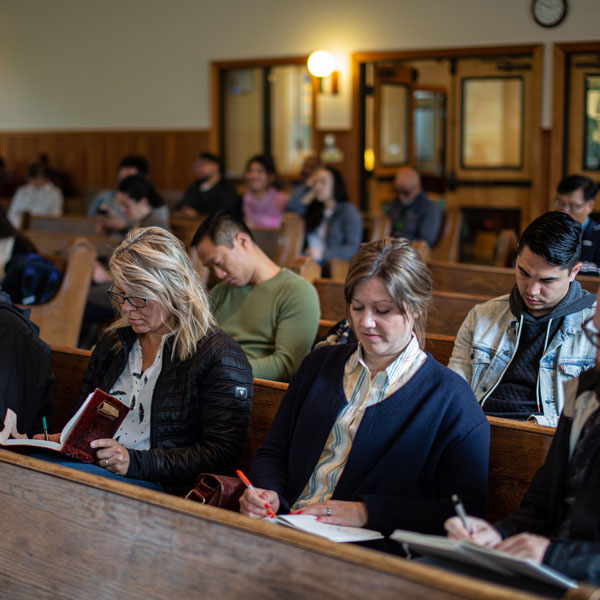 NPO Discovery Workshop
Explore the nuances of the NPO with stakeholders
Topic Exploration Essay
Demonstrate academic and theological conversancy surrounding the NPO topic
Expect 10-12 hours per week of research
Under the guidance of your project faculty mentor, you will engage a variety of stakeholders from your context in a grassroots discovery process to assess the real needs of those impacted by the need, problem, or opportunity (NPO). The findings are summarized in an NPO Charter, and the following semester you immerse yourself in the theological and academic literature relevant to your research to understand the NPO more deeply.
I couldn't recommend this program and this process enough. I've already used the NPO model in my context outside of my project."
- Bridget Thornton
Design Workshop: Explore solutions to a need, problem or opportunity (NPO) with stakeholders.
Background Research: Do further bibliographic research related to your emerging solution.
Create, Test, and Explore: Test the viability of possible solutions to identify the Most Viable Prototype (MVP) of the Project.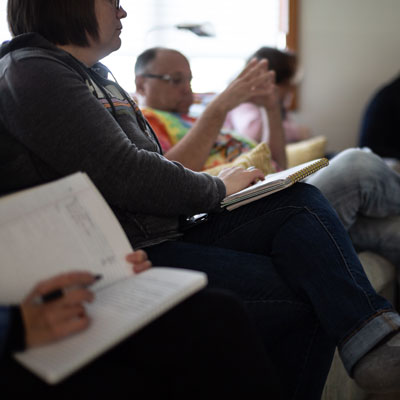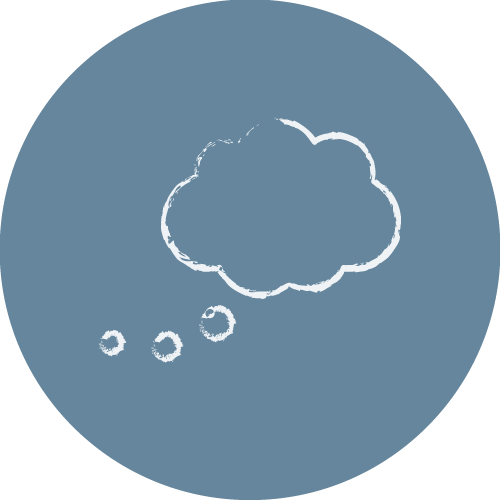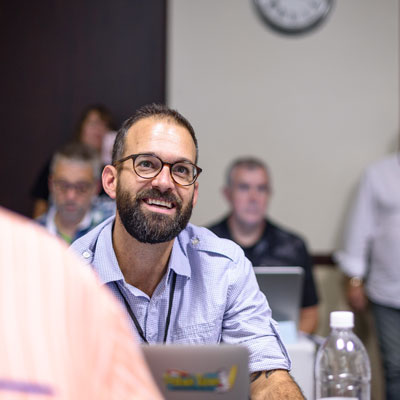 You'll brainstorm ideas for addressing the NPO with another group of stakeholders and experts from your context, further research literature related to your emerging solution, and create and test a prototype. Based on your findings, you'll identify your MVP. Milestones include:
Design Workshop Report
Design Research Report
I appreciated the Discover, Design and Deliver process, as well as the encouragement to approach the process with open hands, allowing answers to emerge rather than forcing preconceived solutions."
- Darcy Hansen

Develop: Create a practical solution (book, website, business plan, app, etc.).
Gather early feedback: Identify improvements to the project.
Deliver: Submit your Doctoral Project, Launch Plan, and Project Portfolio for the final examination.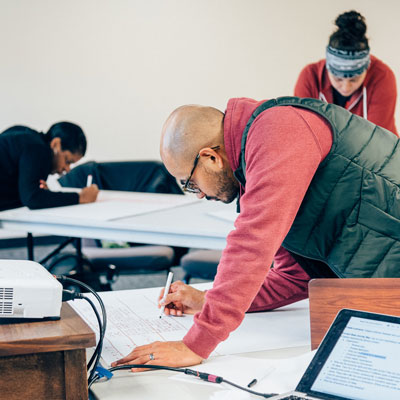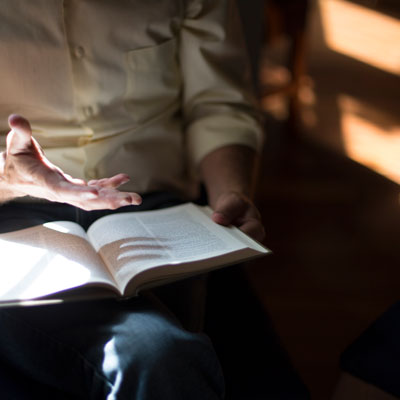 In the third year, you will submit a doctoral project delivery plan for approval to identify the project's scope, benchmarks of success, and development timeline. You next develop your doctoral project and gather early feedback. After evaluating and reporting your progress, you'll make further improvements on the project. Finally, you'll develop a post-graduation launch and sustainability strategy. Milestones include:
Doctoral Project 
Project Launch Plan
Final Project Portfolio
An examination committee evaluates the Doctoral Project, Project Launch Plan, and Project Portfolio. After corrections, you prepare the Project Portfolio for archival to the University's Digital Commons and make a final presentation on your findings.
Professional Enhancement
In the final portfolio, you will produce a doctoral project – such as a curriculum, church program, action plan, academic article, website, nonprofit business plan, etc. – and a learning launch plan for next steps following graduation.
As an outcome of the research process, you will:
Learn the Collaborative Design for Ministry and Nonprofit Contexts methodology.

Address a challenge in your ministry context

Gain expertise around your research topic
Example Projects
Our students create practical solutions to address a challenge in their ministry context. Examples of past Doctoral Projects include:
A spiritual assessment tool to address digital media use for teens and parents.

A podcast for home health and hospice nurses addressing burnout during COVID.

The curriculum for an 8-week course for the Pentecostal denomination on the spiritual care of the dying, and grieving loved ones.

Seminary spiritual formation courses on grief and shadow work.

A third space for Gen Z that hosts workshops, think tanks, parties, cooking classes, seminars, and so forth. It focuses on building relationships outside of the church and engaging in pre-evangelism.

A business plan for a coffee-house and yoga studio that provides a curated, third space for people to explore their spiritual journeys.

A consulting group that helps churches develop a digital presence. 

An app for a church to use to onramp new church leaders. 

A website that promotes cooperation among Association for Biblical Higher Education (ABHE) institutions.

Group Spiritual Direction sessions contextualized for Tokyo, Japan.

Popular books that address various practical ministry or leadership concerns. Examples include:

Impressions and Arrows: Forming Faithful Preteen Hearts

 

Idea Explosion: How Churches Can Create More Ideas

The Love Effect: Crossing Our Divides Together Into Flourishing

Storied Discipleship: 9 Practices for Jesus-Shaped Living

Rediscovering the Hospitality of Jesus as the Mission Tone of the Church
Questions?
Admissions Counselor, Seminary