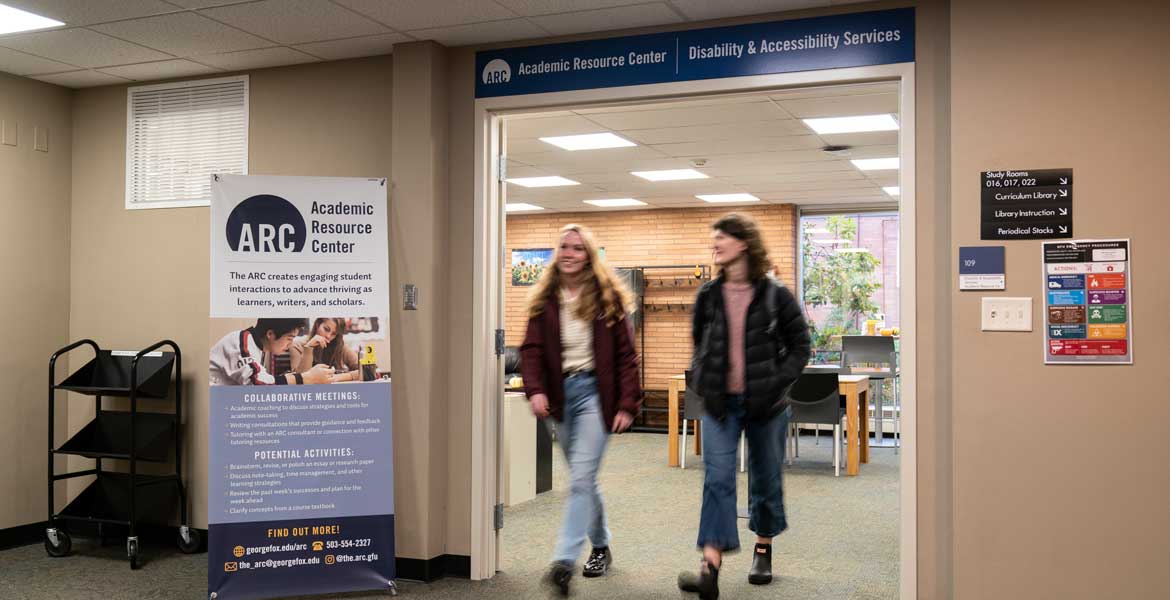 ARC Appointments
Need help writing a paper or preparing for tests? Through one-on-one and group consultations, trained peer consultants can help you:
Read. Write. Learn... Better.
The Academic Resource Center (ARC) provides free writing help and academic coaching to traditional undergraduate students and is located on the first floor of the Murdock Library.
Graduate and Adult Degree Programs students can get assistance from the Portland Writing Center.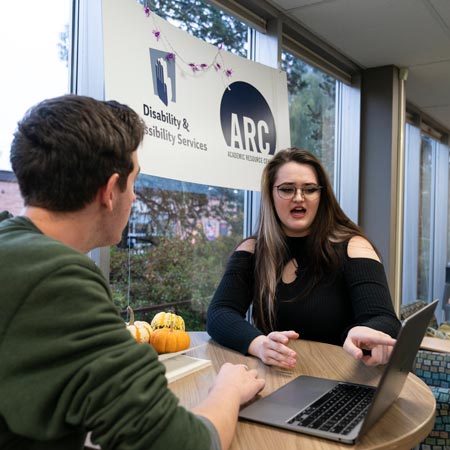 Schedule an ARC Appointment
We offer 25- or 50-minute appointments during these hours:
Monday-Thursday: 1-10 p.m.
Friday: Noon – 4 p.m.
The best way to schedule an appointment is through TracCloud, the ARC's online scheduling system.
Schedule Appointment with TracCloud
TracCloud is only available to current George Fox University Students. If you are a student and are unable to access TracCloud OR are a George Fox University employee and desire to schedule appointments, email lss@georgefox.edu for assistance. 
Scheduling Through Traccloud
Log into

 

traccloud.georgefox.edu to be taken to your Dashboard.
To schedule an appointment go to

 

Schedule an Appointment

 

box and fill out the fields. Click

 

Search.
Choose the location that you want to use and when you would like an appointment. Click

 

Search.
When you see an open availability, you will notice the time of the appointment, the location, the date, what type of appointment it is (online, in person, or drop in, etc.), and the consultant's name.
Choose the appointment that works best for you and click inside the appointment.
The screen that will open asks you a few questions such as the duration of the appointment (25 or 50 minutes), whether it is in person or online (if that appointment has more than one option), whether you need a recurring weekly appointment, what you need help with during the session, etc. Once you are done answering the questions, click on

 

Confirm.
After you click on

 

Confirm, you can upload documents or link to a Google doc to the appointment.
Once you have uploaded your document, you can exit the screen by clicking on the

 

Close

 

button in the bottom right corner.
You are done scheduling your appointment!
You can also schedule an appointment by:
What can I use an ARC appointment for?
Writing
Brainstorming a topic
Organizing information
Transitioning between sentences, paragraphs
Critiquing your final paper
Academic Coaching
Planning your schedule
Taking notes more efficiently
Improving study habits
Overcoming test anxiety
Be sure to plan ahead and schedule appointments as soon as possible. The ARC schedule fills quickly, especially during busy phases of semesters, such as midterms and finals. The quickest and surest way to schedule an ARC consultation that fits into your academic plan is to schedule through our online system.
What to Bring to Your Appointment
When you come for your consultation, be sure to bring:
Your class syllabus
The assignment sheet (if separate from the syllabus)
Any work you have done on the assignment
Other materials you need to complete the assignment (textbook, source materials, class notes)