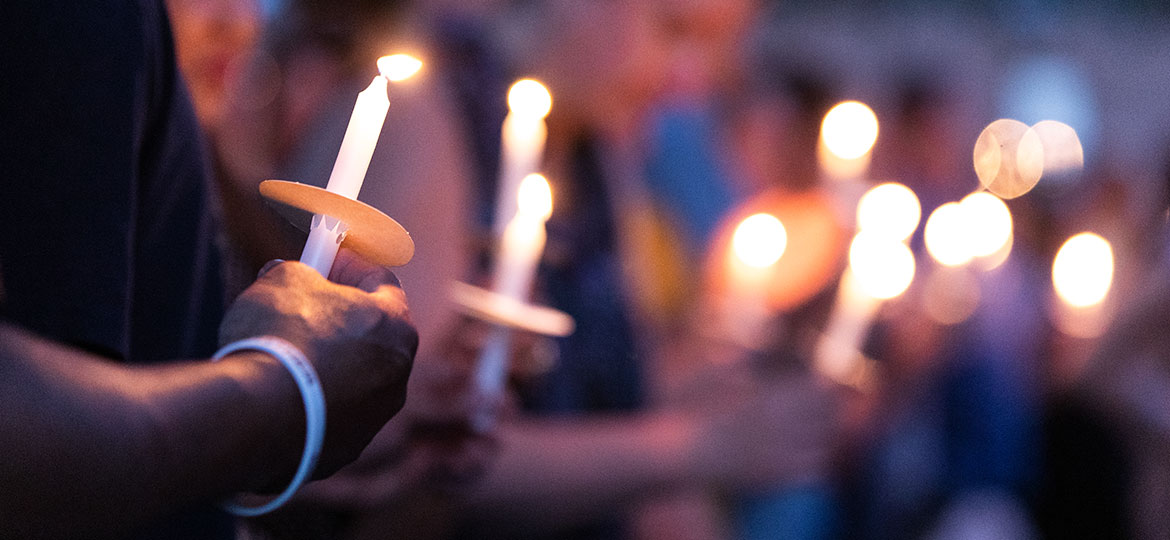 Spiritual Life
Learn. Grow. Get Involved.
At George Fox, faith is a verb. As your relationship with God grows deeper, so will your desire to engage in the world – to do the work of Jesus. Spiritual growth and transformation are at the core of who we are, whether that happens in small groups, chapel or in the classroom.
A Christ-Centered Community
Our identity as a Christian college affects everything we do, both inside and outside the classroom. It influences the way we teach every subject and is the reason we offer many opportunities for service and spiritual growth. At the center of our Christ-centered community is the belief that we are all gifted and called to service in a needy world.
While Bible colleges tend to focus only on theological training, George Fox offers a liberal arts education that allows students to pursue their vocation and calling in a wide variety of career paths.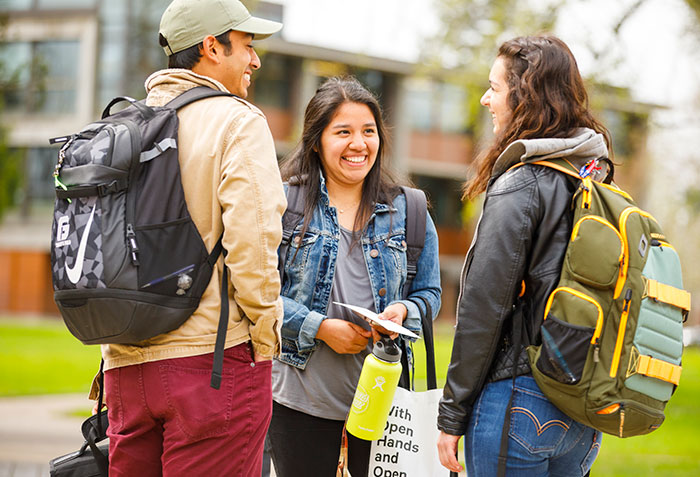 Do I Have to Be a Christian to Attend?
George Fox is an unapologetically Christian university, and our commitment to faith impacts every part of the student experience. Being a Christian isn't a requirement to attend, but we do ask for an open heart as you join a campus community that is committed to Christ and committed to supporting you personally, academically and spiritually.
As part of general education requirements, all undergraduate students are required to complete 15 credit hours dedicated to the liberal arts and Christian life – in courses taught by our all-Christian faculty – as well as abide by our community's lifestyle agreement.
Faith is fully integrated into the classroom experience, and all our professors are Christians who want to know you by name. This is one way our "Be Known" promise – that each student will be known personally, academically and spiritually – is lived out.
Although faith is woven into all of our courses, the following are specifically designed to encourage you in your faith journey:
THEO 101-102: I Believe
All freshmen take THEO 101-102, a two-course sequence that addresses what it means to be a Christian and other questions of the faith. The format incorporates a large-group lecture on Mondays, a small-group discussion on Wednesdays, and a large-group panel discussion on Fridays.
Known and Being Known
This first course in the liberal arts core introduces students to the history and mission of George Fox and the values and habits that are the foundation of a liberal arts education.
Engaging Christ in Transition
This course, taken by George Fox students in their final year of study, provides an opportunity for students to reflect on what they've learned at George Fox and prepare for the transition to the next stage.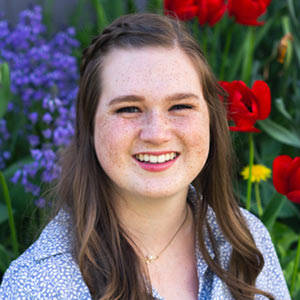 Hannah Miller, Class of 2019
Before coming to Fox I had let other people determine my views and beliefs, never actually questioning and understanding exactly what I believed. Then, being exposed to a plethora of varying views, beliefs and practices of spirituality, I learned how to take my faith and make it my own.
Chapel exists to create space for the university community to worship together with Christ-centered teaching, Christian practices and creative arts that challenge and inspire students to grow into mature disciples of Jesus Christ. Undergraduate students are required to attend chapel or chapel electives 15 hours each semester.
Chapel

Activities
Tuesday Morning Chapel


Worship through music and teaching by George Fox staff and guest speakers

Shalom Chapel


Common prayer, worship, breaking-bread and Scripture reading centering us around Christ and his whole mission to share the whole gospel with the whole world

Vespers


Worship through music and teaching through Scripture by pastoral team and guest speakers

International Chapel


Prayer, worship and centering on Scripture, particularly in ways supporting our international students' experience

Chapel Electives


Students have the option of attending electives to fulfill one-third of their chapel credit requirements.
Note: Chapel activities may be modified or presented virtually during the 2020-21 academic year to abide by physical distancing protocols necessitated by the pandemic. 
Life Groups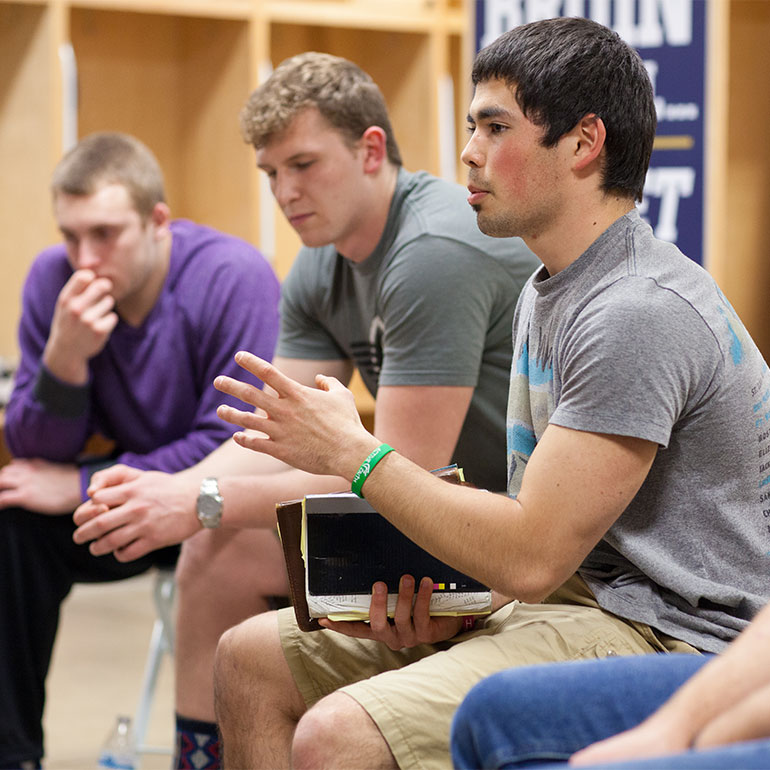 Life Groups provide an opportunity for undergraduate students to gather for a weekly time of discussion and prayer. Groups are led by a post-college leader.
Ministry & Service
Preparing students to serve with passion is part of our mission at George Fox, and we live that out by providing numerous service opportunities and engaging in ongoing dialogue about significant societal issues.
As a result of this exposure and dialogue, students develop a broader perspective marked by concern for the poor and marginalized and a spirit of generosity.

Service opportunities include: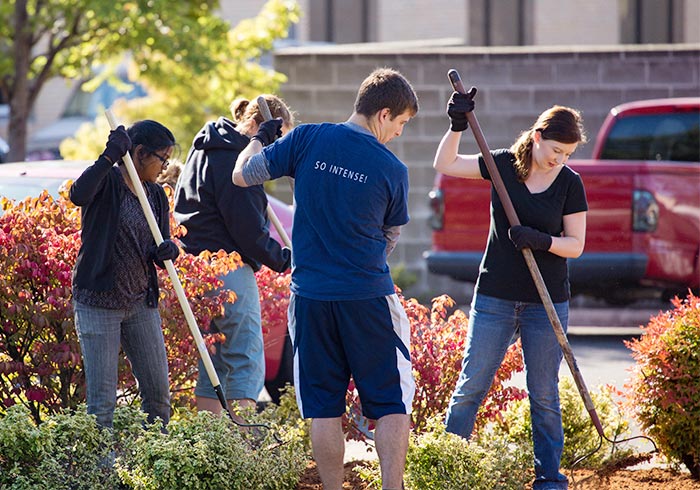 Serve Day
Each fall, the campus closes for one day so all undergraduates and employees can serve surrounding communities.

Watch Video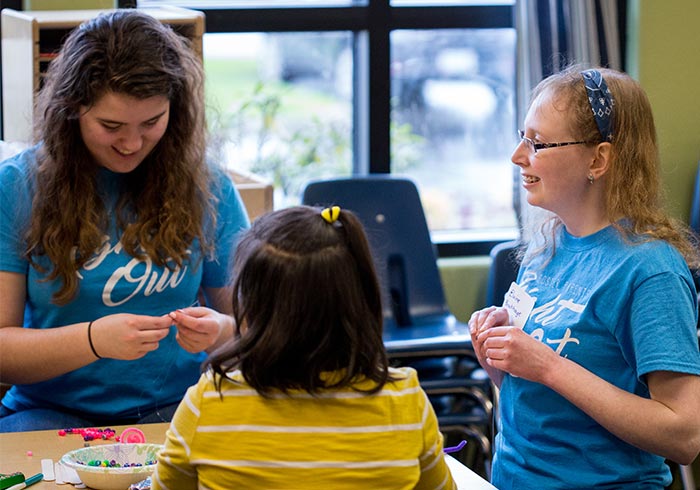 Foster Parent Night Out
In this monthly event, students interact, mentor and spend time with children in the foster care system while foster parents get a few hours off.
Serve ("SpiL") Trips
During winter, spring and summer breaks, "SpiL Trips" challenge students to learn from and work alongside people and organizations modeling Christian community development.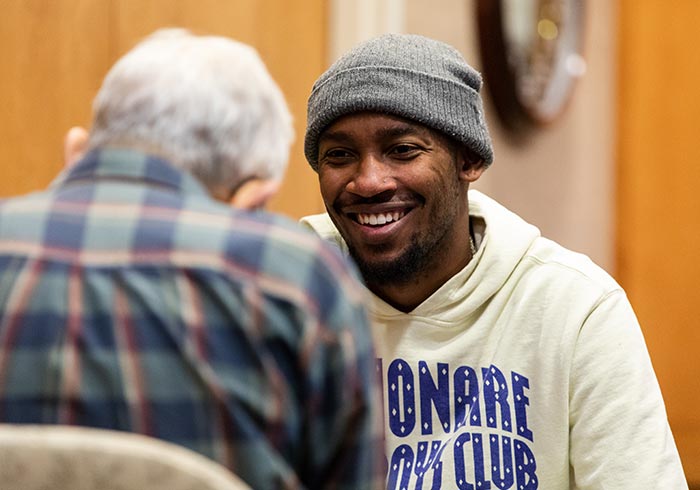 Generation Connections
George Fox students and retirement community residents come together regularly to share their talents and stories with each other – and play some games.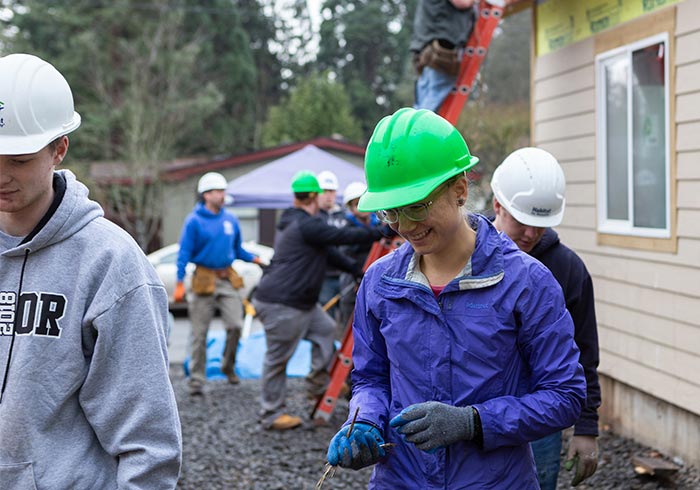 Saturday Service
This community service outreach links students to their community through service projects.
Little+Big Bruins
Much like Big Brother/Sister programs, this program allows George Fox students to serve as role models to students from an elementary or middle school through regular one-on-one time.
Kin-Dom Events
These gatherings connect students to under-resourced neighbors in urban areas for the purpose of serving people in need.