Spiritual Life
At George Fox, faith is a verb. We want to help you pursue your passion and calling. As your relationship with God grows deep and wide, so will your desire to engage the world – to do the work of Jesus. Through chapel, small group study, serve trips and everyday living on campus, you will have the opportunity to make your spiritual journey one of great adventure.
So let's grow together. Transformation is part of the education at George Fox. Spiritual growth – whether in chapel or in the classroom – is at the core of who we are. Come cultivate your mind and your spirit.
---
How we help you grow
Chapel
Every Tuesday morning and Wednesday evening, our student body gathers in Bauman Auditorium for exciting times of praise, worship, teaching and fellowship. Well-known worship leaders, guest speakers and musicians often come and share their messages, and each fall and spring we hold weeklong theological lectures with teaching from innovative theologians.
Weekly special events and morning prayer gatherings are more ways for you to develop close bonds with your fellow students.
Small groups
Love others, and let others love you. Small group studies at George Fox provide friendship, discipline and the chance to pursue God in a more intimate, vulnerable setting. Group leaders receive eight sessions of training through the Office of Spiritual Life.
Service
Roll up your sleeves. It's time to get moving. Students have opportunities throughout the year to get involved with service projects. Some last a day and are only a few blocks from campus. Others last for weeks and are halfway around the world. We are not content with merely learning about good deeds. We like to practice what we teach.
---
Where you can grow
Chapel services throughout the week
Student-led Bible studies
In class (students take 9-12 credits of Bible and religion classes)
Fellowship groups
Plays and concerts with spiritual themes
Worship band
University Players, a drama troupe that travels throughout the region to explore the message of Jesus
"I'm comfortable here. I feel like I'm growing as a Christian, and I feel more connected to God. My professors are really helpful, and they reach out to me.  They all know me by name."
Yabadi Tshimanga, social work major
"I feel like this is my home. I feel that I can be me here without having to put on a face, without having to be something I'm not. I love it here."
David Kays, psychology major
"I really like the spiritual environment. I see a lot of solid people here who are strong in their faith."
Joshua Enobakhare, engineering major
---
Get a taste of spiritual life at George Fox
From serving those in need to joining in worship with well-known Christian artists, students at George Fox are given a variety of options to grow in their faith.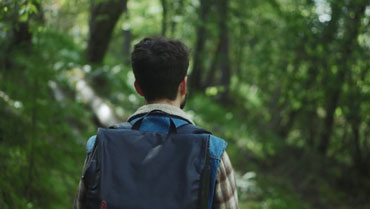 My Faith Journey
He Goes Before Me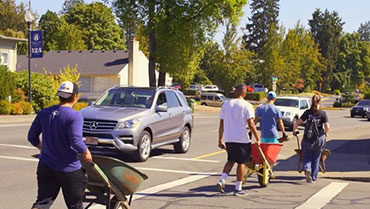 Serve Day 2016
Be Thou My Vision - Our Vision for Service
Who are the University Players?
Gungor - 'Dry Bones'
What you don't know about Shane Claiborne
Aaron Strumpel - 'Twenty Three'
JJ Heller - 'Your Hands'