What is it that you want to build? What innovative idea do you want to flesh out and create? Do you love the idea of manufacturing something that can be put to practical use?
If you've dwelled on these questions, we have the place for you: the Maker Hub, our 16,000-square-foot space dedicated to the design, prototyping and fabrication of projects that support the educational, humanitarian and professional design aspirations of our students.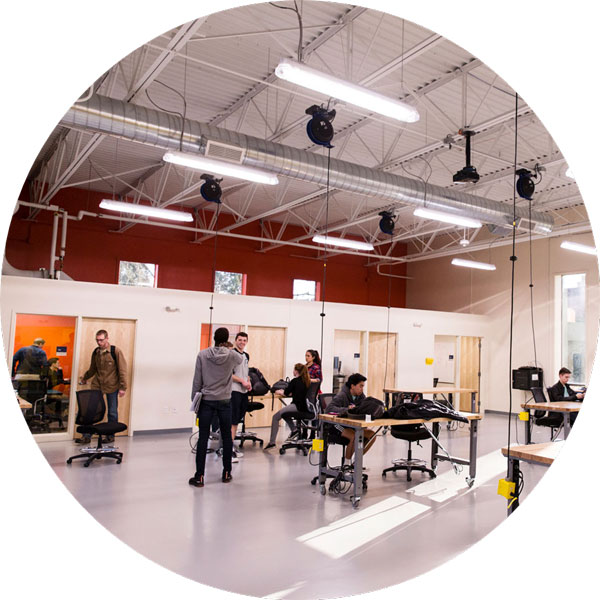 Maker Hub
Equipped with everything from 3D printers and laser cutters to a welding shop and a printed circuit board fabrication lab, it's an engineer's playground and a dream come true for creative and innovative students of all majors.
The facility includes:
A prototyping lab with 3D printers and laser cutters
A machine shop with milling, turning, and sheet metal equipment
A wood shop with a four-foot by eight-foot wood CNC router
A PCB lab for building custom circuit boards in-house
A vault with a jewelry and leatherworking station
A welding shop with MIG and TIG capabilities
A finishing room for priming, staining and painting
A 28-station computing lab
Eight project meeting rooms with 48-inch monitors
These facilities surround an open, configurable space known as "The Hub," a 6,000-square-foot area used by students for all sorts of designing and creating. It's equipped with workbenches and a variety of tools and equipment, such as sewing machines, electronics, workbenches, a sublimation printer, and two large vinyl cutters/printers.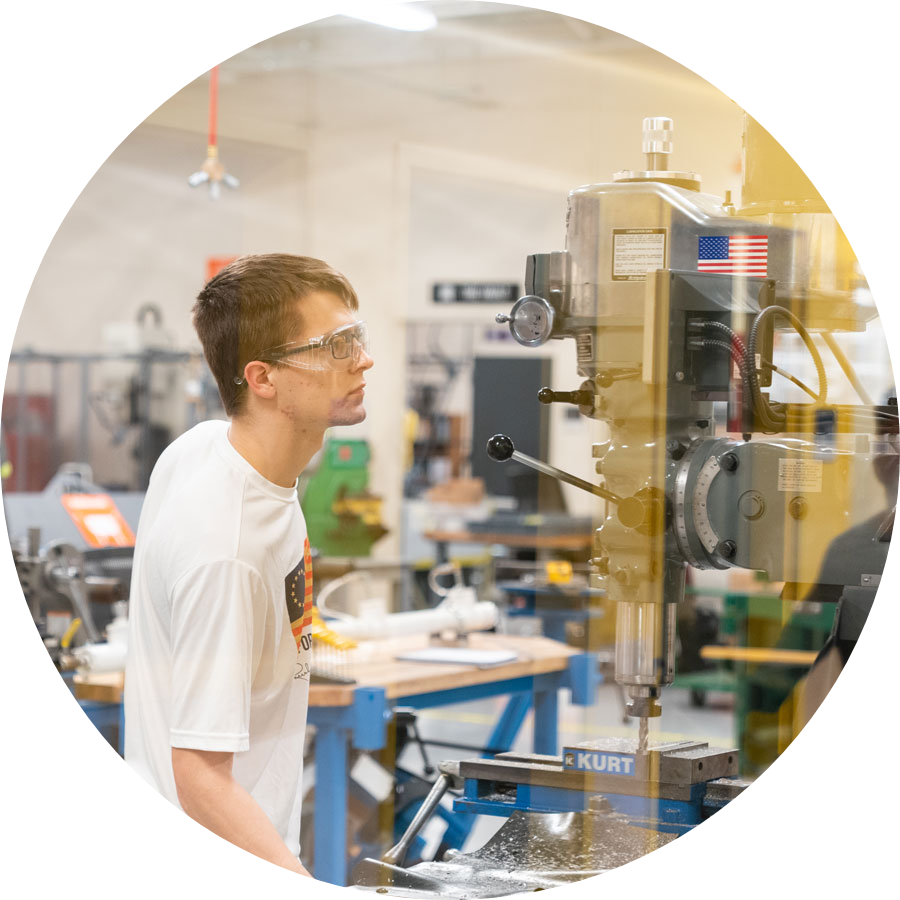 State-of-the-Art Equipment
We take pride in providing our students with state-of-the-art equipment. Among the tools available in the Maker Hub are the following:
A metal laser cutter
Voltera PCB printers
A four-foot by eight-foot wood CNC router
A Miller AugmentedArc Virtual Reality Welding System
F370 3D printers
A ProtoMax Waterjet Cutter
Four Janome 3160QDC sewing machines
Access to industry-standard software, including SolidWorks, AutoCAD, Altium, VCarve Pro, and the full Adobe Suite.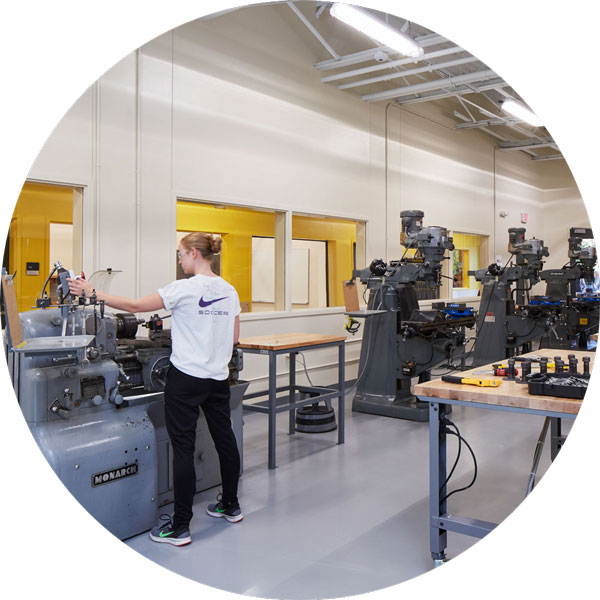 Engineering Offices and Labs
The engineering offices and labs are primarily housed in Wood-Mar Hall. Additional labs are housed in the adjoining Edwards-Holman Science Center, including physics and computer labs, and in the Klages Center.
Outfitted with the latest engineering equipment and software, we are equipped to give you the experience needed to excel in the engineering profession. Following is a listing of our engineering lab spaces, providing our undergraduates with direct exposure to test instruments and measurement techniques:
Biomedical Laboratory
Computer-Aided Design (CAD) Laboratory
Circuits/Electronics Laboratory
Construction Laboratory
Controls/Motors Laboratory
Energy Systems Laboratory
Environmental Engineering Laboratory
Geotechnical Engineering Laboratory
Heat Transfer Laboratory
Mechanics and Materials Engineering Laboratory
Microwave/RF Engineering Laboratory
Water Resources Engineering Laboratory