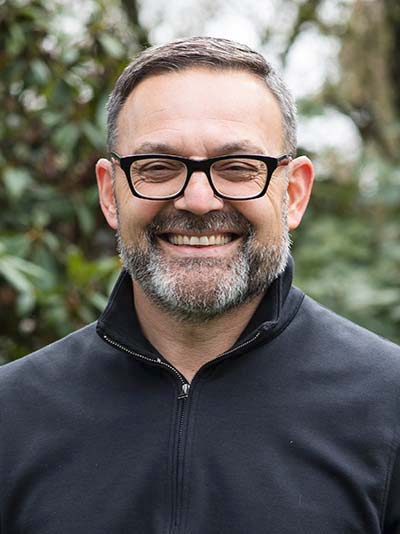 Peter Fisher has been part of George fox University's College of Business since January 2022, serving as executive in residence. His role includes serving on the advisory board to the financial planning department, mentoring financial planning students, and connecting students with conference, internship, and full-time employment opportunities.
Fisher is the founding partner and CEO of Human Investing, a SEC-registered investment advisor headquartered in Lake Oswego, Oregon, responsible for providing financial advice, tax counsel, and financial literacy education for over 100,000 individuals. With over 25 years of financial management experience, Fisher established Human Investing with a vision to faithfully serve the financial pursuits of all people.
His other professional experience includes serving as an adjunct professor at Linfield College, a Forbes Finance Counsel member, and vice president and resident director at Merrill Lynch.
He lives in Wilsonville with his wife Jenn, and they have five children. In his free time, he enjoys reading, writing, golf, and spending time with his growing family.
Education
DBA, George Fox University
MBA, George Fox University
BA, Economics, Linfield University
Research Interests
Credit unions and cooperative financial models
Financial literacy
Financial behavior
Publications: Books
Becoming a 401(k) Millionaire: Making the Most of Your Company Retirement Plan (2018)
Selected Publications/Presentations
Financial Literacy and Behavior in Credit Unions: An Exploration of Member Financial Literacy and Financial Behavior in the Credit Union Model (2022)
Credit Unions: An Underutilized Financial Institution (2021)