When I walked into Minthorn 200 at 9 a.m. on my very first day of college classes, I was an elementary education major. By the start of the second semester, I had changed my major – and the course of my life.
I was sure I wanted to be a school teacher when I applied to George Fox. I dreamed of getting a job as a kindergarten teacher right after graduation, and in my dream, I had my own colorfully decorated classroom and about 25 energetic, fun (and most likely messy) students. Changing my major didn't seem like even a remote possibility because I felt certain that God was calling me to teach kids. 
At least that's how I felt before taking Writing 111 with professor Melanie Mock.
Every Monday, Wednesday and Friday of my first semester, I would speed walk to Minthorn 200 to make it on time to my 9 a.m Writing 111 class. (I'm not a morning person, so I usually cut it pretty close.) In class, Mock would teach us about close reading strategies, the qualities of good writing, how to structure different essays and more. 
However, Mock was always more interested in learning what we had to say about any given subject. Much of our class time was spent in discussion, and I found myself raising my hand again and again to speak. The general education course was only 50 minutes long, but it felt much shorter. I could have stayed in that class for hours without once glancing at the clock.
Mock was always appreciative of what everyone had to say, and it felt like she was truly listening to us. She was excellent at providing prompt feedback on essays (which is something that should never be taken for granted), and she always had something positive to say about our writing. 
As the semester progressed, I came to like her class more and more. I would spend several hours straight in the library planning out my essays on a whiteboard and annotating passages of text. Writing essays wasn't a chore for me; it was more like a big puzzle, where each thought and word – when placed just right – came together to make a clear and beautiful picture. Needless to say, most of my classmates didn't feel the same way as I did about writing.
About halfway through the semester, I realized I might be majoring in the wrong subject. The elementary education program was great, but I was more excited about attending Writing 111 than my elementary education classes. After talking with family, friends and God, I knew I had to make the switch. I talked to my career and planning coach, and just like that, I changed my major to English.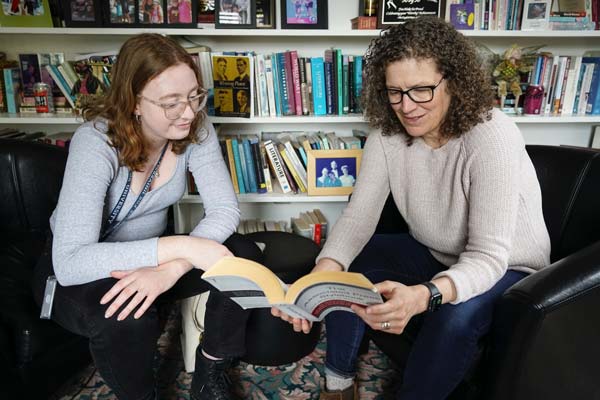 Emmy King (left) and Melanie Mock
When I walked into Writing 111 for the first time, I had little to no confidence in my writing skills. Now, because of Writing 111 and professor Mock, I've rediscovered my love for English and writing. I've enjoyed all of my English classes so far, and I'm excited to see what else God has in store for me. 
Many students tend to think of general education classes as a waste of time, and I'll admit that I used to look down on those courses as well. But you never know where you'll discover your true passion, and I would still be lost if it wasn't for Writing 111. I'm so thankful that I got to experience that class, and I'm even more thankful for professor Mock. Thanks to her, I've found my calling.