Do you have a passion for telling stories, sharing ideas and understanding how people interact? A degree in communication can help you turn that passion into a rewarding career.
As a communication major, you'll explore the latest trends and techniques in social media, branding, writing, and audience analysis, preparing you to excel in a variety of industries. Graduates of our program have gone on to careers in business, marketing, human resources, public relations, leadership, technology, ministry, and more.
Outside the classroom, you'll get hands-on experience and make industry connections through programs like the Public Relations Society of America, the Public Relations Student Society of America, Lambda Pi Eta (the national communication honor society), internships, and partnerships with professionals.
In short, a communication degree from George Fox can give you the skills and confidence to succeed in many vocations in today's dynamic job market.
George Fox offers three concentrations in communication, plus a journalism minor:
Concentrations
A human communication concentration provides you with the foundation needed in theory and practice to prepare for careers in leadership and management. This concentration is ideal for those who wish to practice their communication skills in a variety of professional environments.

A public relations concentration provides an understanding of the importance of client-based work. You will partner with local companies and nonprofit organizations to complete media projects, brand identity, and community engagement.

This concentration is ideal if you're interested in pursuing a career in human resources, project management, fundraising and event planning. Courses in these subjects, combined with marketing and management courses, provide a strong foundation in communication and business.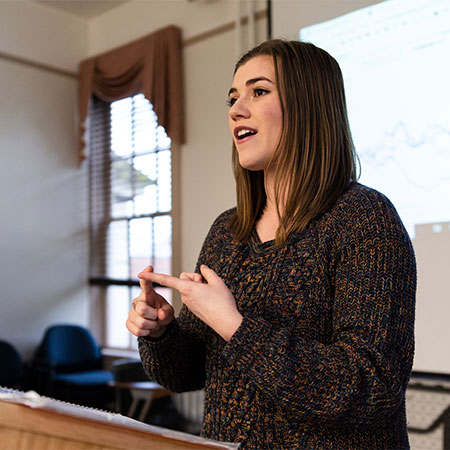 Our journalism course of study focuses on the areas of writing, interviewing, storytelling and video. As a journalism minor, you'll be provided with opportunities to create a strong portfolio that can help you land a reporting, marketing or communication job.
Communication Activities
We maintain an active chapter of Lambda Pi Eta, the national speech honor society, and our speech and debate team competes in regional and national tournaments. Take your love of the written and spoken word beyond the classroom and have some fun while also honing your communication skills.
Internship Requirement
We believe internships are a valuable component of your education – so much so that we require them in order to graduate with a communication degree. Your internship will provide you an opportunity to apply what you've learned in the classroom to a real-world setting, as well as provide you an opportunity to learn new skills and knowledge.