PsyD Specializations
The Doctor of Psychology (PsyD) program offers electives and clinical training experiences spanning the broad field of psychology with the goal of preparing students to thrive in their practicums, internship and professional practice.
All students receive foundational training and are given the opportunity to couple it with specialized training in one of our three tracks:
Specialization Tracks
Primary Care Psychology Track

The primary care track is an innovative and growing area of practice for psychologists because it allows them to collaborate with other healthcare professionals across medical settings to provide integrated healthcare for patients.

This care model allows psychologists to serve people who would not seek traditional outpatient care because of perceived stigma, cost or limited time.

Child and Adolescent Psychology Track

This track prepares students to serve in a wide range of practice settings, including medical, community outpatient, and schools. Students will receive advanced training in both assessment and treatment for children and adolescents.

The Child and Adolescent Psychology Track prepares students in evidence-based behavioral and cognitive-behavioral child services, including parenting issues and parent-involved services. Focus is on positive behavioral intervention, skill-training, and parent-training in our formal coursework, considering parents/caregivers to often be the most formative agents of change in the daily lives of children. Play is often involved, being viewed as communication, and essential to rapport and comfort, but students are also trained to work and collaborate with the family, educational, and medical contexts of children and families.

Assessment Track

Psychological assessment is used to answer questions relevant to decisions facing courts, employers, agencies, parents, medical teams, and more. Students in this track will receive advanced training in assessment beyond that which is required for a generalist training. They will develop assessment skills in a variety of practices and be ready to provide this service to clients, which is unique to health service psychology.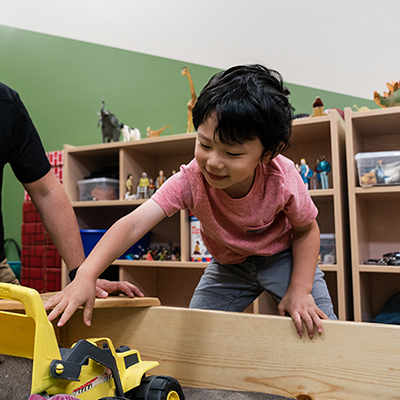 How Specialization Tracks Work
Students who pursue a specialization will receive increased knowledge and experience in that area to prepare them for internships with major rotations in their respective areas of training.
Adding a track does not increase the length or cost of the program, and students may withdraw from the track at any time. Given the number of required electives in the respective area of specialization, students may only choose one track.
4-6 courses (10-14 credit hours)

Two clinical practicums in track's area of practice

Dissertation research in track's area of practice

Must choose track by end of first year

Choose from primary care, child & adolescent psychology, or assessment
The Benefit to Students
Students who pursue a specialization have the opportunity to invest time into the specific area of psychology they will pursue professionally under the guidance of faculty who are experts in the same field. The knowledge and mentorship of our faculty can significantly enhance the academic experience and professional outcomes for students who are interested in the same specialization.