Business Cards, Name Badges and Stationery Orders
The marketing communications office establishes the university's signature package, which includes letterhead and matching envelopes, business cards, name badges and a variety of available templates. As representatives of George Fox University's graphic identity, these stationery pieces are to be used for all official university business communications.
The following sections introduce the components of the stationery system, guide you in their use, and provide the means to order supplies. Please place your orders through your department's administrative assistant, and make sure the accounting strings provided are accurate.
For more information, contact Emma Glennen at eglennen@georgefox.edu or ext. 2136.
Business Cards
Business card requests are made through a third-party print vendor, B&B Print Source. If you don't already have an account through B&B, you'll need to request an account. Your request will be reviewed and approved within two business days. Once you have an approved account, you may login to request your business cards.
Business card orders will be collected on an ongoing basis; however, they will only be printed when enough orders have been placed to keep printing costs low.
Please contact Emma Glennen at eglennen@georgefox.edu or ext. 2136 if you have any questions or if your business card request is urgent.
Business Card Guidelines
Select the appropriate "College of" logo rather than adding it to your title.
Your title should match what is listed on the employee/faculty directory.
The "www" prefix is not needed in web addresses; also, avoid lengthy web addresses.
If you're only adding "georgefox.edu" as a web address, it is not necessary—it's part of your email address
Capitalize abbreviations and acronyms with no periods. Likewise, do not retain periods for academic degrees (such as PhD, MBA, MAT, BA).
For distribution purposes, provide campus box number on business card and/or order details.
Make sure there is enough space between text and the edge of your business card.
When your business card proof does not line up in the way you prefer, you can go back and make changes to the order form to where a specific line will wrap. The template is designed to keep all of the content within the borders of the business card.
Example of what to do business card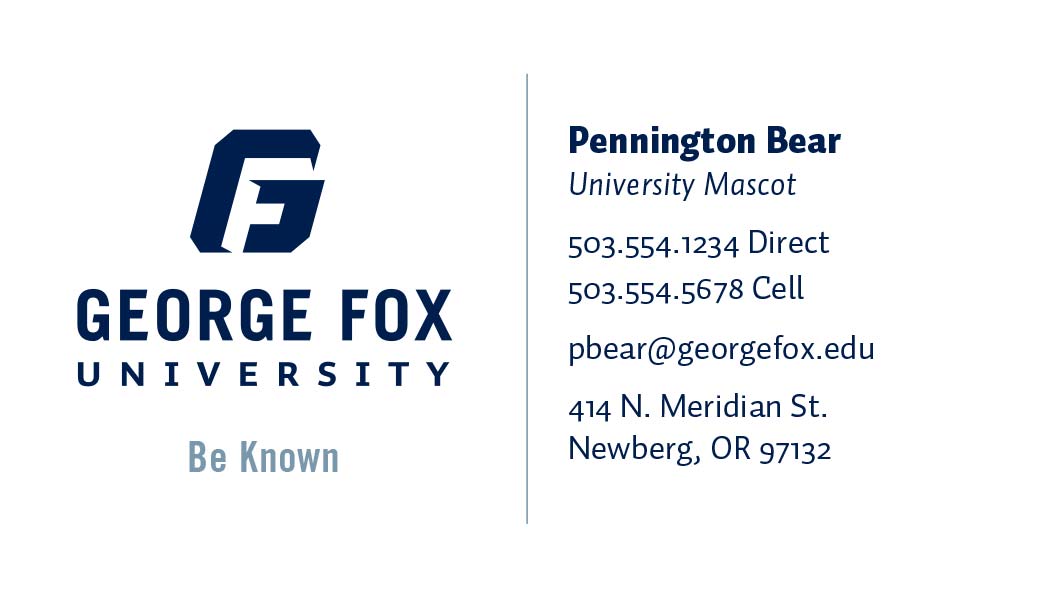 Example of what
 

not

 

to do (too much copy)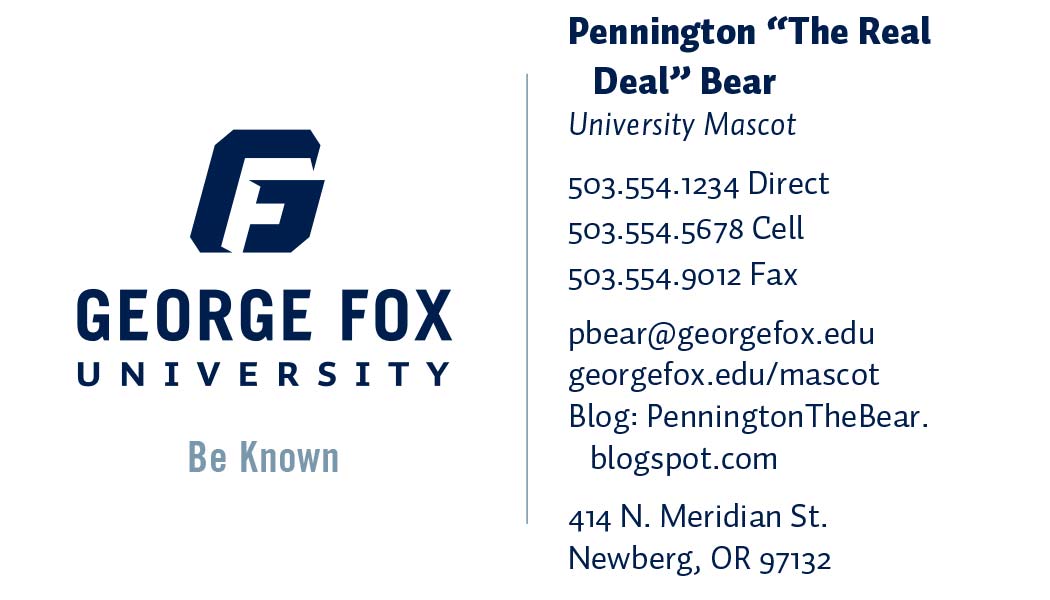 Name Badges
For those who have regular face-to-face contact with the public and need to order a name tag, please submit your name tag order here or through your department's administrative assistant. MarCom will verify your request and the information provided and place your order with all others. Name badge orders will be collected on an ongoing basis; however, they will only be printed when enough orders have been placed to keep production costs low.
Name tags will be one size and will include logo, name and title or area. The standard name tag will attach with a magnet so as not to damage your garment. The charges for production and shipping vary depending on the order.
Provide the name of the person for whom the name tag is needed; title or department; and the budget to be charged. Examples of "title or department" include: Dean of Students or Student Life, Admissions Counselor or Admissions. Supervisors should determine a standard for his or her area and attempt to remain consistent.
Stationery
To order any stationery product (letterhead, envelopes. etc.), complete the stationery order form. Keep a copy for your records.
Please purchase general university stationery items through mail services.
Institution-wide stationery orders are taken in August. The collective order helps keep costs low; the higher the volume, the lower the cost. Consequently, it is most economical to overestimate needs and store a small surplus.
Departments are responsible for monitoring inventory of their own stationery supplies. A spring stationery order may be taken for departments with unforeseen needs.