Faculty Development Committee
The George Fox University Faculty Development Committee (FDC) was established to facilitate professional development and effective teaching through research and to encourage faculty to make research results available to a public forum for professional consideration.
Through a generous donation each year, the FDC is able to fund a number of summer research grants, research leaves, and faculty writing workshops. Current research grants have been funded by a generous donation from the Morland Family Trust.

Each year the FDC is responsible for selecting the winners of the Faculty Achievement Award for Research and Scholarship from nominations submitted by faculty members. Two awards are given, one for an outstanding undergraduate faculty member and one for an outstanding graduate or George Fox Connect faculty member.
The faculty members selected present their research at two faculty lectures the following academic year. The fall Faculty Lecture features the undergraduate recipient of the award, and the Spring Faculty Lecture features the graduate/George Fox Connect recipient of the award.
Faculty Lectures
Spring 2023 Faculty Lecture:
Tuesday, March 7th, at 6 pm in Hoover 105
Join us for the Spring 2023 Faculty Lecture featuring Dr. Randy Woodley, Distinguished Professor of Faith and Culture, and recipient of the 2021-22 Faculty Achievement Award for Graduate Research & Scholarship.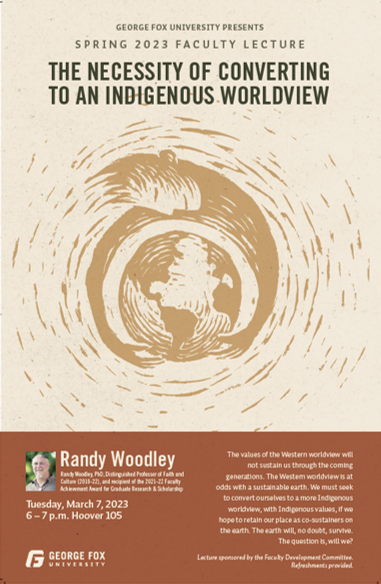 Fall 2022 Faculty Lecture:
In case you missed it ...

Watch a recording of the Fall Faculty Lecture with Dr. Sunggu Yang.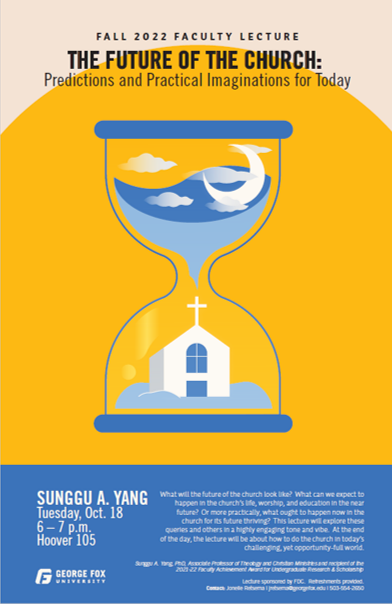 2022-2023 Faculty Development Committee
Dawn Ford (Chair)
Daniel Kang (Co-Chair)
Abraham Kang
Kristina Kays
Leah Payne
Alex Rolfe
John Schmitt
Thomas Shifley 
Chengping Zhang
Joseph Clair (Academic Leadership Team Rep)
2021-22 Faculty Achievement Awards for Research and Scholarship
Undergraduate  - Sunggu Yang, PhD, assistant professor of Christian Ministries
Graduate/SPS  - Randy Woodley, PhD, distinguished professor of Faith and Culture
2022 Summer Grants were awarded to:
Nathanael Ankeny
Jason Brumitt
Chandler Brutscher
Marvin Eans
Rebecca Jeong
Ekaterina Lomperis
Adam Long
Amanda Staggenborg
Kaye Wilson-Anderson
Chengping Zhang
Yongqiang Zheng
2022-2023 Research Leaves were awarded to:
Lisa Cleath
Melissa Ramos