George Fox University annually hosts both spring and midyear commencement ceremonies for its undergraduate and graduate programs.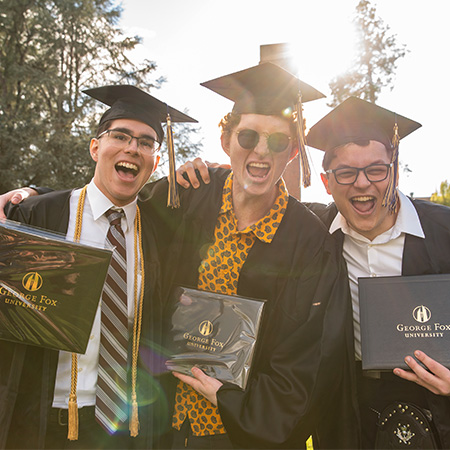 Spring 

Undergraduate Commencement:

George Fox will host two spring undergraduate commencement events for traditional undergraduate and George Fox Connect (Adult Degree Program) students on Saturday, April 29, 2023, in Stoffer Family Stadium on our Newberg campus.

Graduates of the Cultural and Wellness Enterprises as well as George Fox Connect will walk at 11 a.m. These enterprises include:
College of Education
College of Humanities
School of Theology
College of Nursing
College of Psychology
College of Social Work
Department of Kinesiology
George Fox Connect
Graduates of the Industrial Enterprise will walk at 3 p.m. This enterprise includes:
College of Business
College of Engineering
School of Communication and Design
School of Natural Science
Tickets will be required for all guests, except children under the age of two. Ten (10) commencement tickets will be distributed to each graduate when they pick up their cap and gown at the Exodus Grad Fair (or from the registrar's office after Exodus). Students are encouraged to ask their peers for extra tickets, if needed, and then to email the Commencement Committee at commencement@georgefox.edu for more.
Find more information about Spring 2023 Undergraduate Commencement here.
Spring 

Graduate Commencement:

Graduate programs will host department-specific commencement and hooding events in the spring. Graduate programs hosting spring commencement events include:
Questions?