University Explores Healthcare Partnership in Southern Oregon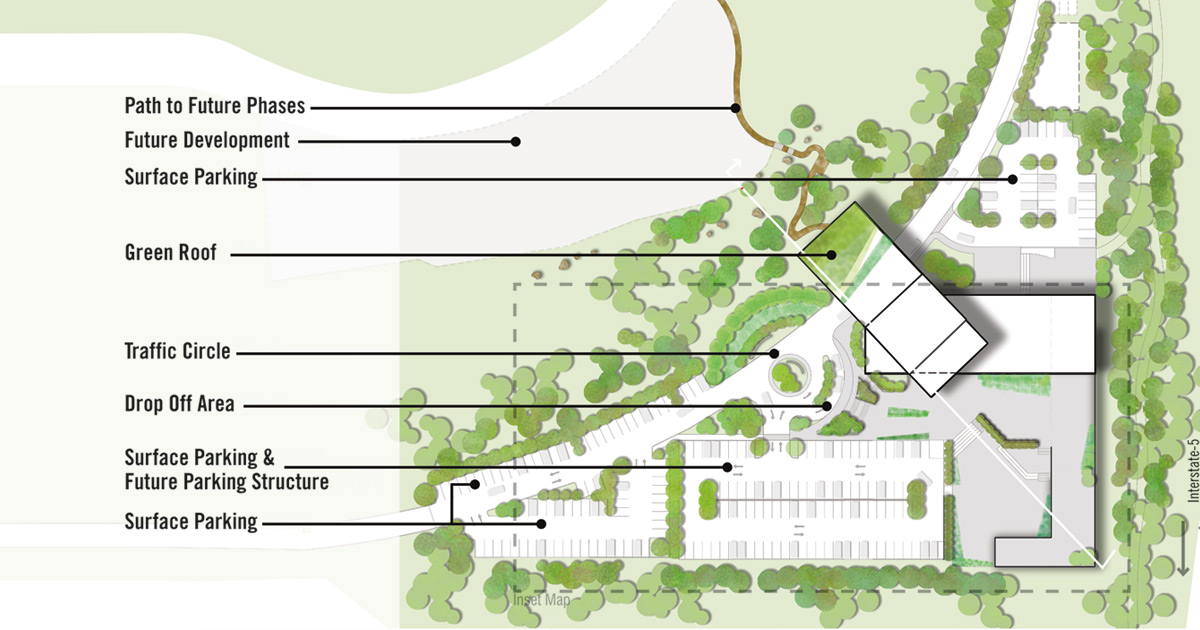 PRELIMINARY SITE PLAN
In line with its recent addition of healthcare-related programs, George Fox is exploring the possibility of partnering in an allied and mental health college in Roseburg, Oregon.
This spring, the university signed a memorandum of understanding with Oregonians for Rural Health, a coalition dedicated to promoting the health and vitality of the state's rural communities, to determine the scope, degree programs and location for a facility that would offer advanced degrees for healthcare professions. The exclusive partnership between the parties also includes a provision to explore fund development and in-kind contributions to build and equip the college facility.
The need for healthcare education in Southern Oregon is great, as the region faces "growing allied and mental health workforce shortages that pose serious healthcare access issues," according to Kelly Morgan, CEO of Mercy Medical Center in Roseburg, and a longtime member of the Oregonians for Rural Health coalition.
George Fox has expanded its healthcare education offerings in recent years, adding a Bachelor of Science in Nursing degree (2004), a doctorate in physical therapy (2012) and an RN to BSN degree-completion program (2019). The university will also begin a physician assistant program in January of 2021.
The scope of what programs will be offered in Roseburg has yet to be determined, but plans call to offer degree programs at the bachelors, masters and doctoral levels. Ultimately, the goal of the proposed project is threefold: to provide a reliable pipeline of skilled allied healthcare and mental health professionals in multiple high-demand medical fields, to connect individuals to living-wage jobs through locally delivered degree programs, and to create economic growth and stability across the region.
The potential addition of a Southern Oregon site is the latest example of George Fox's commitment to addressing the growing need for healthcare education and services. The initiative also ties into the university's mission, which charges its students to "serve with passion."
In addition to physical therapy and nursing, the university runs a behavioral health clinic, a physical therapy clinic and a counseling clinic. The proposal also aligns with George Fox's commitment to develop programs that offer hands-on practical training and provide a much-needed service to the community.
Plans Move Forward to Develop Health Sciences Facility in Newberg
Southern Oregon isn't the only new location George Fox is considering as it continues to expand its health sciences programs. This spring, the university is negotiating with a local family, the Werths, to build a facility in Newberg that would house its physical therapy and physician assistant (PA) programs. George Fox anticipates entering a lease with the Werths prior to the building's completion date in January of 2021.
To date, a workable floor plan has been designed and the outside of the building is in the design stage. The building itself will be located at 448 Werth Blvd., close to Providence Newberg Medical Center. The physical therapy program has been housed in the Roberts Center since its inception in 2012, and the physician assistant program will begin in January of 2021.