Bachelor's Degree Programs in Education
The Teacher Education Program at George Fox University is designed to prepare teachers for public and private schools
Through a curriculum that builds on a broad foundation in Christian liberal arts education.
Through specialization in elementary education with methods, clinical studies in teaching and learning theory.
Teaching licenses are issued to qualified applicants who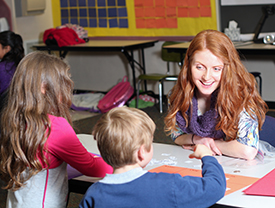 Completed a teacher education program approved by the Oregon Teacher Standards and Practices Commission.
Are able to satisfy other state requirements in effect at the time they complete graduation requirements.
Apply for a teaching license.
George Fox University is approved by the Teacher Standards and Practices Commission to offer initial teaching licensure for elementary education and music education.

Prospective students can get info about our elementary education major on our undergraduate admissions site.