Joel Mayward

,

PhD

Assistant Professor of Christian Ministries, Theology and the Arts

Teaching and research interests
Christian ministry and leadership
Contextual and liberation theologies
Theological aesthetics
Theology, philosophy, and popular culture
Continental philosophical theology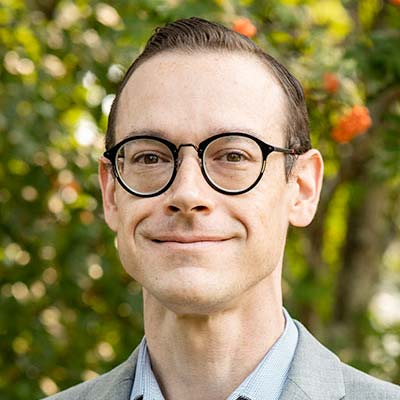 Portland Seminary alumnus Joel Mayward joined the university in 2021 as an assistant professor of Christian ministries, theology and the arts. He arrived from the Institute for Theology, Imagination and the Arts (ITIA) in the School of Divinity at the University of St Andrews in Scotland, where he earned a PhD in divinity (theology, philosophy and film studies) in 2021. Joel's areas of academic and teaching expertise include Christian ministry leadership, theological aesthetics, contextual theology, theology and philosophy in film, liberation theologies, continental philosophical theology, and the spiritual formation of youth and young adults.
Joel is the author of  The Dardenne Brothers' Cinematic Parables: Integrating Theology, Philosophy, and Film (Routledge, 2022), an academic monograph that examines the filmography of Belgian filmmakers Jean-Pierre and Luc Dardenne' filmography in consideration of theological aesthetics, Christian ethics, phenomenological film theory, and continental philosophy. He is currently writing a second monograph on philosophical theology and the films of Christopher Nolan for Fortress Academic. The author of three church ministry books, Joel has published articles in refereed academic journals such as  Pro Ecclesia,  Horizons,  Theology,  ARTS,  Journal of Youth and Theology,  Journal of Religion and Film, and  Journal for Religion, Film and Media. For several years has been a professional freelance film critic as a member of the Online Film Critics Society and a "Tomatometer-approved critic" for Rotten Tomatoes. He also runs a film criticism website,  cinemayward.com.
At George Fox, Joel serves as the project lead for  Theologia, a Lilly Endowment-funded high school theology summer institute, as well as associate director of the  Margaret Fell Scholars Program. Previously, Joel served as director of high school ministry at Lake Grove Presbyterian Church in Lake Oswego (2015-17), pastor of youth and young adult ministries at North Langley Community Church in Langley, British Columbia (2012-14), and as a junior high and high school pastor at Red Mountain Community Church in Mesa, Arizona (2007-12). Joel, his wife Katie, and their three children currently live in Newberg.
Academic Background
PhD, Theology, Philosophy and Film Studies, School of Divinity, University of St. Andrews, UK 
MA, Theological Studies, Portland Seminary
BS, Biblical Studies, Multnomah University