The study of psychology at George Fox goes beyond examining the nuances of human behavior. Our well-rounded curriculum is grounded in the science of psychology and emphasizes empathy and compassion, preparing you to pursue a career in any field that includes significant human engagement – social services, business administration, education – or for graduate school.
Along the journey, you'll engage in applied and experiential learning, all while being mentored by caring faculty who are proven researchers.
Two Degree Options
Our 50-semester-hour psychology major gives you options. Would you like to earn a Bachelor of Arts (BA) or Bachelor of Science (BS)? Our BA degree has a greater emphasis on applied learning than does the BS, which places a greater emphasis on scientific methodology. The BS degree offers four tracks including experimental psychology, cognitive science, neuroscience, and human and artificial intelligence. We also offer an 18-credit-hour psychology minor.
Field Experience
The Field Experience course (PSYC 475) is an opportunity for you to gain experience and hands-on education at an agency or institution of your choice, with the support and supervision of a faculty mentor. For many students this is a formative experience, clarifying their vocational passions and connecting classroom topics to specific industries.
While some students choose to find their own field experience sites, we have long-standing relationships with agencies and institutions – including Providence Newberg, the Willamette Valley Medical Center, the Coffee Creek Correctional Facility, and the Newberg School District – to help students find a placement that suits their particular interests.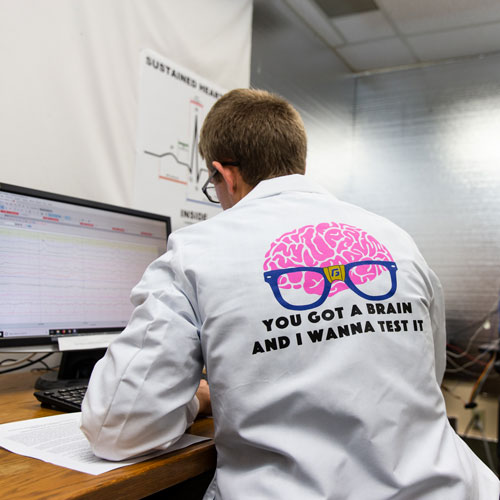 Research Opportunities
As a student in our department, you'll have the opportunity to prepare and present original research on local and national platforms. Research in the past has varied from studies on the impact of visual acuity on the Stroop test to studies on social-emotional influences of parenting.
In addition, through our Richter Scholars program, you can conduct research studies under the mentorship of a faculty member. Richter grants for research are available for those who qualify. To learn more, contact Vetta Berokoff at vberokof@georgefox.edu.
As a department, we conduct studies on our Sona Systems page. You're invited to view and participate in studies here.
Graduate Programs
Did you know that George Fox has a Doctor of Psychology (PsyD) program? That gives you access to a larger group of faculty members, more library resources, and opportunities to conduct research with PsyD faculty and graduate students.
Interested in pursuing a career in counseling? We offer masters degrees and certificates, as well as trauma counseling training, through our Graduate School of Counseling.
See social work in your future? Consider our Master of Social Work program.