Susan L. O'Donnell

,

PhD

Professor of Psychology

Research Interests
Father-child relationships
Psychosocial development, especially religious development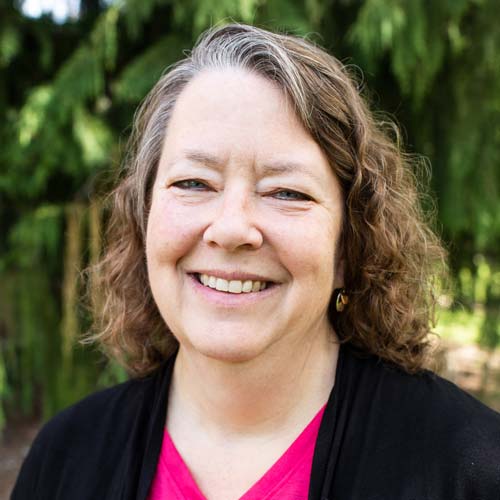 Office: Roberts 156
Office Hours: by appointment
Sue O'Donnell has taught at George Fox since 2001, when she completed a PhD in developmental psychology at the Institute of Child Development, University of Minnesota-Twin Cities. She loves teaching at George Fox and hopes to help students in their quest to Be Known! She particularly appreciates the exchange of ideas that goes on here, as we journey together in our discovery of creation.
Studying human development has allowed Sue a glimpse into the complexity and beauty of the greatest creation – the one that God said was "very good." While we still have much to discover, this discipline reminds her over and over of the tenderness and care with which we are made. She hopes to share these glimpses with others.
Sue is here to help you succeed; just stop by her office to chat (and maybe you'll score some chocolate - who knows?).
Research Interests
Sue's primary research interests are in father-child relationships and psychosocial development, especially religious development. She has also looked at young children's development of motivation and adolescent autonomy. However, her favorite research projects are the ones done with students as they discover their own interests and passions.
Primary Teaching Responsibilities
PSYC 150 - General Psychology
PSYC 311 - Child Development
PSYC 312 - Adult Development
PSYC 314 - Adolescent Development
PSYC 360 - Learning
PSYC 391 - Research Methods
PSYC 450 - History of Psychology
Outside the Classroom
Sue was married to Sam for 25 wonderful years, and has kids Mike, David and Liz. In January of 2013, she became a grandma for the first time; just ask her about her beautiful, smart and strong granddaughter! She loves love cats, photography and knitting. More questions? Just ask!