Can you see yourself as a physical therapist, athletic trainer, occupational therapist or physician assistant? Or perhaps you're interested in becoming a physical education or health teacher, personal trainer, exercise physiologist, chiropractor, or health coach? If so, George Fox's kinesiology major can help you get there.
We offer a course of study that focuses on physical activity/exercise and how movement impacts health, performance, and quality of life. As a student in our program, you'll gain a thorough understanding of how the body moves and how movement is related to health and well-being through course work related to anatomy and physiology, care and prevention of injury, principles of conditioning, exercise prescription, biomechanics, motor development, therapeutic exercise, and more.
We offer two concentrations:
Exercise Science Concentration

The exercise science concentration is an interdisciplinary course of study that will prepare you for earning an advanced professional degree or to work in exercise science-related careers.

This concentration is ideal if you're interested in entering an allied health profession (medical or dental assisting, dental hygiene, healthcare administration, to name a few) or pursuing an advanced degree to become a physical therapist or physician assistant. The concentration includes a strong emphasis on the physical and life sciences, and health and human performance.

Physical Activity and Health Promotion Concentration

The physical activity and health promotion concentration is an interdisciplinary course of study designed to help prepare you for a career that promotes physical activity and healthy lifestyle behaviors in various community settings, including schools (physical education and health teaching), worksites, hospitals, recreational centers/gyms, and other community agencies that incorporate health coaching and/or personal training.

As part of this program, you'll gain knowledge of the best practices for how to encourage and measure the impact of physical activity on health and well-being and performance in a variety of settings and populations.
Career Preparation
Our program has shown success in helping our students get into professional graduate programs to pursue a career as a physical therapist, occupational therapist, chiropractor, exercise physiologist, physician assistant, athletic trainer, physical education teacher, or other degree programs related to health and human performance and corrective exercise.
Further, our major also sets our students up to be successful in careers related to exercise science, including health coaching, personal training, and physical therapy assistant.
Curriculum
Our core curriculum includes courses in anatomy and physiology, exercise physiology, exercise prescription, care and prevention of athletic injuries, the biomechanical principles of human motion and motor learning, therapeutic exercise, health promotion, and nutrition. You'll also take courses in chemistry, biology and physics.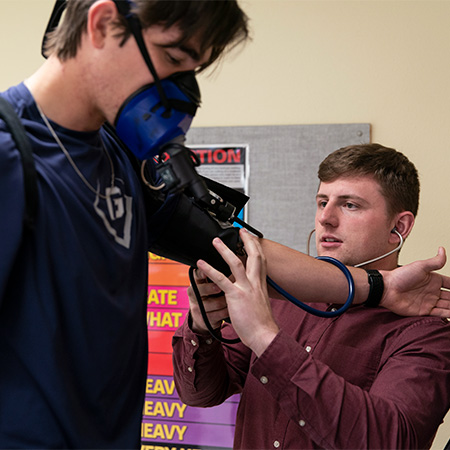 Our major provides you with hands-on experience, allowing you to expand upon theoretical knowledge through practical experiences in our exercise science laboratory, athletic training rooms, and the Hadlock Student Center, where you will participate in exercise testing and prescription, health assessments, rehabilitation and therapeutic exercises.
You'll also participate in field experience in your preferred area, utilizing relationships our department has in the community. Finally, you will gain applied research experience in your capstone project, where you design and implement a research study in a specific topic of interest.