What can you expect as a history major at George Fox? We are dedicated to helping you become a thoughtful, mature Christian thinker who will make an impact in your profession of choice.
What distinguishes us? We believe the study of history reveals the complexity of human affairs as God's image bearers work out the implications of humankind's fallen condition and Christ's redemptive work in the world.
By studying history, we understand better the need for Christ-centered lives and a Christ-centered culture.
In addition to our history major, we offer a history major with a concentration in politics and a pre-law program.
A
Flexible

Course of Study

The history major is a 42-credit-hour program with only three required courses, leaving room for 11 elective classes. This means you can most likely add a second major or a minor in a different field.

As a student in our program, you'll work with a faculty advisor to design a major that specifically fits your future goals, whether that be a career in public history, academia, law, education, business, or wherever else God leads.
Award-Winning Faculty
Our faculty of professional historians are scholars and excellent teachers. They are published authors, recognized nationally as experts in specific fields of study, the recipients of undergraduate teaching awards at the university, and have been honored multiple times with inclusion in the Who's Who Among America's Teachers publication.
Our faculty have also received numerous grants and participate in national and international professional societies. Each of the full-time history faculty has been published in his or her field of specialty.
A Broad Selection of Courses
Compared to other institutions of our size, we offer a considerable variety of classes over an extensive chronological and geographical range. Our faculty also employ various different pedagogical methods, including role-immersion. Just some of the many course choices include Castles and Cathedrals, Tea and Taxes: America 1750-1825, Modern Russia, and Making History Matter: Introduction to Public History.
Interested in viewing a lecture? Watch faculty member Kerry Irish speak on the presidency of George Washington on C-SPAN. 
Study Abroad and Internship Possibilities
Study for a semester in England, Lithuania, the Middle East, or one of many other locales. Spend a semester in Washington, D.C. as an intern for a senator, intern at a local archive or museum, or become involved with Mercy Corps.
These are some of the opportunities our students have experienced. Our department is dedicated to helping you broaden your experience beyond Newberg through numerous study abroad and internship possibilities.
Interdisciplinary Study
A program of study in history can be supplemented with majors or minors in many areas such as English, theology, or even criminal justice. Combine with one or two fields with history to create an interdisciplinary major, or simply enhance your major by adding a variety of courses in other programs.
The history faculty stand ready to advise you in developing a course plan best suited to meet your needs and interests.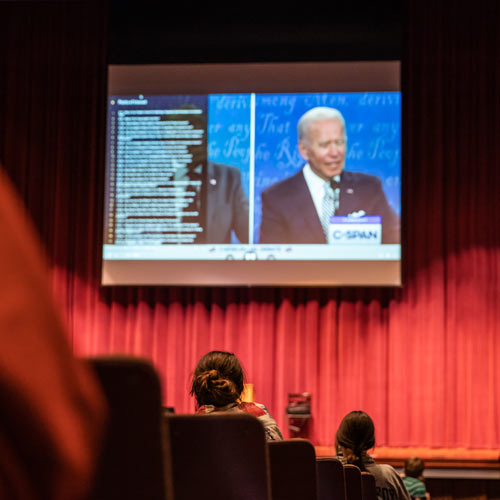 Civility Project
Out of concern about the polarization and alienation in political culture at every level (national, state and local), the George Fox Civility Project was launched during the 2020-21 academic year. It sponsors events, publishes a newsletter, and maintains a website with information about civility. The project will return for the 2022-23 school year.
The project is overseen by Professor Emeritus Ron Mock. To learn more, contact him at
civility@georgefox.edu
.
Thinking of Graduate School?
History majors interested in graduate school will find the following resources helpful. They will help answer questions about how to choose a graduate school, how to apply, and how to succeed once you get there.
The history professors at George Fox stand ready to advise you as you consider graduate school and are happy to write you letters of recommendation.
Resources